Archer Fine Transfers 1/35 Scale Dry Transfer Markings
by Cookie Sewell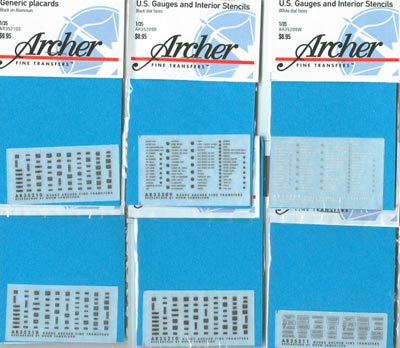 Set AR35209B; U.S. Gauges and Interior Stencils; price US $8.95
Set AR35209W; U. S. Gauges and Interior Stencils; price US $8.95
Set AR35210S; Generic Placards (black on silver); price US $9.95
Set AR35210W; Generic Placards (black on white); price US $995
Set AR35210X; Generic Placards (black on brass); price US $9.95
Set AR35211; US Interior Placards; price US $7.95

Advantages: all cleanly printed with amazing levels of detail and readable under a jeweler's loupe; perfect finishing touches, especially for softskins
Disadvantages: May seem expensive, but many models can be done with one sheet
Rating: Highly Recommended
Recommendation: for all US armor and military vehicle fans
Woody Vondracek is the best one I know at doing up markings and detailing sheets, and these latest six from him are absolutely gorgeous. While some modelers squawk about the prices (realize each sheet is only about 1" x 2.5") it is the quality of the sheets and their ease of use that makes them a true winner.
The first two (209) provide the dashboard markings found on most US armored and softskin vehicles from about 1940 to the present. The sheets each include dial faces for (left to right on the sheets) oil pressure, tachometer/engine hours gauge/ speedometer/odometer, water temperature, and more oil pressure gauges. The rest of the markings are standard placards painted on in the cab or driver's compartment area – weapons, equipment stowage, and warnings. The white instrument faces appear, from collectors shows, to be correct for tactical vehicles up to about mid 1942 (jeeps, trucks, M3 White Scout Cars, and M2/M3 halftracks in particular) and the black faces from then to the present. I suggest getting one of each, for the white stencils are more often found on OD vehicles and the black ones on white backgrounds such as inside tanks or APCs.
The second three sheets are the standard plates screwed onto the dashboard or other area of a tactical vehicle, such as shift patterns, construction data, winch operation directions, etc. They will do a lot for a jeep (I may have misread it, but while FORD and BANTAM show up well, I could swear the other one reads WILLIS and not WILLYS. But since it's about 2 point type it may just be my eyes.)
The last one covers decals stuck on various parts of the inside of armored vehicles for stowage. There is a large sense of humor at play here which is obvious under the loop as well, but I won't spoil it for anyone who wants to get even with judges!
Overall these are all winners and once again Woody has responded to modelers' needs with really useful items.
Thanks to Woody Vondracek of Archer Fine Transfers for the review samples.
http://www.archertransfers.com