Allied-Axis 12
by Ampersand Publishing
96 pages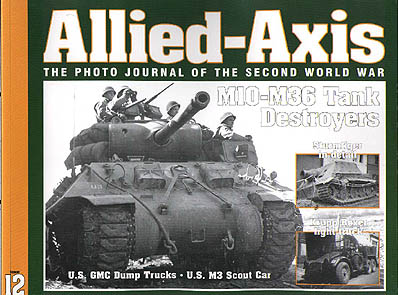 This issue of Allied-Axis gives a good spread of subjects. First up is the Sturmtiger, with 19 pages of wartime photos inside and outside a captured example and of detail close-ups of the preserved vehicle at Sinsheim as well as some from the German users' manual. There's even one showing the internal crane for shell handling, nice and clear so very welcome if you're fitting out the interior as this view is so seldom seen.
Next come 16 pages on the GMC CCKW-353 Dump Truck – just what you need to make best use of the Resicast conversion of the Tamiya GMC. They're followed by part 2 of the photo-essay on the M3A1 Scout Car, in 14 pages and including good views of the driver's area and the radio fit-up as well as a shot of Patton's modified M3A1.
The next 34 pages deal with the M10 and M36 Tank Destroyers in service. No walkround section on preserved vehicles here, alas – maybe that will be in a future issue – but plenty of marking and stowage ideas for builders of the new kits.
Finally there are 12 pages on the Krupp Protze gun tractor to please anyone with the Tamiya version to build. Again, no walkround but a good selection of wartime photographs to give ideas on marking and stowage.
Recommended if you need reference on any of the subjects covered – or will for a future project!
John Prigent