Allied-Axis 15
by Ampersand Publishing Co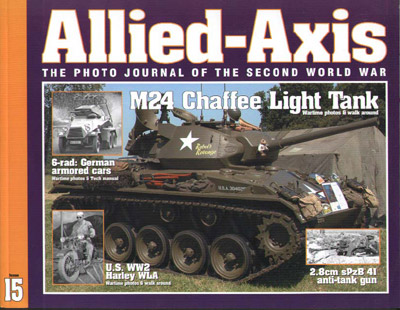 This is a good, varied collection of photographs. The first subject is the famous Harley-Davidson WLA motorcycle, with 21 pages devoted to the several variants and illustrating the difference between them. If you have the Esci large-scale kit this is a great reference and justifies purchase of the book by itself. Next is the 6-wheeled SdKfz 231 series including the 232 and 263 radio cars. Here we have 28 pages of photographs, all clearly reproduced and including technical manual excerpts showing useful details including the turret interior and driver's position. With a new Italeri kit on the horizon this is just what the doctor ordered.
The third subject is the M24 Chaffee, with 36 pages of detailed coverage – in-service photos from WW2 and Korea plus closeups of details and the interior, even the engine bay. Finally the 2.8 cm Schweres Panzerbuechse 41 gets 10 pages, mostly closeups of a preserved example but with some wartime photos too and, for good measure, TM shots of the SdKfz 250/11showing how the gun was carried and the interior arrangements.
This volume is as good as always, with many full-page photos and detail shots and every subject is, has been or soon will be available as a kit.
Recommended!
John Prigent