Allied-Axis 14
by Ampersand Publishing Co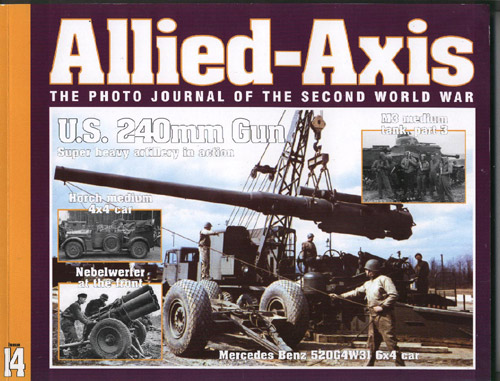 This is an interesting issue with a good mix of subjects. First comes the US 240mm howitzer M1, with 27 full-page photos plus two half-pages. These cover everything from towing the separated barrel (OK, "tube" for US readers") and carriage behind various prime movers – M35, M6 HST, M33 – and on both its wheeled and tracked trailers, to setting up for firing and the actual load and fire sequence. Great, clear photos showing a whole lot of detail, so all we need now is a kit.
Next are the 21cm and 15cm Nebelwerfers, 16 pages showing both versions, their rocket ammo, the carriage details, the sight, the loading sequence and preparations to fire. Excellent reference for anyone detailing the kit.
Then there are 7 pages on another subject that needs a 1/35 kit, the Mercedes G4 staff car as used by Hitler and high-ranking officers and functionaries. One photo shows one used by a Luftwaffe General and another one of Hitler's cars used inPoland, the rest are of the restored G4 at Sinsheim and show some useful details including its interior.
After those there are 25 full-page photos of M3 Lees and M2 halftracks in Tunisia, all from 13 Armored Division before the Medjerda Valley fighting. Excellent stuff, with serial numbers called out so you can copy the unit markings and add the correct serials. Some have the MN" gun with counterweight, others the long M3 gun, and both spoked and stamped roadwheels are evident. Great stuff for anyone with an unbuilt CMD Lee, or waiting for the promised plastic one.
The final feature is on the Horch 901 Enheits Personenkraftwagen. 17 pages, 12 with full-page wartime photos of both versions in service and the other 5 with no fewer than 13 photos of the preserved vehicle at Sinsheim showing lots of details.
Recommended!
John Prigent