Carbon Fibre Aerials
Accurate Armour, 1/35 or 1/48 Scales
Reviewed by Paul Chatfield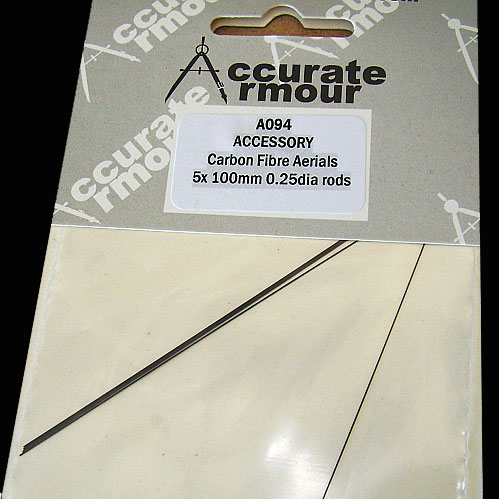 Summary
Stock Number and Description
Accurate Armour, Carbon Fibre Aerials.
Accessory A094
Scale:
suitable for 1/48 or 1/35 scales
Media and Contents:
five 100mm lengths of 0.25mm carbon fibre rod
Price:
£4.95 + P&P available online from Accurate Armour
Review Type:
First Look
Advantages:
In-scale; robust; bendy for whip aerials or tied-down; simple.
Disadvantages:
Recommendation:
Highly Recommended
FirstLook
Here's a neat little accessory I picked up from Accurate Armour, Carbon fibre aerials. These are a great solution for how to do aerials on AFVs. Whilst some kits do contain an attempt at aerials most don't, and in those that do they look way over scale.
Accurate Armour supplies five 100mm lengths of 0.25mm carbon fibre rod. That's enough for five 2 metre and five 1 metre aerials in 1/35 (more in 1/48).
The carbon is pretty bendy and would be great for use on modern AFVs with "whip" type aerials that are bent over and tied down.
Click the thumbnails below to view larger images:
---
I used one of mine on a Sherman, attaching it with just a spot of super-fast Superglue. Simplicity itself!
This is a nice product that can add the finishing touch to your model. I bought mine direct from AA and paid £4.95 + P&P.
Highly Recommended.
Purchased with reviewers' funds
Text and Images by Paul Chatfield
Page Created 07 September, 2006
Page Last Updated 07 September, 2006