WWP Present Vehicle Line No 8: AS-90 Braveheart in detail
by Josef Spurny
Wings & Wheels Publications, ISBN 80-86416-34-8, 72 pages.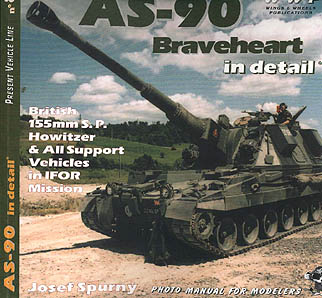 This is a "must-buy" book for anyone building an AS-90 model, though it doesn't cover the actual Braveheart version with its 52-calibre gun. The first 10 pages show the AS-90 in service in Bosnia from all angles, with plenty of markings shown here and the weathering patterns particularly noticeable. Then there are 12 pages of detailed external walkround, followed by no fewer than 18 pages of internal detail photos – driver's area, hull under the turret, turret interior and roof – scratchbuilders' heaven! Then there are 4 pages of photographs of the crews at their stations and beside their vehicles.
Attention then turns to the AS-90's support with the Foden DROPS ammo truck and the Wheeled Medium Tractor with forklift to unload it, as well as the ammunition itself. A Saxon wheeled APC gets one page and then the Warrior Artillery Observation version, FV432 APC, FV434 Command Track, FV434 Fitters' Track and FV439 Communication Track are shown, with the Challenger ARRV to end the book. None of the support vehicles get as detailed a coverage as the AS-90 but the photos of them are still very useful.
Highly recommended to modellers of the Accurate Armour, Cromwell or Trumpeter kits, even if you don't fancy scratchbuilding the full interior and just want to know what the areas seen through open hatches look like.
John Prigent