Voyager Models photo-etch update set for the 1/35-scale Tamiya Leopard 2A5 (35011)
by Nick Cortese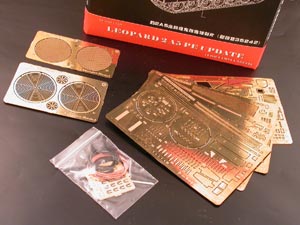 Voyager Models of China etch update set for the 1/35 Tamiya Leopard 2A5 is nothing short of spectacular.
Given that the Tamiya kit itself is pretty nice, Voyager is setting a new trend in comprehensive update sets, going well above the norm especially with this update set.
The update set
As per the usual Voyager compact disc size book like card packaging, this set comprises of no more than 7 etch frets, brass tow rope wiring, vinyl tubing and 2 small lengths of ABS 1 mm and 0.5 mm plastic rod.
Packaged ever so neatly, the book like package is divided in two, with one side holding the folded 6 page instruction sheets and the other, 7 sheets of etch brass and extras.
Voyager Etch – size does matter!
Voyager seems to have hit the proverbial home run when it comes to setting new standards and really shows with this set!
Voyager have presented the etch frets varying thickness, which really breaks out of the 2 dimensional sometimes flat look to most etch frets I've seen. This subtle etch thickness difference (which incidentally, are featured in most of there newer etch update sets) really stands out and gives the set a whole new dimension that I'm sure may other manufacturers will soon follow!
The meat of this set consists of the amazing multi layered back engine deck area, especially the engine screen detail.
The mesh detail is simply superb and once assembled together will really give a layered grill effect that is quite stunning.
Many of the small molded on items need to be carefully removed and replaced with etch such as latches and tool clamps and the many small hinge details that pepper the upper hull.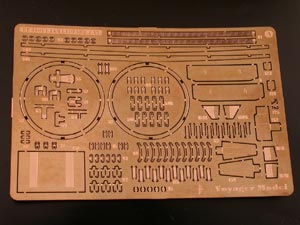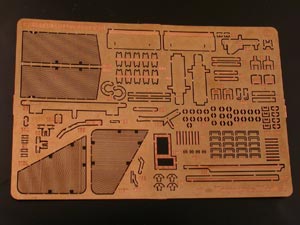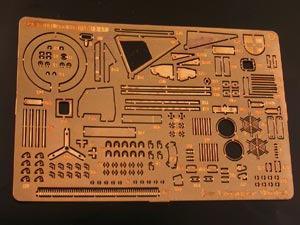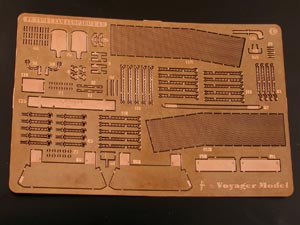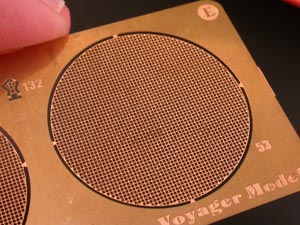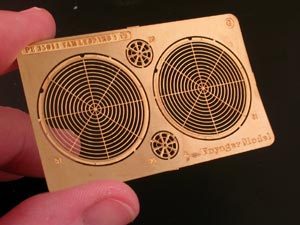 Speaking of which, most of the tools like a new shovel blade saw blade and axe mount get detailed up as well as the front and back fender detail, which require a bit of surgery to remove.
Moving on to some of the turret detail, a whole new rear cable spool can be built up or omitted, from no more than 8 pieces and looks excellent in either positions on the back potion of the turret.
The tiny latch and key details are astounding! Made up of 5 parts each they look simply superb.
Some careful scrapping to the molded on turret top section detail will be needed to make way for the new etch sectional brackets with added bolt detail which makes a huge subtle difference.
The turret M.G mounting ring as well as the gun itself and many of it's small surrounding details get a very nice etch treatment as well as an almost totally new commanders periscope sight, which is made up of no more than 13 parts.
Conclusion
Needless to say, this etch set is aimed at the more experienced modeler with hours of experience working with this media under his/her belt.
While preparing this review I did some research and looks like Voyager nailed the details perfectly.
Another nice comprehensive etch set to add on to your update list. It may take a bit of sweat to get done, but the rewards will be one heck of a stunning model.
Highly recommended.
Thanks to Voyager models http://www.voyagermodel.com/