Home > Reviews > Modern > Star Decals Item No. 35-C1292 - UNEF Peacekeepers in the Middle East Part 2
UNEF Peacekeepers in the Middle East Part 2
Start Decals, 1/35 scale
Reviewed by Peter Brown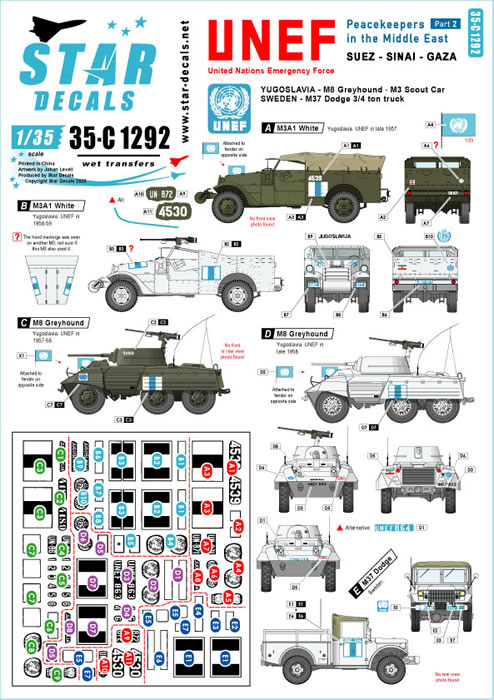 Summary

FirstRead
United Nations peacekeeping missions have been active around the world for many years. This decal set covers vehicles from Yugoslavia and Sweden in Suez, Sinai and Gaza.
The Yugoslavian subjects are two M3A1 Scout Cars, one from late 1957 in Olive Drab or similar with a choice of two individual vehicle numbers and another from 1958-59 in overall white, plus two M8 Greyhound armoured cars with one from 1957-58 in green and another in 1958 in white with alternative numbers. The Swedish option is an M37 Dodge truck painted in white which is not dated.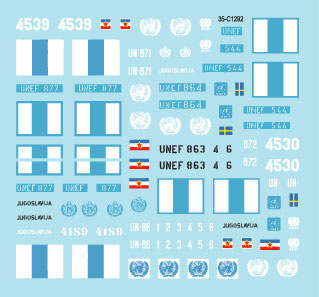 All these have a large white/blue/white panel plus variations of the UN world emblem with small Yugoslavian and Swedish flags.
Decals are as usual clearly printed, detailed instructions show the schemes and marking placements.
Star Decals are available from several suppliers. Check with them or see their website star-decals.net for stockists and prices. They regularly release new sets and reprint older ones so it is worth checking on them.
Many thanks to Johan Lexell for the sample
---
Text and Images by Peter Brown
Page Created 19 December, 2020
Page Last Updated 19 December, 2020