Home > Reviews > Modern > Star Decals Item No. 35-C1364 and 35-C1365 - Daimler Armoured Car Parts 1 & 2
Daimler Armoured Car Parts 1 & 2
Start Decals, 1/35 scale
Reviewed by Peter Brown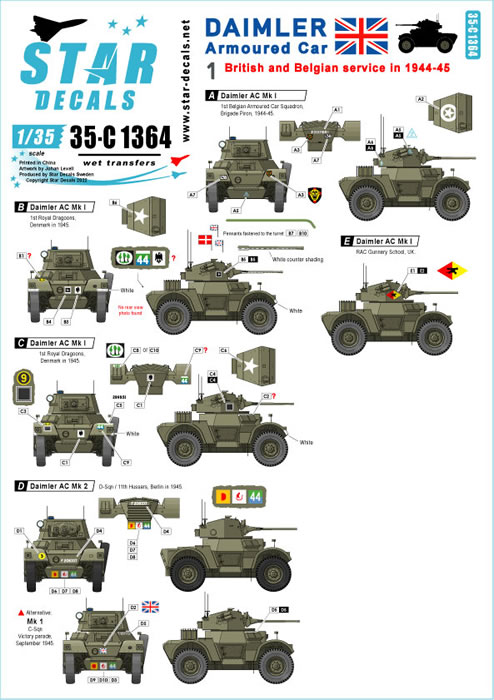 Summary

FirstRead
After what seems like a lifetime waiting for a 1/35 plastic kit of a Daimler Armoured Car but which is probably only 50 years, and almost as long since I built the Accurate Armour resin kit and tried to build a resin and white metal version from someone else for the long-defunct "Armored Car" magazine, at last we have them from Gecko.
Many modellers want alternatives to kit decals so will welcome these two new waterslide sets from Johan Lexell's Star Decals. Both sets cover Mk I cars so will be suitable for kit 35GM0011.
Set 35-C1364 covers late WWII options in NW Europe. One is for the 1st Belgian Armoured Car Squadron with their lion's head unit marking.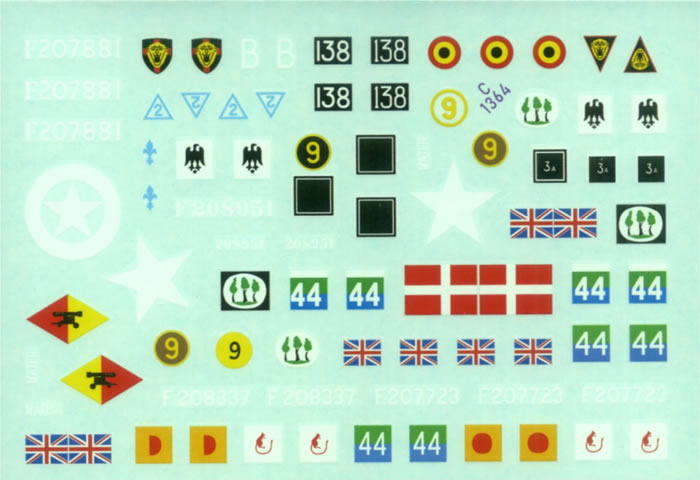 Two cover 1st Royal Dragoons in Denmark in 1945 with their eagle cap badge both with and without the XII Corps marking. Also from 1945 are two cars from 11th Hussars in Berlin, one from D Squadron and with C Squadron another during the victory parade there in September. A final unusual subject is for a car at the RAC Gunnery School with their cannon badge.
Set 35-C1365 offers more variety for the post-war era.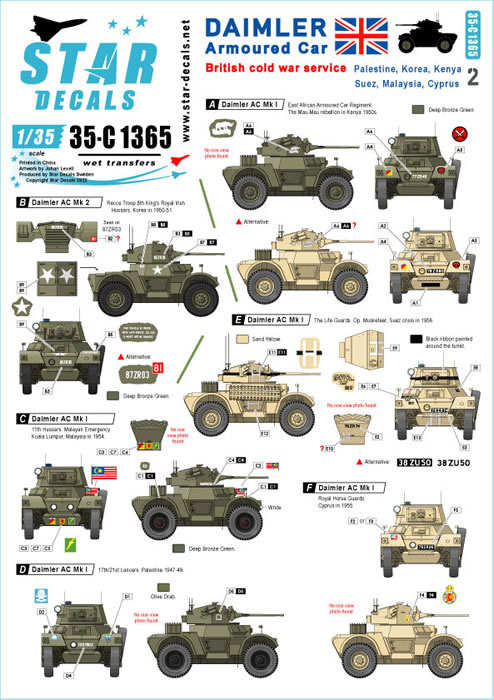 Cars in both green and sand serving with the East African Armoured Car Regiment in Kenya during the Mau-Mau era are the first two options. Those for 8th King's Royal Irish Hussars Recce Troop in Korea in 1950-51 come with options for two serial numbers. Another option is for an 11th Hussars car in Kuala Lumpur, Malaysia in 1954. A car with 17th/21st Lancers in Palestine 1947-48 has the regiment's "motto" device. From the 1956 Suez Campaign comes a plain sand vehicle from The Life Guards with the distinctive identification markings for the time.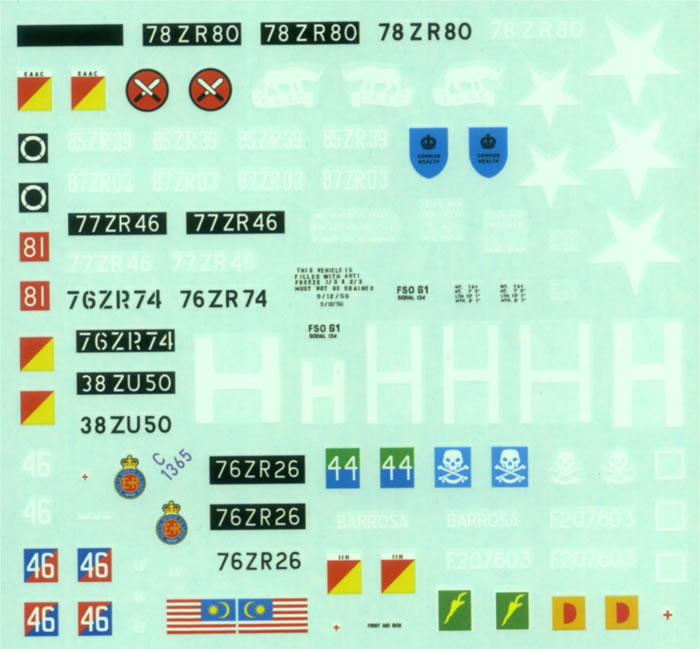 A final sand option is from the Royal Horse Guards in Cyprus in 1955 with full colour badge.
As usual the printing of each individual decal is very clear and in perfect register. Alongside the main markings are others for anti-freeze warnings and first aid boxes.
Something out of the ordinary with alternatives for several vehicles. Prices are US$7.00 and US$9.00 respectively direct or GBP7.99 and GBP10.35 from Hannants, full details including availability can be found at www.star-decals.net
Thanks to Johan for sending these sets.
Many thanks to Johan Lexell for the sample
---
Text and Images by Peter Brown
Page Created 30 September, 2022
Page Last Updated 30 September, 2022