Comet Tank
War in Ukraine #1-4
Daimler Armoured Car Parts 1 & 2
Start Decals, 1/35 scale
Reviewed by Brett Green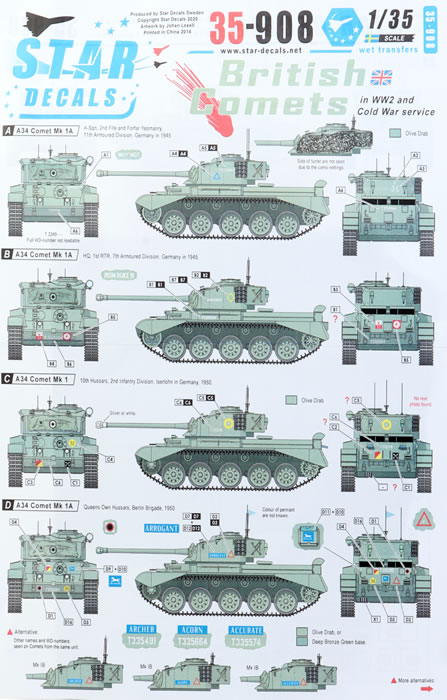 Summary

FirstLook
Star Decals from Sweden has been busy lately with a batch of new 1:35 scale releases, but I will start with an older but very timely subject:
35-908 British Comets in Europe
British A34 Comet in WWII and Cold War Europe.

WWII (1 RTR, 3 RTR, 2nd Fife and Forfar Yeomanry), and cold war BAOR and Berlin Brigade.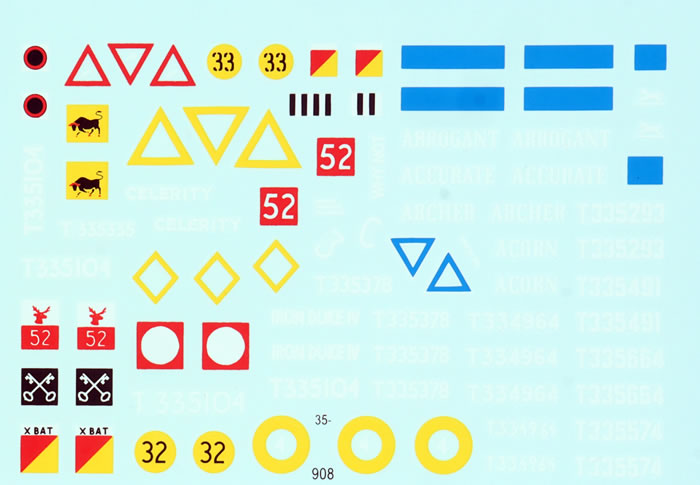 Tamiya has supplied only a very limited number of markings on the decal sheet for their otherwise gorgeous new 1:35 Comet kit.
Star Decals offers five full marking options plus a number of variations with extra names and War Department numbers for all locations. Formation Badges, Arm of Service flashes, Tactical Signs and Bridge Classification numbers are included too, as are a number of individual vehicle names.
This will be a very useful decal set to individualise your Tamiya Comet. They will fit the Bronco kits too.
Next up are four new releases focusing on the current war in Ukraine. All four cover an interesting selection of Ukrainian vehicles:
35-C1353 - War in Ukraine #1
AZOV-Batalion 2014-2022.

BRDM-2, UAZ-469, UAZ-452 'Buhanka' and MT-LB with ZSU-23 gun.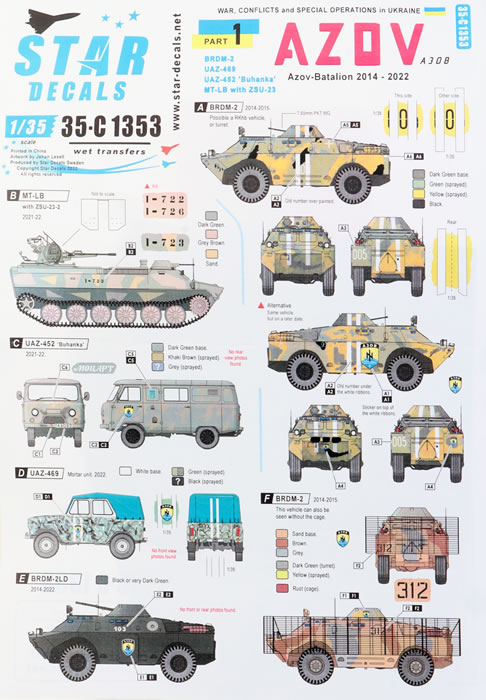 35-C1354 - War in Ukraine #2
Ukrainian transport vehicles 2014-2022.

MAZ-537 tank transporter and UAZ-452 'Buhanka'.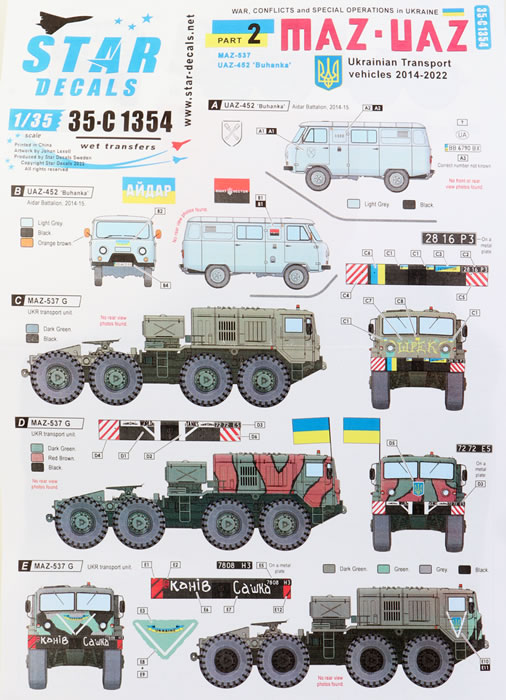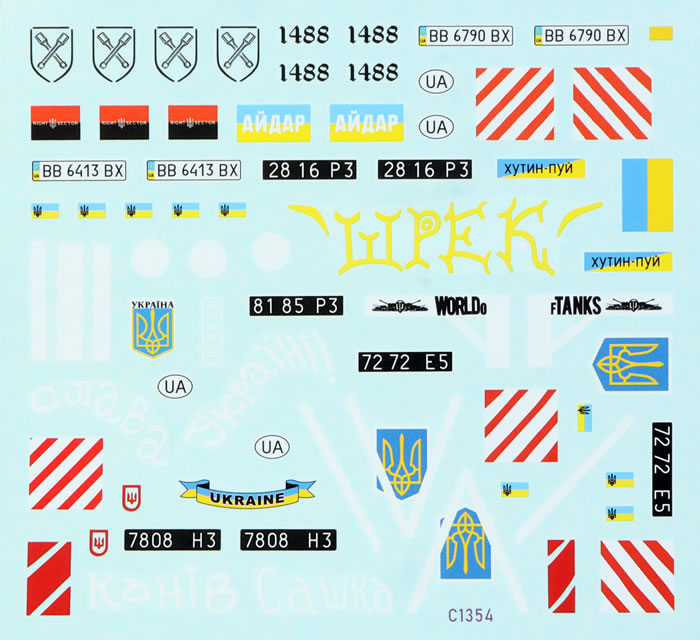 35-C1355 - War in Ukraine #3
Ukrainian AFVs 2022 war.

BRDM-2, BMP-1P and BMP-2.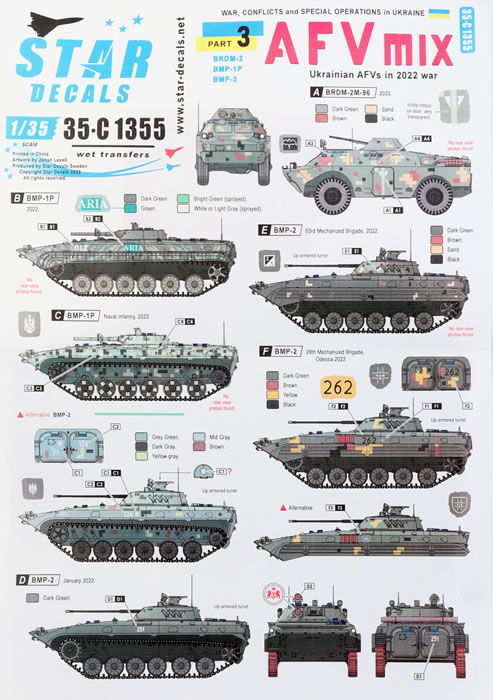 35-C1356 - War in Ukraine #4
Ukrainian T-64 Mix in 2022 War.

T-64A, T-64B, T-64BV and T-64BM 'Bulat'. Plus generic insignias.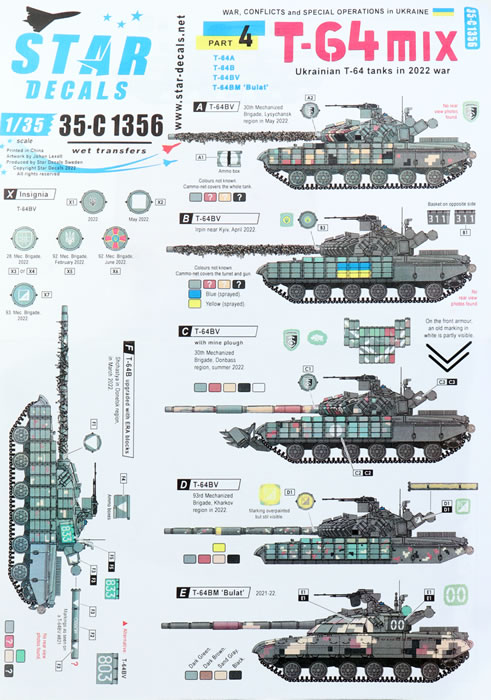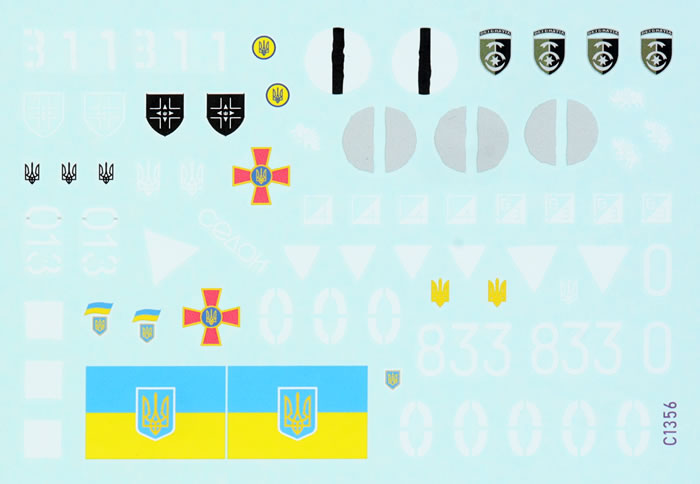 Finally, Star Decals has released two new sets for the Daimler Armoured Car.
35-C1364 - Daimler Armoured Car #1
British and Belgian Service in WWII.

1st Royal Dragoons, RAC Gunnery School, 11th Hussars

and 1st Belgian Armoured Car Squadron.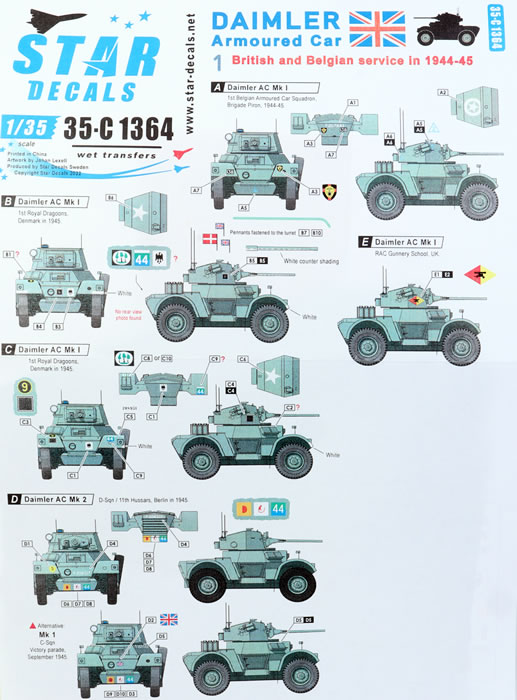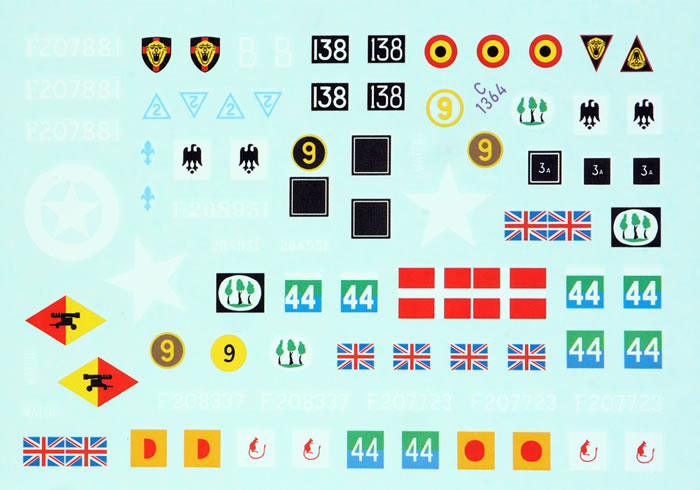 35-C1365 - Daimler Armoured Car #2
British Cold War Service.

Palestine, Korean War, Kenya (Mau Mau Rebellion), Suez Crisis 1956, Malaya/Malaysia and Cyprus.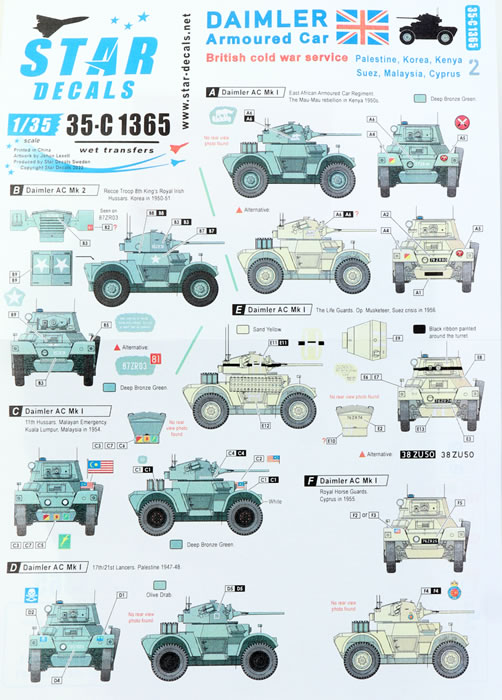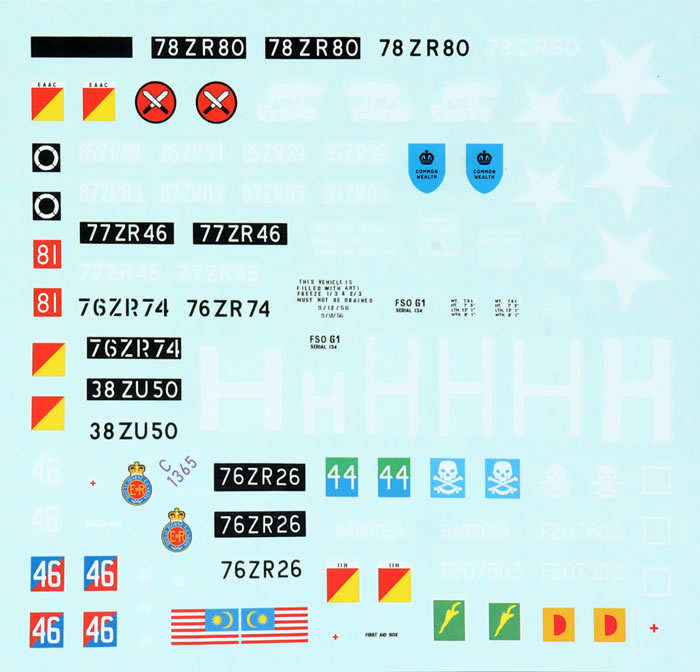 All of these Star Decals releases are packed in a resealable plastic bag and feature a single folded A4 page of instructions. Each subject is illustrated in colour. Scrap views and notes are offered where necessary. The instruction sheet also has a number map for the decal sheet.
The decal sheets themselves are printed in perfect register. They have a satin finish but sit down on the surface of the model very well. I have used Star Decals on many project and they have always behaved well for me.
Thanks to Star Decals for the samples www.star-decals.net
Many thanks to Johan Lexell for the sample
---
Text and Images by Brett Green
Page Created 17 November, 2022
Page Last Updated 18 November, 2022