Home > Reviews > Modern > Star Decals Item No. 35-C1340 - Nicaragua La Guardia / Gardia Nacional 1925-1979 and Item No.

35-C1341 - Sandinista Guerilla and Post 1979 Revolutionary Army
Nicaragua
La Guardia / Gardia Nacional 1925-1979
Sandinista Guerilla and Post 1979 Revolutionary Army
Star Decals, 1/72 scale
Reviewed by Peter Brown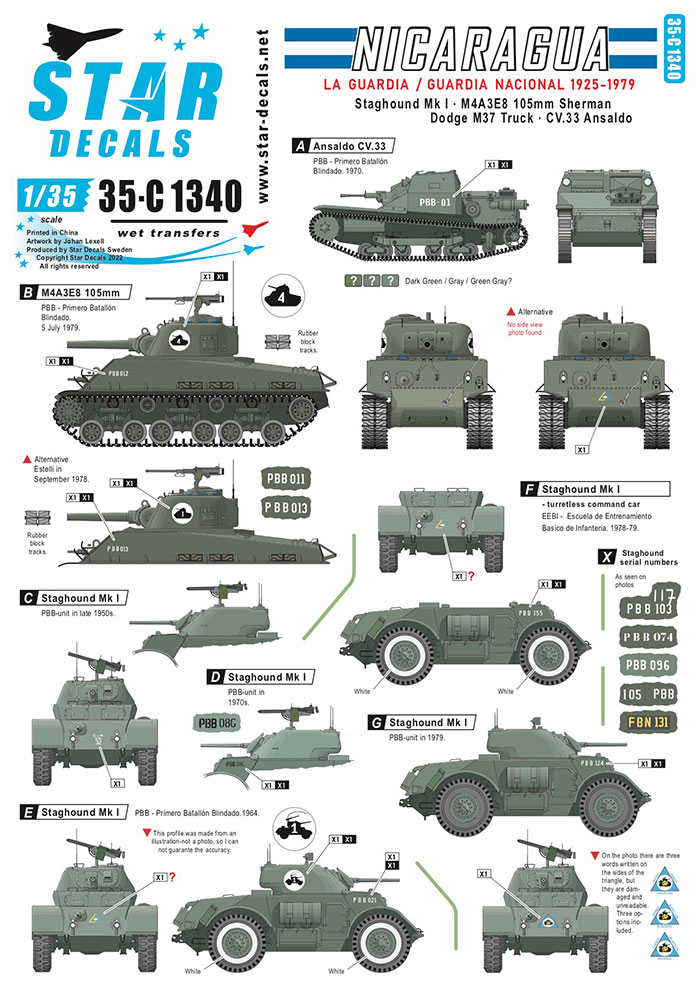 Summary
Title:

Star Decals Item Nos.:

35-C1340 - Nicaragua La Guardia / Gardia Nacional 1925-1979

35-C1341 - Sandinista Guerilla and Post 1979 Revolutionary Army

Media and Contents:

Waterslide decal sheet and instructions.

Price:

Will be available online from Star Decals and model retailers worldwide.

Review Type:

First Read

Advantages:

Interesting subjects; high quality printing; covers a nice range of era and vehicles.

Disadvantages:

Recommendation:

A welcome addition to Star Decals' range.

FirstRead
Johan Lexell has sent me previews of two sets of waterslide decals due for release in May 2022 covering vehicles in Nicaragua.
35-C140 has decals for a wide range of tanks, armoured cars and softskins. Oldest is an Italian CV-33 of Primero Batallon Blindado in 1970 in a single-colour scheme with white markings. From 1979 are some Sherman 105mm HVSS from the same unit in a similar scheme with options for three different tanks including a stylised tank on the turret plus a coloured unit marking. Several Staghounds from the late 1950s to the 1970s with options for nine different ones with options for coloured unit badges and stylised armoured car markings and also a turretless command vehicle. Finally come some for three different Dodge M37 trucks.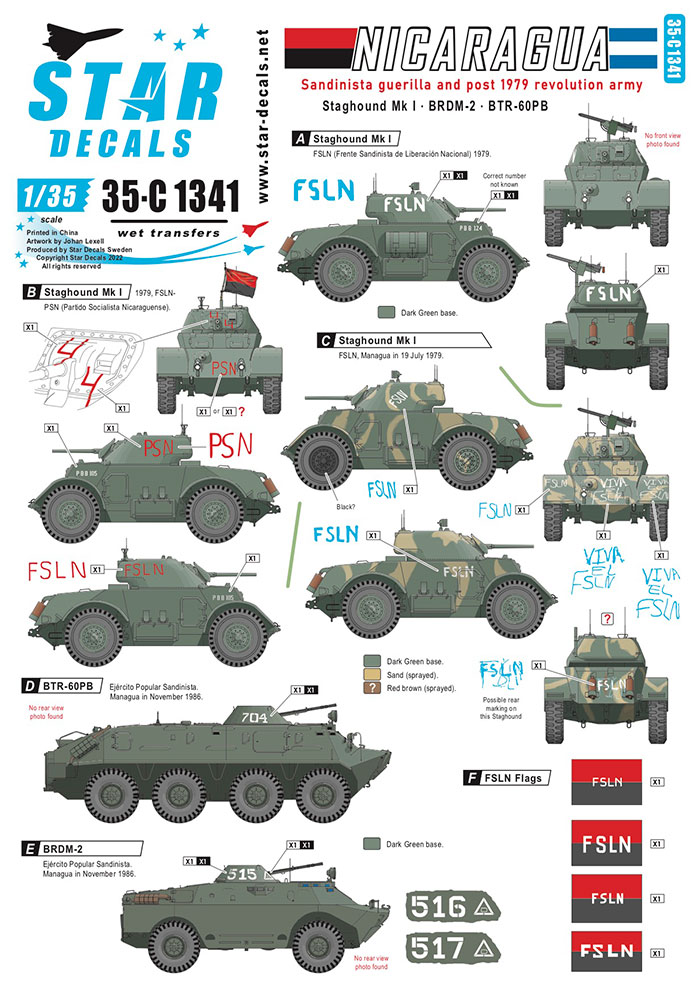 35-C141 is for several vehicles with the Sandanistas and the post 1970 revolution army. Three Staghounds with various lettering to show which force the were with, one in a two-tone green and sand colour scheme. A BTR-60P armoured personnel carrier with the Ejercito Popular Sandanista and three BRDM-2 from November 1986 complete the set.
Something out of the ordinary with alternatives for several vehicles. Full details including prices and availability can be found at www.star-decals.net
Many thanks to Johan Lexell for the sample
---
Text and Images by Peter Brown
Page Created 2 April, 2022
Page Last Updated 2 April, 2022