Special Ops Volume 33: Task Force "Danger" – With the "Big Red One" in Iraq
by Ralph Zwilling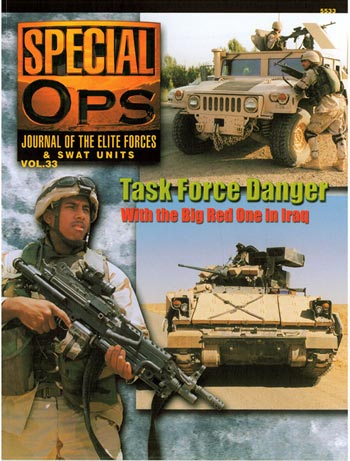 Published by Concord Publications, ISBN 962-361-111-0.
Mr. Zwilling is fast becoming my favorite chronicler of today's military scene. He has achieved a fine balance between objective reportage, excellent photography and accurate, technically sound, photo captions. This latest volume in this continuing series is a "one man show" featuring the reporter's coverage of the legendary "Big Red One", while deployed to Iraq in "Operation Iraqi Freedom 2".
First and foremost, this book is a treasure trove of photographs. The 229 high-quality color photographs feature nearly every single vehicle type in current US Army service in Iraq, from the common to the unusual. Starting from the top of the heap, the following are depicted: M1A1 Abrams MBT, M2A2 and M3A2 ODS Bradley IVF, M88A1 ARV, M109A6 Paladin 155mm SPH, M992A2 FAASVs, M577A2 CPCs, M113A3 APC, M270 MLRS, M93 Fox NBCRS, M1117 ASV, and various HMMWV, M1070 HET, HEMTT, M1075 PLS, 2.5-ton and 5-ton trucks. The HMMWV armored variants, in particular are noteworthy for their variety, weather they are made from factory kits or by field-improvised means. These photos alone, will keep a modeler quite busy.
However, the coverage does not stop there. Various unusual engineer mine-countermeasure vehicles, such as the Meercat MDV (Mine Detection Vehicle) and the Buffalo MPCV (Mine Protected Clearance Vehicle), are depicted along with D7 and D9 Bulldozers. The USAF is represented by a tiny robotic EOD remotely operated vehicle, deployed from a HMMWV. US Army aviation is covered with a few pictures of Apache, Blackhawk and Kiowa helicopters. The final touch is a series of photos, spread throughout the book, depicting various official and unofficial unit crests, badges and patches.
The average grunt is not forgotten either. All manner of individual and crew-served weapons are profiled, in use on patrol, or in readiness at base camps. This includes variations of the M14 sniper rifle, all sorts of M16/M4 combinations, M249 SAW (including cut-down airborne version), M2 HMG, M240 GPMG, Mk 19 grenade launcher, 120mm mortar, helicopter-mounted M60D machine guns, and finally, shotguns. The individual's equipment, especially communications and mine detection devices are also covered as are uniforms, load-bearing vests and harnesses, helmets, Interceptor body armor, Camelbak hydration system, ballistic glasses, elbow and knee pads and even gloves.
Other photos detail how various operations are undertaken such as road checkpoints, cordon-and-search and disposal of un-exploded ordnance. Many photos in this vein show US troops interacting with their Iraqi counterparts, or Iraqi civilians. Just so there is no question about what is going on here, there are a couple of graphic photos depicting the immediate aftermath of a suicide bomb attack. This is about as complete as it gets.
The captions are all very informative either from a technical viewpoint, or when they describe the types of operations being undertaken by the troops depicted. The text contains extremely detailed information on the 1st ID's organization and structure (which is backed up by several charts). There is a section on the division's history up until the current deployment, followed by how it was deployed to Iraq and what its mission consists of.
The text is refreshingly objective, but tempered with a high degree of respect for the troops that are profiled. The author conducted several patrols with various people on the ground and he ably conveys the feeling of these missions, from the mundane to the terrifying.Without a doubt, this book will prove to be quite useful to modelers, especially if HMMWVs are an area of interest. As a general background piece, describing current ops in Iraq, this book is simply fantastic.
Highly recommended.
Frank V. De Sisto
Concord Publications are available from retail and mail order shops, or from the publisher at: www.concord-publications.com