Special Ops, Volume 31
by Juan Pablo Lasterra Antunano, Yves Debay, Pellumb Z. Nili, Alberto Scarpitta & Carl Schulze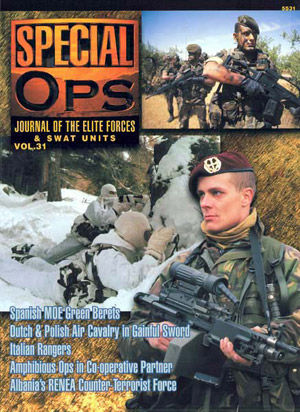 Concord Publications, ISBN 962-361-096-3. Price: unavailable.
The first article, "The Spanish Army Green Berets, Mando de Operaciones Especiales (MOE)", by Mr. Antunano, contains 57 photos. The coverage is devoted to the men and their uniforms, weapons and equipment. Furthermore, there is s segment of photos that depict the members of this unit on a night-time special operations training mission. Indeed, there is a great variety of weapons to be seen, many of which are rather uncommon. There are a few photos of Cougar helicopters, as well as a Spanish Navy submarine, taken during training ops. The text explains the organization, training and weapons of this unit, as well as providing details of a little-known operation undertaken by these troops to oust Moroccan invaders from a tiny Mediterranean island in July of 2002.
"Gainful Sword 2003, Dutch and Polish Air Cavalry in Action", by Mr. Schulze, consists of 55 photos. This particular article is perhaps the most useful of the lot as it contains photos of not only men and their weapons and equipment, but also various helicopters, special-purpose vehicles and AFVs. There are photos of Chinook, Apache, Cougar, Mi-8 and W3W helicopters, as well as Patria wheeled APCs and Marder 1A3 IFVs. Other unique types such as the Dutch airborne LSV multi-role wheeled vehicle, Honda Quads and even SA-8 SAM support vehicles are shown. The text details the multi-national exercise and includes sidebars detailing the Dutch and Polish units involved.
"Italian Rangers", by Mr. Scarpitta, comprises 26 photos and one chart. This brief article covers the men, their weapons and equipment in various training scenarios. The bulk of the photos depict mountain operations, while the text describes such things as the organization of the unit and its training and troop selection processes.
"Amphibious Ops in Co-operative Partner 2003", by Mr. Debay, includes 43 photos. The stars of this piece are the Ukrainian Marines and their BTR-80 wheeled amphibious APCs, BRDM-2 reconnaissance vehicles and Mi-17 helicopters. There is also a very intriguing photo showing weapons for underwater use. Also profiled are Marines from Turkey and Greece, accompanied by HUMVEES. The HUMVEES are, as always, equipped with various weapons, including the Milan ATGW. A very interesting photo shows that when the Milan is fired, the missile goes one way and its launch container flies away in the opposite direction. Never mind the back-blast; watch out for the flying container. I wonder what engineer thought up that one!
"Balkan Elite, Albania's RENEA Counter-Terrorist Force", by Mr. Nili, is made up of 16 photos. This final article in this book details the anti-terrorist forces of Albania, with photos of operatives in black Ninja suits on training ops. What is the most interesting is the text, which details the apparently frequent use of this unit in what appears to be a rather unstable country.
Overall, the entire book provides a wealth of interesting reference photos for the modeler of modern figures, with the emphases on the unusual. The vehicle and helicopter coverage adds further value to a very reasonably priced and well presented book.
Recommended
Frank V. De Sisto
Concord Publications are available from retail and mail order shops, or from the publisher at: www.concord-publications.com.