Praying For Slack, A Marine Corps Tank Commander in Vietnam
by Robert E. Peavey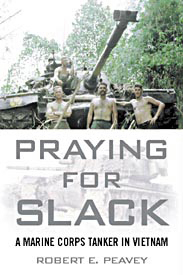 MOTORBOOKS/ ZENITH PRESS, ISBN 0-7603-2050-0. Price: $24.95 USD.
In the American slang vocabulary, the term "slack" is generally taken to mean that one wants special consideration or a lessening of a burden, or to "take it easy" when a task demands the ultimate effort. In the military it usually refers to a desire to avoid an onerous task. While deployed to Vietnam, one of the author's M48A3 tanks carried the legend "Pray For Slack" on its 90mm gun tube, thus the title of his memoirs.
Corporal Peavey takes the reader through his experiences as a Marine Corps M48A3 crewman and eventually tank commander. While attending NCO school at Camp Pendleton, California, his unit, the 5th Tank Battalion, is first stripped of experienced personnel to reinforce the infantry, and then given in-experienced LVT drivers as substitutes, before being hurriedly put aboard ship for its journey to South Vietnam. This is only the beginning of a series of arcane (and almost comic) practices that the author witnesses while serving in-country for the next 13 months.
Once in Vietnam, the author served in I Corps Tactical Zone (pronounced "Eye Corps"), where the US Marines made history at Khe Sanh and Hue city. Initially, Peavey served in the area around the base complex known as Da Nang, in his tank named "Better Living Thru Canister"; later he was moved north to the Demilitarized Zone (DMZ, commonly referred to as "The Zee"). Initially, he fought in the aftermath of the 1968 Tet Offensive in "Operation Allen Brook", or what came to be known as "Mini-Tet". Later he moved north, along the coast just below the DMZ, where he could literally fire at individuals in North Vietnam with the 90mm gun of his tank, "Pray For Slack".
His story is full of the dichotomy that still surrounds the US fighting man's experiences in Vietnam. He was involved in a "Friendly-Fire" incident, saw first-hand how the war was micro-managed from Washington and witnessed the ineptitude (as well as the outright thievery) of America's South Korean allies. He had his brushes with fate, notably when he was out of his tent when a nearby enemy artillery round shredded it. He also saw a fair deal of intense combat against the highly-motivated communist enemy. Also, the book is full of anecdotes (some amusing, some horrific) relating to life inside an M48A3 tank, both in action and at rest.
There is a small section of 16 color photos, which includes multiple views of both "Canister" and "Slack". Other photos depict various incidents mentioned in the text. There are also two maps showing his general area of operations, as well as one detailing "Operation Allen Brook". If I had anything to complain about here (I really don't!), it would only have been to ask for more photos, since what is given includes excellent references for someone wishing to model Corporal Peavey's tanks. But, you know how we modelers are: more reference is always best!
For the modeler interested in the Vietnam War and life in a Marine Corps M48A3, this book will prove not only to be entertaining and enlightening, but also a decent reference for a modeling project.
Highly recommended.
Frank V. De Sisto
Zenith press books are available at retail and mail order shops, or from the publisher at: 1-800-766-2388. On the web: www.zenithpress.com.