M1A1 Abrams 1991
Desert Storm Edition
Ryefield Model, 1/35 scale
Reviewed by Brett Green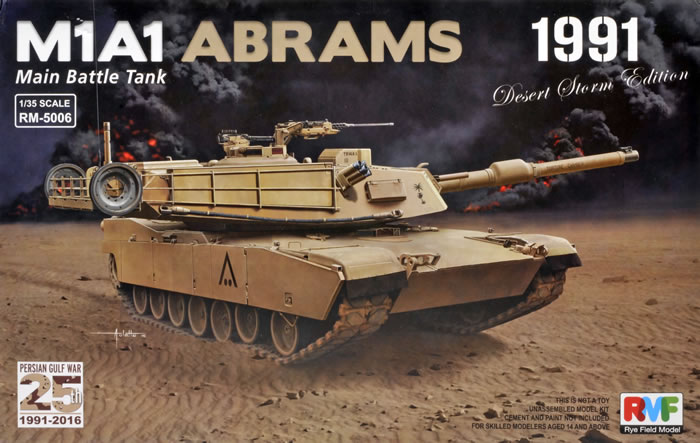 Summary
Stock Number and Description

Ryefield Model Kit No. RM-5006 - M1A1 Abrams 1991 Desert Storm Edition

Scale:
1/35
Media and Contents:

597 parts in tan coloured plastic; 557 parts in dark yellow plastic; 77 parts in clear; 1 x photo-etched fret; markings for three vehicles.

Price:
TBA
Review Type:
First Look
Advantages:

Excellent detail; high quality moulding; first-class surface textures including non-slip surfaces; many useful options.

Disadvantages:
None worth mentioning
Recommendation:
Ryefield Models' 1/35 M1A1 Abrams 1991 Desert Storm Edition is beautifully detailed, offers an interesting and historically important version and looks eminently buildable, especially with the simpler tracks! Highly Recommended

B a c k g r o u n d
The M1 Abrams is an American third-generation main battle tank. Highly mobile, designed for modern armoured ground warfare, the M1 is well armed and heavily armoured. Notable features include the use of a powerful multi-fuel turbine engine, the adoption of sophisticated composite armour, and separate ammunition storage in a blow-out compartment for crew safety. Weighing nearly 68 short tons (almost 62 metric tons), it is one of the heaviest main battle tanks in service.
Three main versions of the M1 Abrams have been deployed, the M1, M1A1, and M1A2, incorporating improved armament, protection, and electronics. These improvements and other upgrades to in-service tanks have allowed this long-serving vehicle to remain in front-line service. In addition, development for the improved M1A3 version has been known since 2009.
Due to the vulnerability of tanks in urban combat, the Tank Urban Survival Kit (or TUSK) was issued to some M1 Abrams tanks. It added protection in the rear and side of the tank to improve fighting ability in urban environments.*
---
F i r s t L o o k
Ryefield released a 1:35 scale M1A1 TUSK / M1A2 SEP Abrams TUSK 1 / M1A2 SEP Abrams TUSK II kit in 2016. This was an impressive and highly detailed model with 1,899 parts. I was suitably impressed, with my only real criticism relating to the somewhat intimidating tracks with six parts per link. My points were that the Abrams' track is "live", and therefore does not sag at all along the top run. Unless you want to display your Abrams on uneven ground (or buzz it around the lounge room), the workable feature is not really relevant. The majority of the track run is hidden behind skirts and armour anyway.
This new kit is specific to Operation Desert Storm, being an early (1991) version of the M1A1 prior to the upgrades fitted after bitter experience in the urban environs of Iraq.
The kit comprises a much more build-friendly 557 parts in dark yellow plastic, 202 parts in grey (tracks) and 75 parts in clear.
Let's start with the tracks. These are brand new link-and-length affairs with long sections for the top and bottom runs plus 48 individual links to run around the drive sprockets and idler wheels.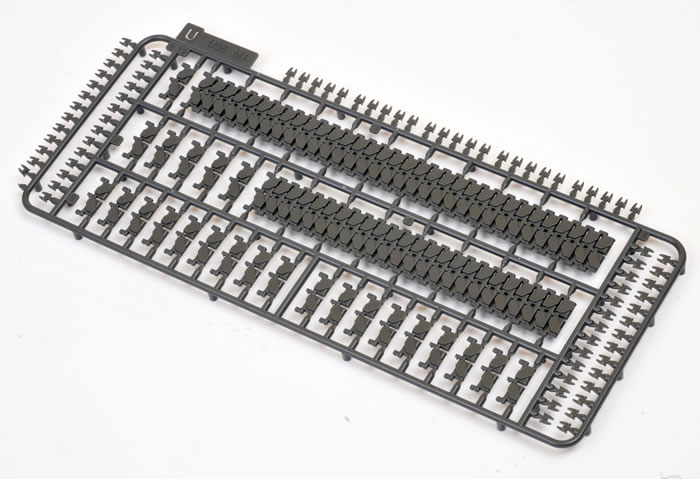 The guide teeth are separate parts. Compared to the six-part links in the earlier release, these will be a breeze to assemble and should look great on the finished model.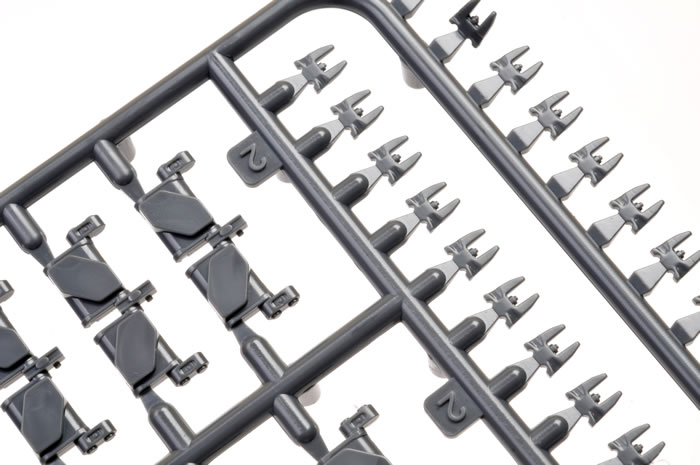 Rye Field's surface textures are the best of all the Abrams kits currently available, with convincing and restrained non-slip texture on the top of the hull and the turret.
The instructions are laid out logically and the options are clearly indicated in different sections and with colour coding.
Baskets and railings are all presented in injection moulded plastic, and they look great. Detail parts are really nicely presented too. I particularly like the .50 cal. machine gun.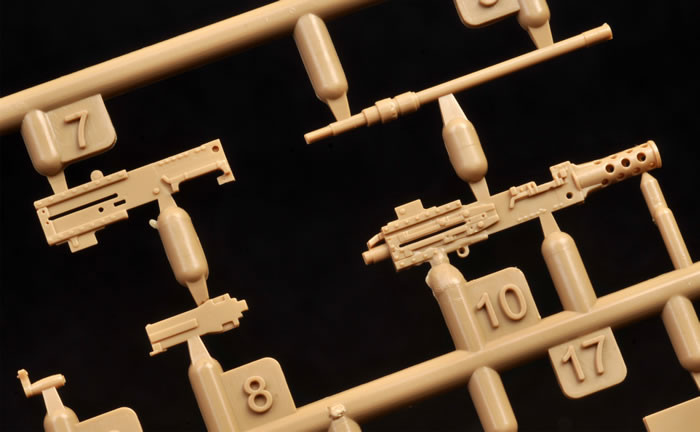 Smaller details plus mesh for the stowage baskets are supplied in a photo-etched fret.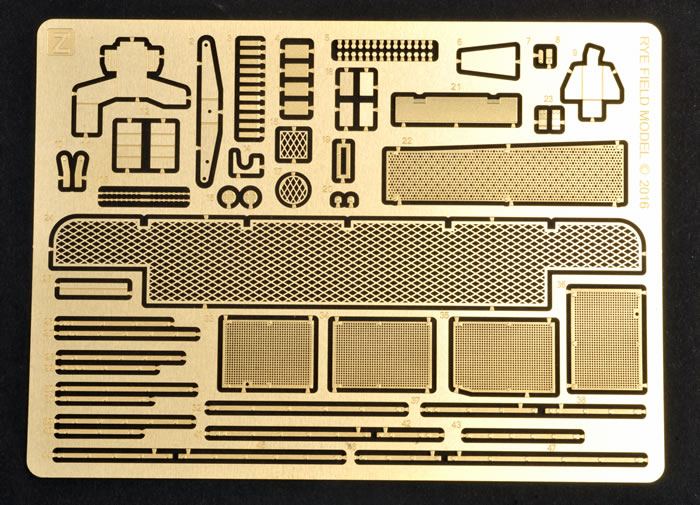 The road wheels are attached to swing arms, which in turn attach to workable torsion bars. Once again, the road wheels are sensibly and simply moulded with the tyres as outer and inner wheels.
Most of the engineering decisions to do with parts breakdown seem to be quite modeller friendly.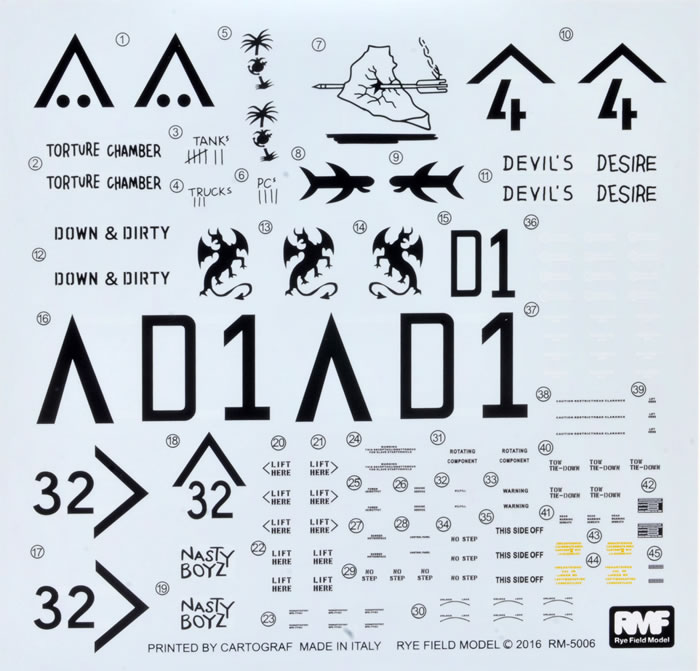 Markings for three overall sand vehicles are included on the kit's decal sheet. They are printed perfectly by Cartograf.
---
C o n c l u s i o n
In common with their previous Abrams release, I am impressed with the quality of Ryefield Model's 1:35 scale Desert Storm M1A1. It is beautifully detailed, offers an interesting and historically important version and looks eminently buildable, especially with the simpler tracks!
I look forward to seeing where Ryefield Model heads from now on!
Highly Recommended to experienced modellers
* Historical background courtesy of Wikipedia.
Thanks to Ryefield Model for the sample www.ryefield-model.com
Text and Images by Brett Green
Page Created 4 December, 2016
Page Last Updated 4 December, 2016