Home > Reviews > Modern > US Marine in Iraq: Operation Iraqi Freedom, 2003, by Richard S Lowry, illustrated by Howard Gerrard, Osprey Publishing Ltd
US Marine in Iraq: Operation Iraqi Freedom, 2003
Reviewed by John Prigent

Summary
| | |
| --- | --- |
| Publisher and Title | Warrior 106, US Marine in Iraq: Operation Iraqi Freedom, 2003, by Richard S Lowry, illustrated by Howard Gerrard, Osprey Publishing Ltd |
FirstRead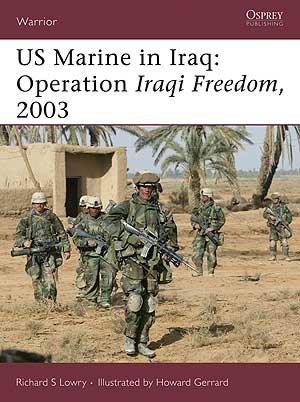 This addition to the Warrior series is set around two fictional composite Marines in the usual way, and starts with the expected chapters on recruitment and training. Here there's a lot of information about training right up to Regimental level, interesting in its own right.
Then the book moves on to deployment to Iraq, giving insights into how the Marines were transported and their units re-arranged for action. All this takes up the first half of the book, and then the action begins with the advance into Iraq and a detailed account of the Marine's fight for An Nasiriyah. All aspects are covered, from combat in their AAV tracks to medevac, making this a good reference to the battle.
For modelers there are plenty of colour photographs of the men and their equipment as well as good colour plates. Although there's little photo coverage of armour this is a good guide for putting figures around your AAVs.

Recommended to anyone interested in the Iraq wars.

Thanks to Osprey Publishing for the review sample
---