Home > Reviews > Modern > Osprey New Vanguard 122: HMMWV Humvee 1980-2005, US Army tactical vehicle, by Steven J Zaloga, illustrated by Hugh Johnson
HMMWV Humvee 1980-2005
US Army tactical vehicle
Reviewed by John Prigent

Summary
| | |
| --- | --- |
| Publisher and Title | New Vanguard 122, HMMWV Humvee 1980-2005, US Army tactical vehicle, by Steven J Zaloga, illustrated by Hugh Johnson, Osprey Publishing Ltd |
FirstRead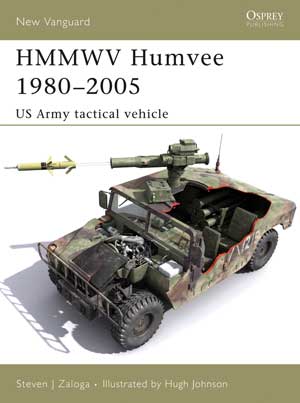 The Humvee comes in a bewildering array of versions from the basic original M998 to the latest –A2 upgrades, covering a multitude of tactical uses with just as many M-numbers.
Here, Steve Zaloga describes its initial development to replace an aging fleet of lighter vehicles that no longer met requirements and then takes us through the whole family from unarmoured load carriers to the latest armoured versions used in Iraq. The differing armour fits - add-on, built in, and extemporised, are all described. He also deals with the differences between US Army and US Marine versions and describes some quite fascinating developments, including missile-armed versions intended to replace the Hummer Avenger.
Civilian Hummers get a mention, with the upgrades taken from them for the military –A2 variants. Even laser-armed Hummers are included, and foreign users are not neglected.
This book will help a great deal in disentangling the various Humvee types from each other in photographs, and there are plenty of good colour photographs here to help as well as the colour plates.

Recommended!


Thanks to Osprey Publishing for the review sample
---