Home > Reviews > Modern > Britainís Secret War, The Indonesian Confrontation 1962-66, by Will Fowler, illustrated by Kevin Lyles, Osprey Publishing Ltd
Britainís Secret War, The Indonesian Confrontation 1962-66
Reviewed by John Prigent

Summary
| | |
| --- | --- |
| Publisher and Title | Men-at-Arms 431, Britainís Secret War, The Indonesian Confrontation 1962-66, by Will Fowler, illustrated by Kevin Lyles, Osprey Publishing Ltd |
FirstRead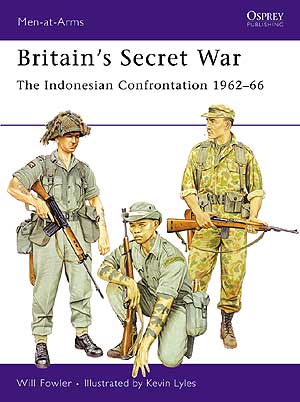 Although hardly remembered nowadays, this was a vicious little war sparked off by Indonesian dreams of empire.
Support for rebel operations in Brunei escalated after their defeat into cross-border incursions into Borneo by Indonesian regular troops and even landings in mainland Malaya. These were defeated on all occasions over the years by British, Malaysian, Gurkha, Australian and New Zealand efforts. Saladin armoured cars patrolled the few roads, naval support included coastal minesweepers penetrating the many rivers and estuaries, and jungle forts were established as bases for patrols and hearts-and-minds operations. All of this was far more successful than US efforts in Vietnam, and the Indonesians eventually gave up after a change of government. Here is a very good account of the Confrontation, describing many fights including actions by patrols that were sent across the border to hit Indonesian bases. Two resulted in high awards for gallantry, and are described here.
The text does not go into details of clothing and equipment, which are instead very well dealt with by the captions to the photographs and plates.

Highly recommended!
Thanks to Osprey Publishing for the review sample
---