Home > Reviews > Modern > Fortress 48, Viet Cong and NVA Tunnels and Fortifications of the Vietnam War, by Gordon L Rottman, illustrated by Chris Taylor, Alex Mallinson & Lee Ray, Osprey Publishing Ltd
Viet Cong and NVA Tunnels and Fortifications of the Vietnam War
Reviewed by John Prigent

Summary
| | |
| --- | --- |
| Publisher and Title | Fortress 48, Viet Cong and NVA Tunnels and Fortifications of the Vietnam War, by Gordon L Rottman, illustrated by Chris Taylor, Alex Mallinson & Lee Ray |
FirstRead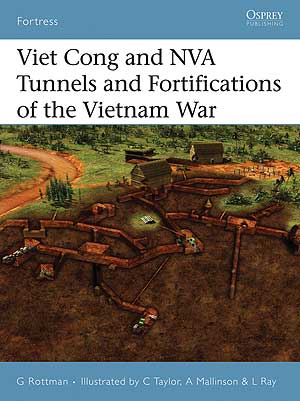 Most of us have heard of the Tunnels of Cu Chi and the Tunnel Rats who entered the Vietcong tunnels. Here is an analysis of the Viet Cong and NVA tunnels and other fortifications, by a man who was with Special Forces in Vietnam. He begins by looking at the terrain and the principles and methods used by the Communists in fortifying their camps and bases. These were field fortifications, dug into the earth and using wood and scavenged materials for roofs and shoring, not concrete emplacements. They were very hard to detect except at very close range, like the Japanese field bunkers in WW2, because of their excellent camouflage.
There's a great deal of information here about the trench systems, or rather manholes connected by trenches, used around Communist camps. There's just as much about the tunnels used for bases, some with as many as three levels and equipped with water traps or airlocks to block smoke or CS gas if an entrance was detected. Even allowing for the small stature of many of their inhabitants these were very cramped quarters, with sleeping niches rather than bunkrooms, and though the largest and best known did have hospital facilities and other amenities these were still not exactly capacious.

It makes fascinating reading, and should be on the bookshelf of anyone interested in the Vietnam War.
Recommended!
Thanks to Osprey Publishing for the review sample
---