Military Briefs No. 5
Australian Leopard AS1 Family of Vehicles
by John Myszka, Peter Jarratt, Phil Parkinson and Andre Scheitler
Reviewed by Brett Green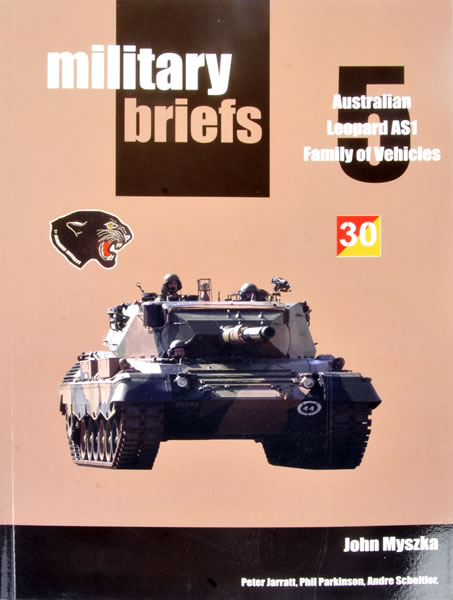 Summary
| | |
| --- | --- |
| Title: | Military Briefs No. 5 – Australian Leopard AS1 Family of Vehicles |
| ISBN: | 0-9577586-5-0 |
| Media and Contents: | Softbound; 192 pages; 450+ colour photos; line drawings, scrap views and other illustrations |
| Price: | AUD $55.00 plus postage available online from Mouse House Enterprises |
| Review Type: | First Read |
| Advantages: | Large number of good quality colour photos; logical structure; readable text. |
| Disadvantages: | |
| Recommendation: | A comprehensive work on the Australian Leopard AS1 family of vehicles. Highly Recommended |

FirstLook
The Australian government placed its order for the Leopard tank in 1974. A total of 101 vehicles were acquired, consisting of 90 MBTs, five Bridgelayers and six Armoured Recovery Vehicles. Two more ARVs were purchased subsequently.
The first Leopards arrived in Australia from Germany in 1976, ending a selection and trial process against the US M60A1 that started in 1971 when the Army decided it needed a replacement for its Centurions, which had served since 1952 and been deployed during the Vietnam War.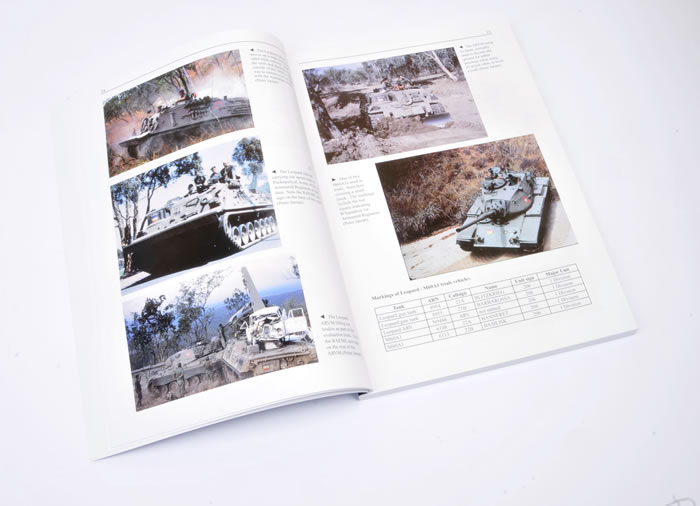 The Leopard 1 was operated by the 1st Armoured Regiment and was officially withdrawn from service in July 2007, when it was replaced with the US M1A1 Abrams AIM. Some of the retired Leopard tanks were offered to military museums or RSL clubs. *
Mouse House Enterprise's most recent book covers the Australian Leopard AS1 Family of Vehicles.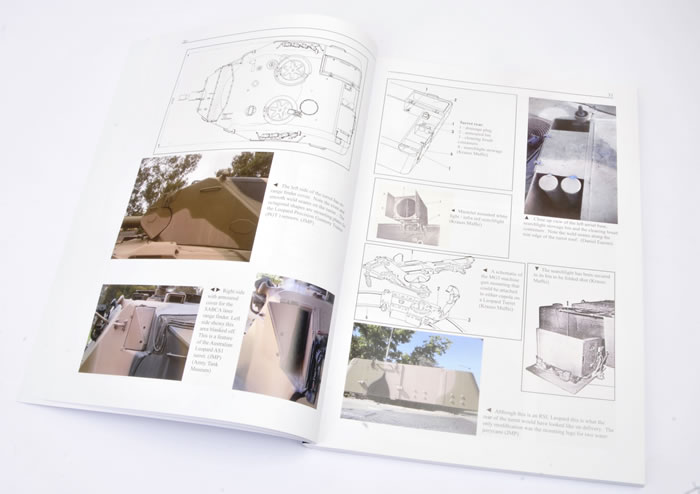 It is presented over 192 pages between soft cardboard covers. More than 450 colour photos document the development and trial vehicles, operational tanks, support vehicles, plus detail images of all variants. The photos are large and well reproduced – the jewel in the crown of this weighty reference tome. A good number of line drawings, scrap views and other illustrations are included too.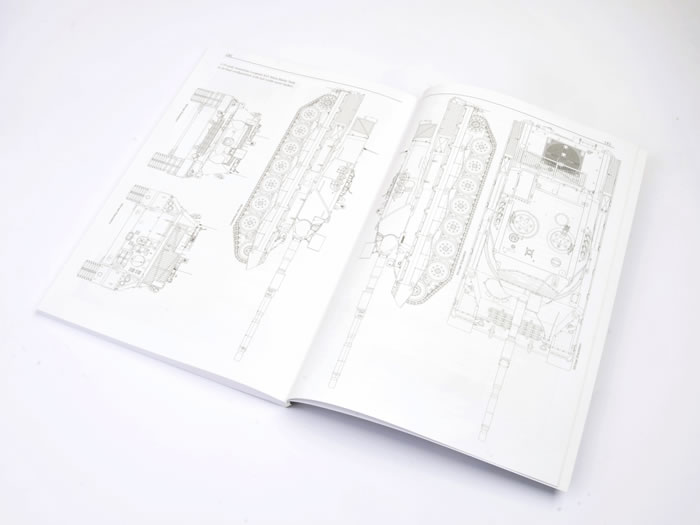 The book is broken down into the following Chapters:
Australian Army Medium Tank Trials
This Chapter covers the Trial Directive, the Trials themselves, purchase and delivery.
Leopard AS1 MBT Description
This Chapter describes the hull, engine, turret, armament and the interior of the fighting compartment
Leopard AS1 Support Tanks
Covering the Leopard Dozer, mine clearing equipment (mine rollers and mine ploughs), the Armoured recovery Vehicle Medium
The First Exercise
In Service Modifications
Turret stowage baskets, hull tool boxes, instructor's cage, gunnery system, Tank Fire Control System trainer
Leopard Crew Climate Control System
Includes air conditioning, Barracuda Mobile Camouflage System, Umbrella TOPCAM and Air Circulation System
A series of short sections follow, including Leopard Tank Thermal Sight, Leopard Precision Gunnery Trainer, Additional Leopard Purchases, Experimental Leopards, Road Wheels, Move to Darwin, Australian Leopard Camouflage, and Vehicle Markings.
Separate sections are provided for Leopards on Exercise between 1980 and 2007.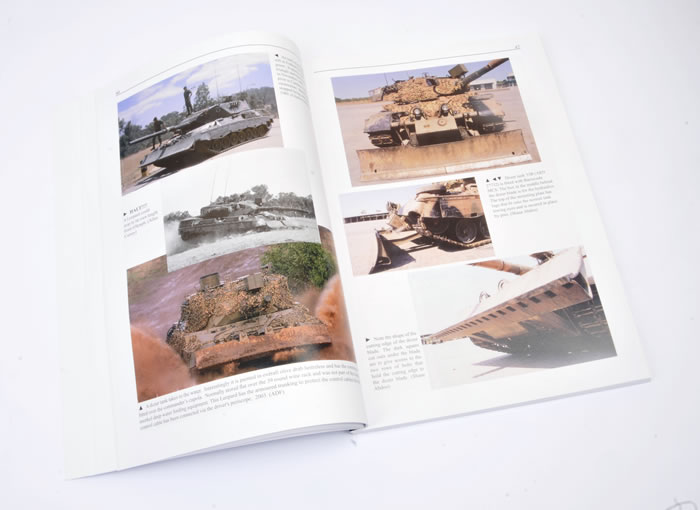 The main body of the book is wrapped up with a summary of tank transporters, rail transport, Leopard crew and scale drawings in both 1:72 and 1:35 scales.
Ten useful Appendices follow:
A. Leopard AS.1 Specifications
B. Comparative Data – Leopard and M60A1
C. Leopard Registration Numbers
D. Leopards on Exhibition
E. Leopard AS1 FOV Disposal
F. Snapshot of Vehicle Callsigns
G. Other References
H. Visual differences between the Leopard 1A3 and 1A4 turrets
I. Commanding officers of 1st Armoured Regiment 1977-2007
J. Models available of Leopard AS1 MBTs.
The high standard of research is matched by the presentation of the book. The paper is of high quality and glossy between its perfect bound soft covers. Layout is straightforward, most of the photos are of good size and well reproduced, and the text is easy to read.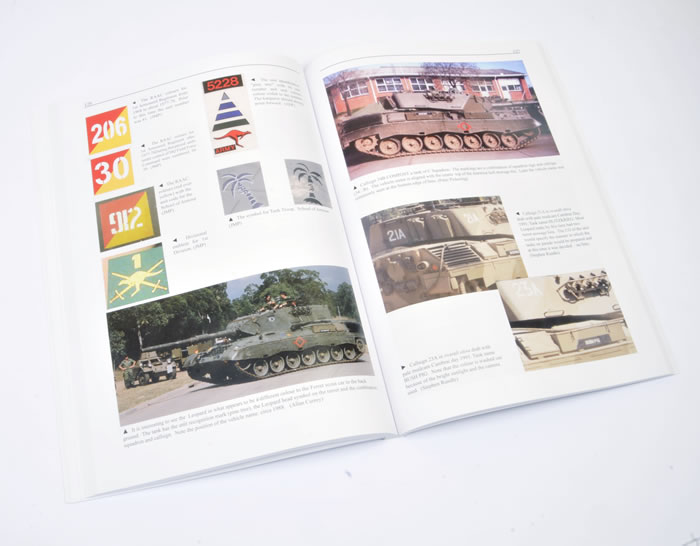 With their Military Briefs 5, Mouse House Enterprises has delivered a comprehensive work on the Australian Leopard AS1 family of vehicles. The format is ideal as a one-stop reference source for modellers, but will also be of interest to the armchair historian.
Not surprisingly, Mouse House also lists its own growing range of resin updates and conversions for the various Leopard kits.
Highly Recommended
Thanks to Mouse House Enterprises for the sample www.mheaust.com.au
Text and Images by Brett Green
Page Created 22 May, 2016
Page Last Updated 22 May, 2016