Merkava Mk.3D Early
Meng, 1/35 scale
Reviewed by Brett Green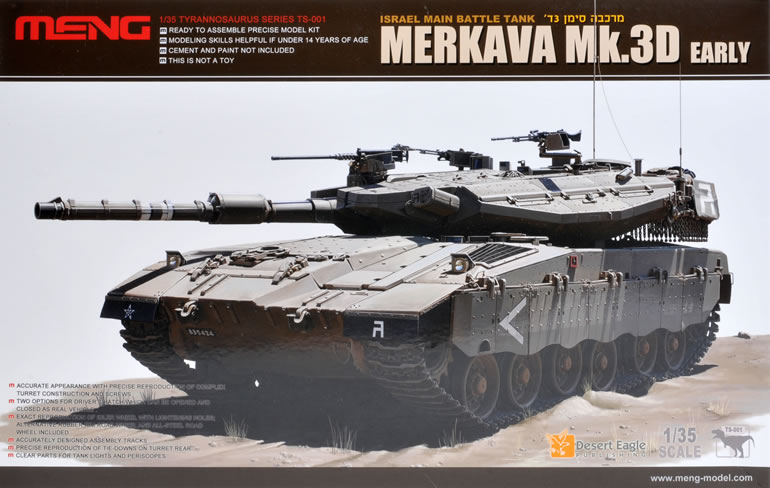 Summary
Stock Number and Description

Meng Kit No. TS-001 - Merkava Mk.3D Early

Scale:

1/35

Media and Contents:

More than 500 parts in greenish grey and brown plastic; markings for two vehicles.

Price:
USD$55.99 plus shipping available online from Lucky Model and retailers worldwide
Review Type:

First Look

Advantages:

First time this variant has been available as a 1:35 scale injection moulded kit; very high level of detail; convincing surface textures; excellent mouding quality; useful options including alternative wheels; individual link tracks ready to use straight from the bag.

Disadvantages:
Recommendation:
Meng Models has done a wonderful job with their 1:35 scale Merkava Mk.3D. This is a genuinely impressive model that will be warmly welcomed by fans of modern armour.

Introduction
The Merkava Mk.3D is the latest Third Generation variant of this well known Israeli Main Battle Tank.

The Merkava 3D was a significant development compared to the Mk.2. A new 120mm smooth bore gun was installed in a wider and more heavily armoured turret, which features an electrical control system. Additional applique armour was also fitted to the turret. A state-of-the-art Fire Control System was introduced to later Merkava 3Ds, but was also retrofitted to the earlier tanks. The hull was redesigned and up-armoured. A new 1200 horsepower air-cooled engine was mated to a new transmission, resulting in improved performance. Crew comfort and protection are enhanced with an air conditioner and NBC filtering system.

Other improvements introduced following fighting on the Lebanon border include the introduction of vision blocks for the Commander and wire mesh guards for optics and headlights.

---
F i r s t L o o k
Meng Models is the first company to release a Merkava Mk.3D in 1:35 scale, and they have done a very impressive job.

The kit comprises more than 500 parts, including individual track links. The main kit parts are moulded in a greenish grey plastic, while the track links are presented in the seemingly ubiquitous shade of "track brown"
Parts are crisply moulded with sharp raised detail. The lower hull is a one-piece tub, while the turret reflects the multi-part construction of the real thing. Applique armour features recessed lines and lovely raised details including bolt heads, tie-downs and latches. Indeed, detail throughout the kit is excellent.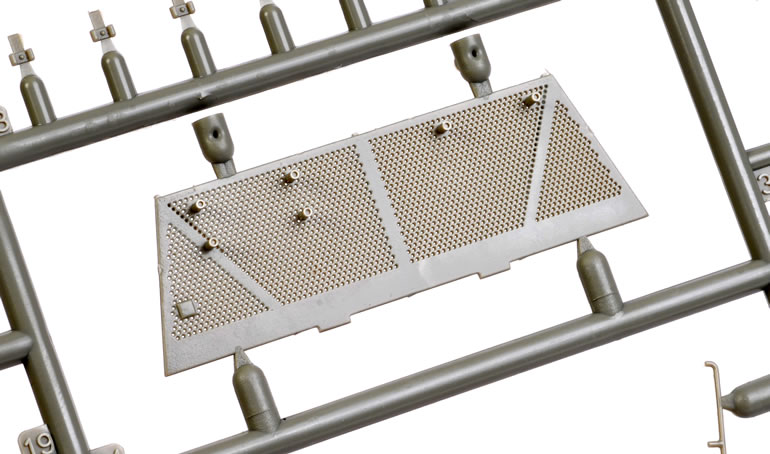 Meng offers the option of either all-steel or rubber-tyred road wheels. According to the instructions, a mixture of steel and rubber rimmed wheels might be fitted too. The road wheels are each made up from six pieces, including polythene caps for ease of assembly. The suspension is designed for flat ground only, as the nicely detailed springs are presented in solid plastic.

Detail parts are built up on the hull and the turret. The perforated vents, moulded in plastic, really look good.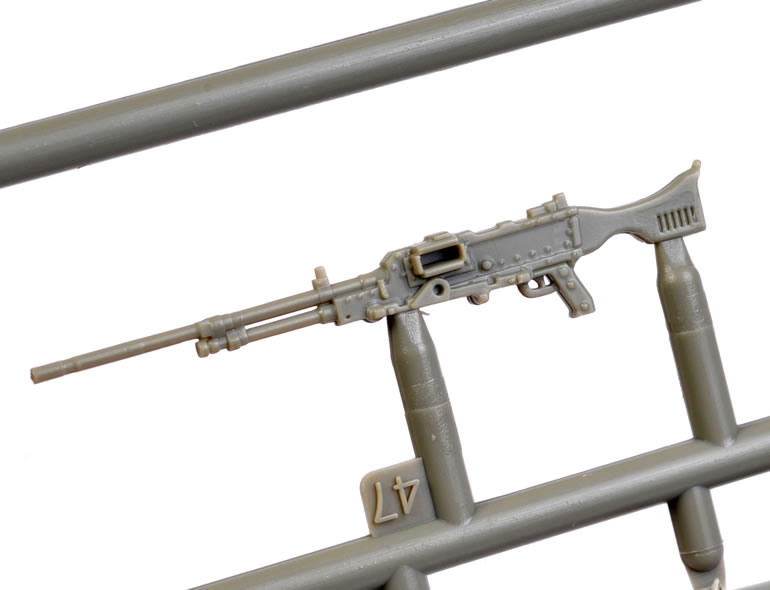 Also impressive is the injection-moulded ball and chain armour hanging from the rear of the turret. Normally, ball and chain armour is presented in multimedia – often photo-etch or metal chains – resulting in complex and time-consuming assembly. Meng has entirely bypassed any complexity by providing three simple panels of plastic balls and chains. They look very good too, and will be suitable for even less experienced modellers.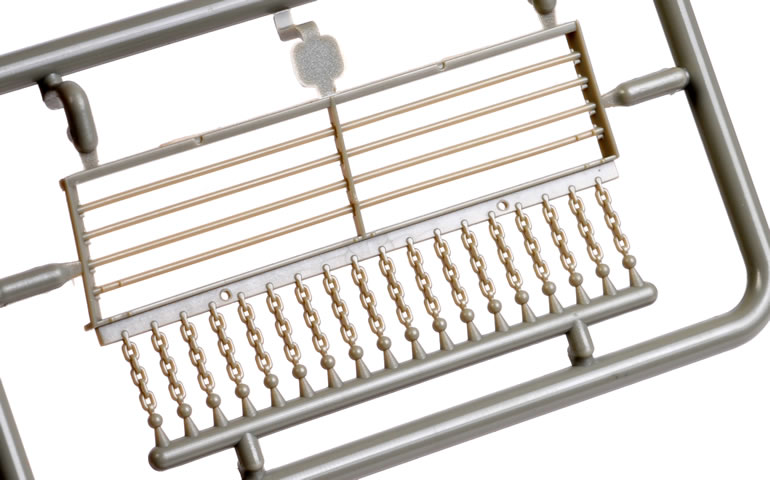 The M2 .50 cal and the loader's MAG machine gun are very well done. Hull and turret hatches are all separate but there is no interior detail.

Vision blocks, episcopes and the panoramic sight lens are provided on a clear sprue.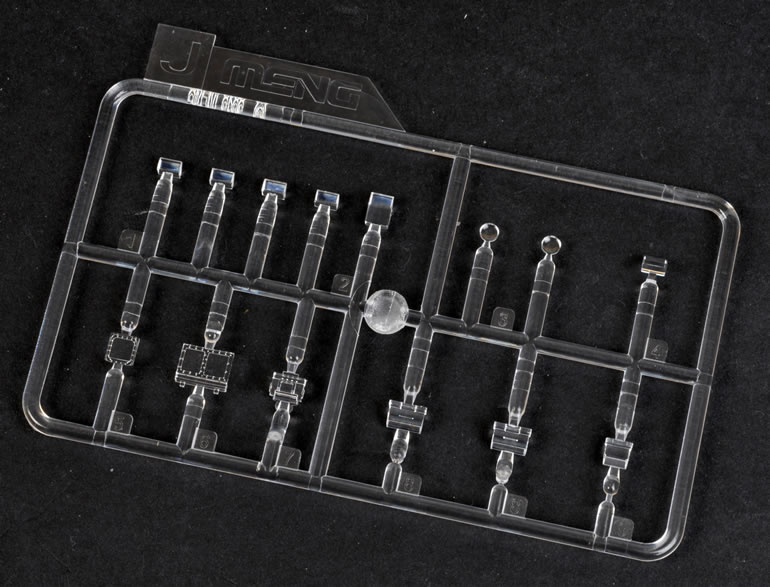 The individual tracks links are supplied loose in a plastic bag. They will be ready to assemble straight from the bag, with no clean up required.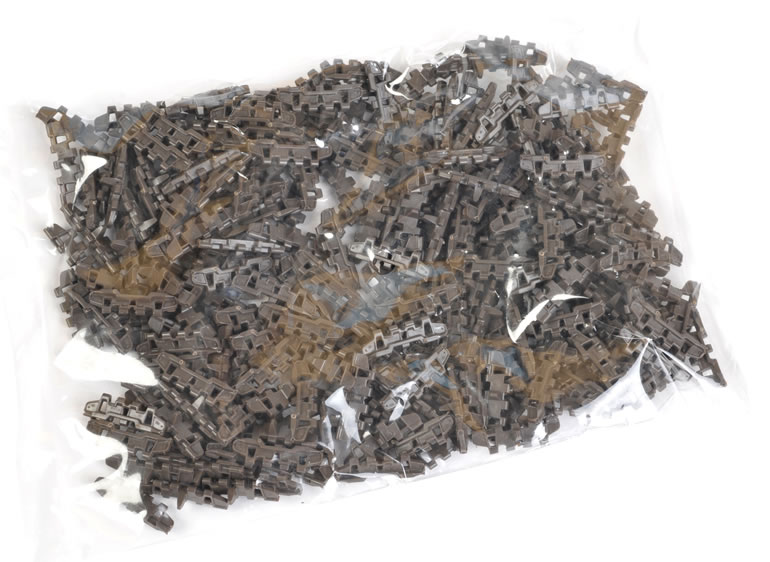 In what I believe is a first for a mainstream model, Meng has included lead sheet that may be used to represent the cloth marking panels on the turret.

Two marking options are offered:

Tank Gimel, 2nd Company (Wolves), 2nd Battalion, Barak (Lightning) Brigade, Lebanon 2006; and

Tank 10 Gimel, 2nd Battalion, Barak (Lightning) Brigade, Operation Cast Lead, Gaza, January 2009.

Both vehicles are finished in IDF Sandy Brown.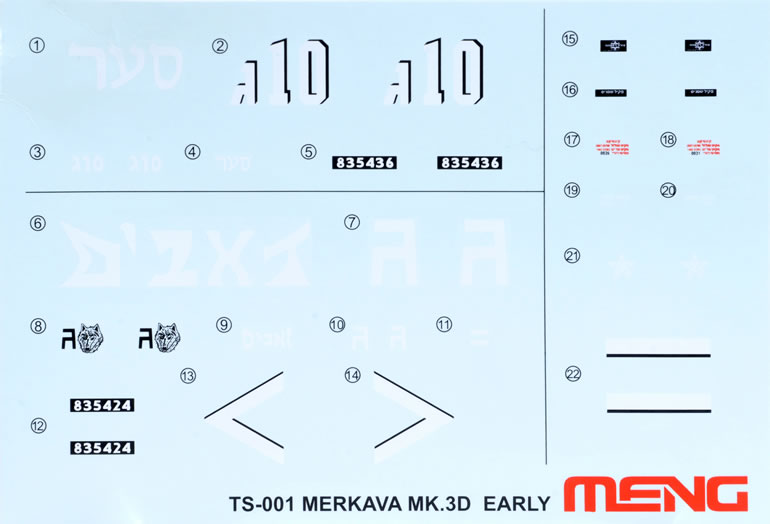 Instructions are presented in a 28-page booklet across 44 steps. Illustrations are clear, and although some of the assemblies are quite detailed, construction should not be too complicated.

---
C o n c l u s i o n
The Merkava Mk.3D is a tough looking tank, and Meng Models has done a wonderful job representing its multi-faceted construction. This is an excellent model that will be warmly welcomed by fans of modern armour.

Highly Recommended.

Thanks to Meng Models for the sample www.meng-model.com
Text and Images by Brett Green
Page Created 15 July, 2012
Page Last Updated 15 July, 2012