Military LAND ROVER Development and in Service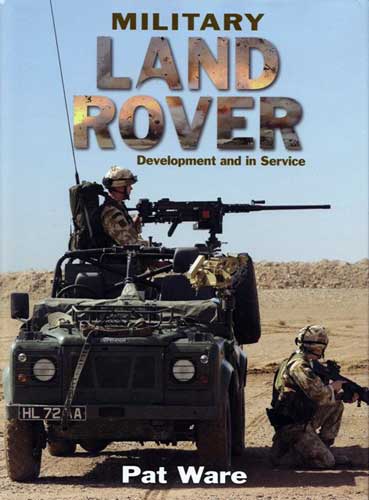 Reviewed by Al Bowie
Summary
Title and Publisher:
Military LAND ROVER Development and in Service
Ian Allan Publishing
ISBN:
0711031894
Media and Contents:
Hard cover; 208 pages 250 B&W and Colour Illustrations
Price:
£24.99 available online from Ian Allan Publishing's website
Review Type:
FirstRead
Advantages:
A comprehensive collection of Military land rover pictures covering inception to the current day
Disadvantages:
Mainly concentrates on British Military Landrovers
Recommendation:
Highly Recommended
FirstRead
The Land Rover is today a well recognised military vehicle and, in this authors opinion, the best military Four Wheel Drive since WW2, and probably of all time. Many books have been compiled on its civilian stablemate but this book deals with its military service and chronicles its long and colourful military evolution.
I must declare now that I am extremely biased towards the "Landy" having used many variants of them throughout my military career from ¾ ton variants of the II and IIa through to the 6 Wheel Drive 110 family with detours into the Fwd Control variants along the way.
The book is a hard bound edition with high quality of images in colour and B&W throughout. It follows a logical layout in well structured Chapters covering:
Origins

Major Models

Special Applications

Overseas Manufacturers
The author, Pat Ware, is well known in military vehicle publishing and is the current editor of Classic Military Vehicles. He has brought his extensive research knowledge to the fore and compiled a very detailed history of Britain's legendary Military Land Rover.
The book is lavishly illustrated with many historical shots of vehicles on service in the Middle East, Afghanistan, North West Europe, the Balkans and many other places where the Military Landrover can be found serving. A large number of coloured photos of restored and serving Special Forces variants should please the modellers and collectors alike.
Whilst the book covers foreign manufacture of the vehicle by countries such as Belgium, Turkey, Australia, Spain and Germany it manly covers the UK military service of the Land Drover including all the weird and wonderful experimental variants such as Half tracked and Hovercraft variants. Very few user shots other than publicity ones are included of Foreign vehicles but given the number of foreign users this is understandable as there are only so many pages available.
I would thoroughly recommend this book to anyone with an interest in Land Rovers whether they are a modeller, Historian, Collector or even like me, a former user.
Highly Recommended.
Thanks to DLS Books for the review sample
Text and Images by Alistair Bowie
Page Created 03 August, 2007
Page Last Updated 03 August, 2007