Home > Reviews > Modern >
Kinetic Kit No. K61010 - RG-31 Mk.3 Canadian Army Mine Protected Armoured Personnel Carrier with RWS
RG-31 Mk.3 Canadian Army Mine Protected Armoured Personnel Carrier with RWS
Kinetic, 1/35 scale
Reviewed by Brett Green
with additional information by Andrew Judson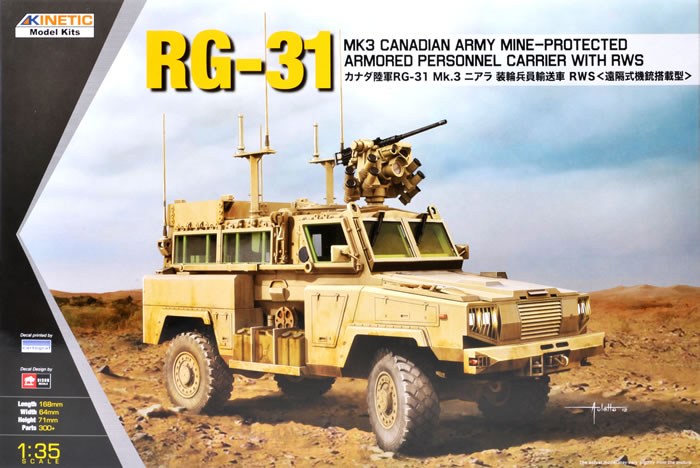 Summary
Stock Number and Description

Kinetic Kit No. K61010 - RG-31 Mk.3 Canadian Army Mine Protected Armoured Personnel Carrier with RWS

Scale:

1/35

Media and Contents:

203 parts in caramel coloured plastic; 25 parts in clear; 20 black vinyl parts; photo-etched fret with 13 parts; markings for three vehicles.

Price:
USD$45.99 plus shipping available online from Lucky Model
Review Type:

First Look

Advantages:

Timely and relevant subject; high level of detail; good quality moulding; includes photo-etched detail parts; nice rippling detail on tyre sidewalls; enhancements and additions compared to the original release.

Disadvantages:

A few moulding imperfections will require filling/sanding

Recommendation:

Another unique, interesting and well-detailed MRAP from Kinetic.

Introduction
The RG-31 design is based on the South African Mamba Armoured Personnel Carrier, and is built around a V-shaped, blast resistant armoured monocoque hull and high suspension. The US Department of Defence rates the RG-31 as a Category 1 MRAP, and it is designed to survive the blast from two TM-57 anti-tank mines exploding simultaneously.
The RG-31 Mk.3 is the US Army Armoured Personnel Carrier version fitted with a Detroit Diesel engine.
Other versions of the RG-31 include the extended chassis Mk.5E, the US Mk.5 with a Cummins engine and the RG-31 Sabre cargo vehicle.
In addition to the US Army and South Africa, the RG-31 is operated by a growing number of organisations including London's Metropolitan Police, the Canadian Army, Spain (including vehicles deployed to Lebanon and Afghanistan) and more.
---
F i r s t L o o k
Kinetic released their debut 1:35 scale RG-31, the U.S. Army Mk.3, at the end of 2012. I confess when I received this model, I assumed that it would be substantially the same as the original release but with the Remote Weapons Station (RWS) parts and Canadian decals.
I was wrong.
Andrew Judson compared this new kit with the U.S. version that he built in this issue of MMI, and advised that the following changes and additions have been made:
The interior has a different configuration, with one row of three seats on the left hand side, one inwards facing seat on the right hand side, and one forward facing seat for RWS operator.
There is a radio rack with radios to go into rear of vehicle, also RWS screen and controls.
Improved detail on the rear door
Different roof top hatch layout
Roof top shields for rearward facing operators
All markings for Canadian ISAF in Afghanistan
These are the definite changes, but there actually may be more minor ones as well.
Also, if you prefer, the kit may be built with the original window frames (still supplied in this version) with only the addition of the RWS.
Kinetic's 1:35 scale RG-31 Mk.3 Canadian Army Mine Protected Armoured Personnel Carrier with RWS is another really interesting kit from Kinetic. With its growing usage, there will be some interesting colour and marking possibilities; and further variants in the future too.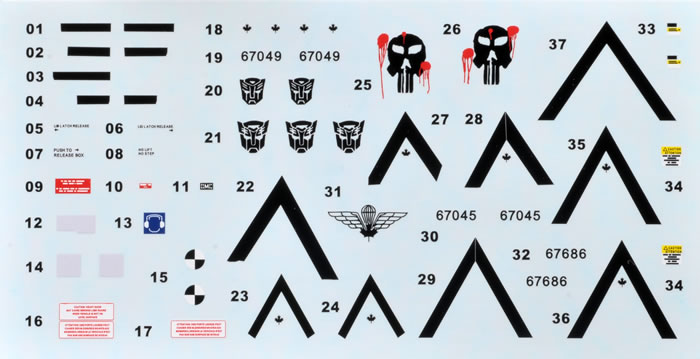 Andrew has advised that the kit builds up easily and fits well too, so this newest version should hold no surprises in construction.
---
C o n c l u s i o n
Kinetic is to be congratulated for their ongoing exploration of current MRAPs. Long may it continue!
Highly Recommended.
---
R e f e r e n c e
Wikipedia - http://en.wikipedia.org/wiki/RG-31_Nyala#Production_history
Thanks to Lucky Model for the sample
Text and Images by Brett Green
Page Created 18 August, 2013
Page Last Updated 18 August, 2013