ISAAF Vehicles Afghanistan 2007
Kabul & Kandahar Area
by Dick Taylor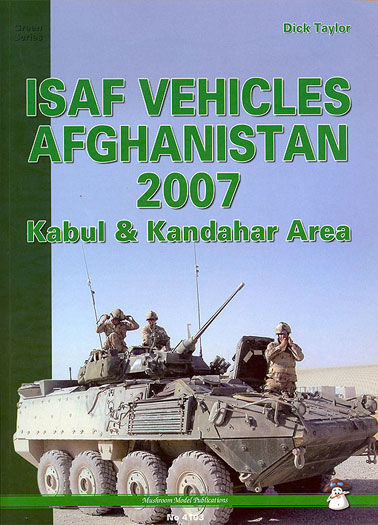 Reviewed by Adam O'Brien
Summary
Title and Publisher:
Mushroom Model Publications Green Series no. 4103
ISAF VEHICLES AFGHANISTAN 2007
By Dick Taylor
ISBN:
978-83-89450-76-0
Media and Contents:
Soft cover, A4 format, 96 pages all colour
Price:
Available by email from Platypus Publications cldkrau@yahoo.com.au or online from Mushroom Model Publications
Review Type:
FirstRead
Advantages:
Comprehensive look at ISAF vehicles
Disadvantages:
No vehicle explored in detail
Recommendation:
Highly Recommended
FirstRead

ISAF, the International Security Assistance Force in Afghanistan was first set up in 2002. In the summer of 2007, the force is in its 10th iteration, or ISAF X. The main ISAF HQ is a large multi-national affair, and is based in the centre of Kabul. Of special note with this book is the fact that the authors fee has been donated to the RTR Benevolent Fund and to BLESMA, the British Ex-Serviceman's Association.

Now let me cut to the chase. If modern soft-skin & armoured wheeled vehicles is your thing then buy this book. In it you will find a smorgasbord of all the latest wheeled vehicles used by the armed forces of the world. No less the 20 different countries involved with "the coalition of the willing" are represented here with large, sharp and well-composed photographs.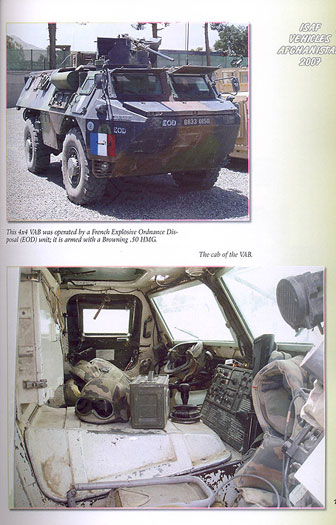 The book's layout is very simple. First we have an introduction which explains what the ISAF is, and how it operates. Also outlined are troop numbers by country. After this we have 2 main parts. Part 1 outlines the different vehicle types (18 in all), and the second part is a national summary. Basically, who uses what.

From a modelling viewpoint, this book is pure gold. Most of the vehicles outlined have some form of modification applied. We also see a lot of personal touches applied to the vehicles by the different crews. Of special note and interest is the myriad of different style markings applied country by country. The author explains and interprets the markings very well in the text.

Listed below are just a few of the (more unusual) vehicles highlighted in the book as an appetiser…
AT105 Saxon

BV 206S

Cougar

RG31

VM90P

Hermelin
Of course the book is also full of the better-known machines like Humvee's, Landrover's and Cobra's. There really is a fantastic variety on show.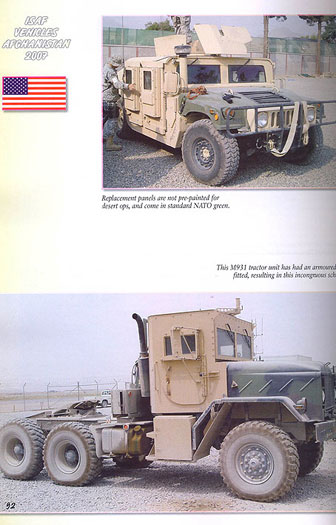 Most of the pictures were taken on various bases throughout Afghanistan, so what we see are vehicles either about to leave on a mission or patrol, or just returning. This is a good mix as the machines exhibit the relative clean of the base prior to leaving and the nicely weathered appearance on return. All great reference for the modeller.
---

Conclusion
Mushroom Publications "ISAF Vehicles Afghanistan 2007" is a superb reference work by Dick Taylor. It's a great book to flick-through and contains modelling inspiration on every page.

Highly Recommended.
Thanks to Ley from Platypus Publications for the review copy.

Text by Adam O'Brien
Page Created 09 December, 2007
Page Last Updated 08 December, 2007