Eduard PBR 31 Mk.II Pibber (53010)
by Frank De Sisto
1/35-scale photo-etched brass for the Tamiya kit. Price: $22.95 USD.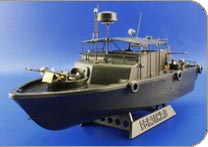 I have long wondered why this particular kit has never received the Eduard treatment. In fact, as far as I know, it has been completely ignored by every after-market manufacturer in existence. Now that Eduard has released this set, I can finally sleep at night (insert smiley-face here).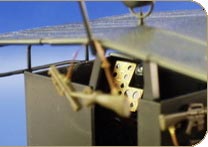 The set begins with access panels for the inside and outside of the transom and continues with an instrument panel and film dial faces, as well as fire extinguisher details and mounting bracket for the cockpit.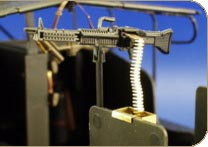 The various antenna mounts get plate details as well, while the radar dome gets details for its base and mount. The forward mount for the twin .50 cal. M2 machine guns gets a new cradle, shields, ammo chutes, ring sight, barrel cooling jacket and muzzle flash suppressors.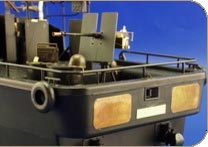 The rear .50 cal. also gets a cooling jacket, sights, grips, cradle, ammo box and tray. The 40mm grenade launcher receives a new ammo box (which the instructions show being mounted on the M60 machine gun).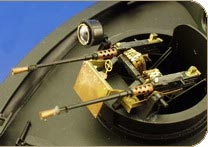 The M60 itself gets a new top for the C-ration can that was sometimes attached to the weapon to ease the feeding of the belted ammo. Other small details are given such as slings for M16 rifles and M79 grenade launcher (as well as a sight for the latter), helmet chin straps, ammo box end details, cassette tapes and binocular straps.
While this is not an "end-all" set for this interesting Riverine craft, it is certainly a large step in the right direction.
Recommended.
Images provided by Eduard whose products are available at retail and mail order shops, or direct from the manufacturer at: www.eduard.cz.