Eduard M88 Recovery Tank (35787)
by Frank De Sisto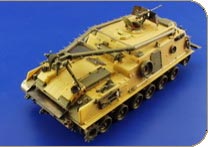 Photo-etched brass in 1/35th-scale for AFV Club kit. Price: $29.95 USD.
AFV Club's M88-series of tank recovery vehicles has been on the market for well over ten years. I built the M88A1 back when it was released and considered it one of the best (if very complex) plastic kits ever released. Its one great failing was the way in which the head-and tail-lamp brush guards were molded. It was virtually impossible to get them off the sprues without mangling them beyond use. AFV Club corrected that in later kits with photo-etched brush guards.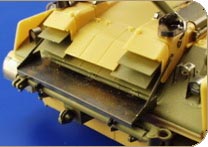 This set from Eduard is designed for the Vietnam-era M88. Aside from the above-mentioned brush guards, this kit also has a parts for the partial ACAV shields as seen fitted to some M88s while in Vietnam. The remainder of the commander's cupola gets complete details for the .50 cal. M2 HMG, including all of the usual things that we come to expect from Eduard: pintle, barrel cooling jacket, grips, carry handle, sights, gun and ammo box cradle, ammo box and ammo belt, and small chains. There are also new rims for the episcope blocks on the cupola.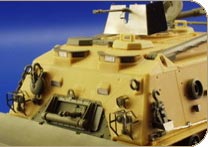 There are new storage straps, clamps, frames and brackets for the myriad of tools and equipment carried on the vehicle's outside. These include a new pioneer tool rack, track storage racks, all of the racks for the various welding tanks and tow bars, tow cable clips and clamps, hull rear storage racks, and the perforated basket mounted on the "A"-frame boom. There are also loads of small bits such as tail-lamp faces, chains for the tools, plus the fire extinguisher pull handles and housing. Finally, there are a pair of jerry can racks, with straps and replacement rear fender/mud flap assemblies.
The advent of this new set makes me want to build another M88. If you have one "in the pile", this set may be just what you need to get started.
Highly recommended.
Product images are used by permission of Eduard. Eduard products are available at retail and mail order shops and directly from the manufacturer at: www.eduard.cz. Visit their web site for additional images of reviewed items.