Eduard M-1025 Humvee additional armor plate Iraq (35778)
by Frank De Sisto
Photo-etched brass in 1/35th-scale for Tamiya kit. Price: $22.95 USD.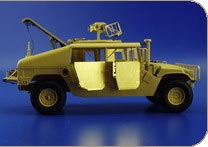 This set contains a very basic type of up-armored door system, featuring the style that allows the crew to lean out of the vehicle. The armored strip along the lower hull is attached to these "half-doors". To these, hinges, locks and splash strips are attached, as is the small spaced plate over the set of vents on the forward passenger side of the base vehicle. Finally, there are simple sliding closures for the interior surface of the doors.
As an option, the doors can be left opened or closed, while the utter simplicity of this set will appeal to novices.
Recommended with reservations.
Eduard products are available at retail and mail order shops and directly from the manufacturer at: www.eduard.cz. Visit their web site for images of reviewed items.