Echelon Fine Details Road & Traffic Signs (OIF related) (SN355001)
by Frank De Sisto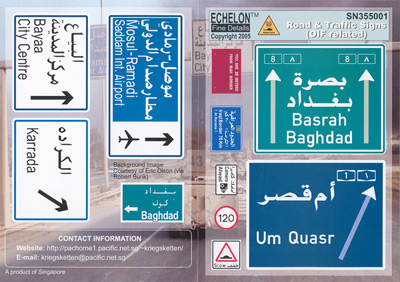 Printed paper in 1/35th-scale. Price: $ USD, includes shipping.
Much like Verlinden did, lo those many years ago, Echelon has also come up with some road signs. In this case they are for Operation Iraqi Freedom and its aftermath. Most of them can't easily be used for Operation Desert Storm, as they mostly concern themselves with areas around Baghdad. But there are some that can, widening this items appeal.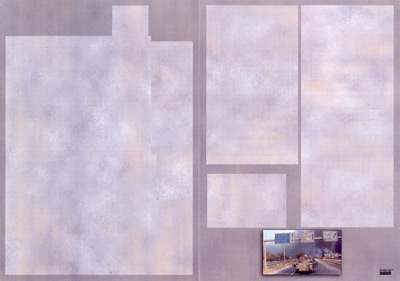 The manufacturer has taken a slightly different approach with these signs, since he also provides the proper coloration (sort of a weathered metal effect) for their reverse sides. This is a good idea as far as it goes. But, these designs are excellently printed on glossy paper, not card, and therefore they lack any kind of rigidity. For the small designs this should not be a problem; for the larger ones I believe it will. They will not be able to withstand any kind of rough handling, and will also probably curl at their edges due to atmospheric conditions (heat, light and humidity). I think the manufacturer may wish to re-design this as two separate sheets (one for the signs and the other for their backs. Then, one can sandwich a sheet of styrene between them and trim. Or, the designs can be fixed, as is, to an appropriately painted piece of sheet styrene for rigidity.
This sheet's a nice idea and the inclusion of printed matter for the backs of the signs is certainly welcome. However, the execution needs to be re-thought.
Recommended with reservations.
Echelon Fine Details are available from retail and mail-order shops. Or direct through their web-site at: pachome1.pacific.net.sg/kriegsketten/, e-mail: kreigsketten@pacific.net.sg.