Decalomaniacs M8s Around the World (DM-029) and M24s Around the World (DM-030) waterslide decal sheets
by Frank De Sisto
Both the M8 armored car and the M24 light tank saw extensive postwar service with a large variety of nations. Indeed, both vehicles, in various guises served for 50 years (and counting) with the armed forces or police forces of more than a few smaller nations.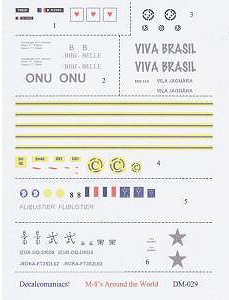 As the title's would indicate, the emphases is not simply on US use, but international use as well. The M8 sheet has markings for six vehicles from the following countries and time periods: French in Indo-China, 1951; Brazil in Italy, 1944; Sweden in the Belgian Congo, 1961-64; US Army in Germany, 1948; 2nd French Armored Division in France, 1944; ROK (Republic of Korea) in Korea, 1951. The markings were chosen for their uniqueness and for their color. For instance, the US M8 is from the 42nd Constabulary Regiment in post-war Germany and has colorful blue and yellow trim for the hull, as well as the Constabulary Force insignia as seen on the turret sides and hull glacis.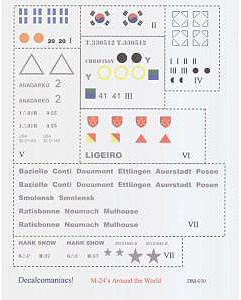 The M24 sheet has markings for a total of eight tanks but there are actually more when one considers that the known names (ten in total) of the French M24s at Diem Bien Phu are all given. So, in actuality, 17 tanks can be modeled. The remainder includes two different US post-war tanks, and one each from the following armies: Greece, Portugal, Republic of Korea, United Kingdom and Uruguay. There are profiles of each tank, but the cited references will prove very helpful in precisely applying the markings. In addition, the French tanks all had variations in field applied camouflage paint, while the tank from Uruguay had a Scania diesel engine deck. So, again, check those references!
In general, the printing is well done, but since this is done via computer, some of the edges of the markings for the Uruguayan and Portuguese tanks are a bit ragged. As with all of the sheets from this manufacturer, the printing is done on a "full" backing sheet, so careful trimming is in order.For sheer variety, these two sheets can't be beat.
Both sets: recommended.
Note: images have some markings shown in black for clarity.
Decalcomaniacs! products are available from the manufacturer at: www.decalcomaniacs.net.