Decalomaniacs Israeli Tactical Markings (1948-1973) Part 1 (DM-028)
by Frank De Sisto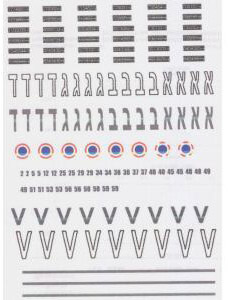 Waterslide decal sheets in 1/35th-scale. Price: $8.00 USD, each plus shipping.
DM-028.
Set 028 contains markings commonly seen on Israeli AFVs from the period 1948-1973. Marked as "Part 1", it indicates that a second sheet is being planned.
There are 18 pairs of vehicle registration plates, as well as eight bridge classification discs. The latter includes 18 pairs of white number sets to fill the disk. There are four sets of Hebrew characters used to represent the 1st through 4th platoon of a given unit, which are provided as white, or white with a black outline items. There are four of each for a total of 32 items. The chevrons that are commonly seen on Israeli AFVs are also given as white, or white with black outline designs. There are nine of each of these. White gun tube stripes as well as six geometric signs finish up the sheet.
The instructions contain five charts that clearly explain what each marking means and where they were typically applied. Each is accompanied by explanatory text, while it's all followed by a brief reference list.
Both sheets are cleanly printed and feature good color saturation. These are printed on a "full" clear backing, so each design must be carefully cut out before use. I noted an omission on the Israeli sheet: the symbol for the M109 SPG, although explained in the instructions, was missing from my sample. Also, the black outlined chevrons and all of the Hebrew characters were distorted in that they are too narrow in their width. The manufacturer was made aware of this problem and a fix is in the works.
This is all good stuff, especially for those who model vehicles from these two rather different, but very popular subject's armies.
Recommended with reservations.
Note: images have some markings shown in black for clarity.
Decalcomaniacs! products are available from the manufacturer at: www.decalcomaniacs.net.