Home > Reviews > Modern > Blue Steel IV – Sherman Tanks & APCs in Southern Lebanon by Moustafa El-Assad
Blue Steel IV - Sherman Tanks & APCs in Southern Lebanon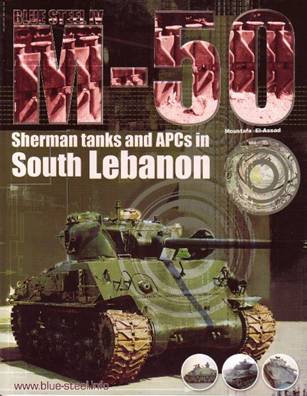 Reviewed by Alastair Bowie
Summary
Title and Publisher:
Blue Steel IV: Sherman Tanks & APCs in Southern Lebanon by Moustafa El - Assad
ISBN:
Not quoted
Media and Contents:
Soft cover, A4 format, 68 pages all colour
Price:
AUD$45.00 from Platypus Publications. May be ordered by email via cldkrau@yahoo.com.au
Review Type:
FirstRead
Advantages:
A Colour Photographic study, special focus on Ex Israeli Shermans supplied to Pro Israeli Lebanese during the Civil War. Aimed at the modeller. Large clear colour photos
Disadvantages:
Not much text
Recommendation:
Recommended to anyone with an interest in Israeli Shermans or the Lebanese Civil War
FirstRead
For centuries, Lebanon has been fought in or over. This century finds this once beautiful and developed country still plagued by conflict. During the Civil War of the 1980s, Israeli military equipment was supplied to pro-Israeli factions and militias, and the heavily modified Israeli Shermans were prominent amongst that materiel.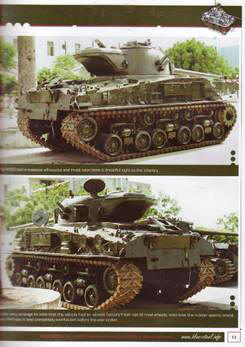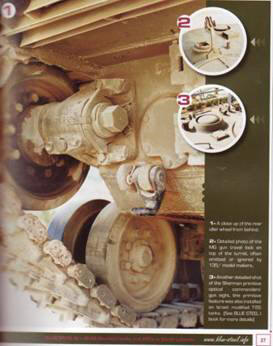 Moustafa El Assad has compiled a number of photographic records of this ex Israeli hardware and presented it in the Blue Steel series of which this is Volume IV.
This newest title in the series includes detail photos of various preserved and wrecked vehicles which can be found in Lebanon.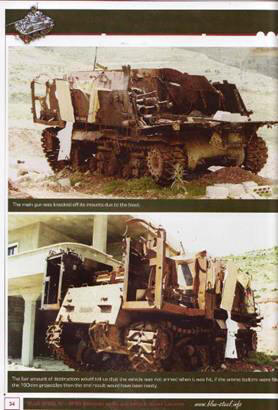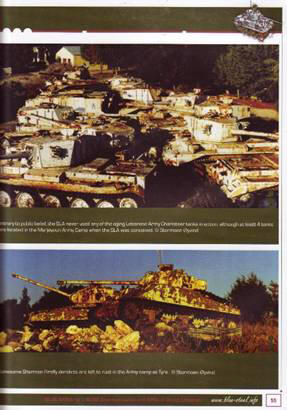 The book commences with photos of the M50 Sherman and progressing through the Locally modified (?) APC variant, which is interesting as it is based on an M4A2 Hull with the welded driver's hoods but with Israeli Powerpack and HVSS Suspension.
Along the way Mustafa has provided images of the SOLTAM Heavy Self Propelled Mortar in both semi complete and battle damaged states.
He has also included pictures of two Sherman Fireflies, Charioteers and Israeli supplied and modified T54s in near new condition.
To round out the book a section devoted to Built up Models of both the APC and an M50 is included. A series of frames from a movie of a Cast Hull M50 in action completes this interesting publication.
---

Conclusion
This book is of high value to anyone wishing to model these interesting vehicles and, thanks to the detail photos, will also be of use to post war Sherman modellers. Few good detail references have appeared of these vehicles and these will fill a reference vacuum for fans of the Arab Israeli or Lebanese Civil War.
Other titles in the series are:
T55 tanks and APCs in South Lebanon

M3 Halftracks in South Lebanon

M113 Carriers in South Lebanon

Sherman tanks and APCs in South Lebanon

Landing Zone Lebanon – Peacekeepers in Lebanon 2006-7
More information may be found by following this link: http://www.blue-steel.info/
Highly Recommended.
Thanks to Ley from Platypus Publications for the review copy.

Text and Images by Alastair Bowie
Page Created 30 September, 2007
Page Last Updated 29 September, 2007