Blue Steel 3 – M113 Carriers in South Lebanon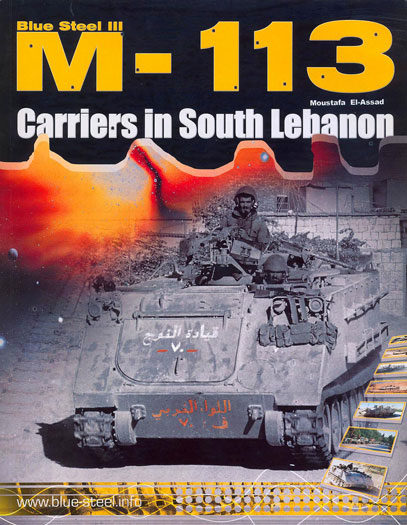 Reviewed by Adam O'Brien
Summary
Title and Publisher:
Blue Steel 3 – M113 Carriers in South Lebanon by Moustafa El-Assad
ISBN:
Not quoted
Media and Contents:
Soft cover, A4 format, 80 pages, 5 B/W, 122 colour photos
Price:
USD$25.00 plus $8.00 shipping available online from http://www.blue-steel.info
Review Type:
FirstRead
Advantages:
Excellent detail and weathering reference
Disadvantages:
Some photos a little grainy
Recommendation:
Recommended
FirstRead

The latest volume in Moustafa El-Assad's Blue Steel series targets the M113 in South Lebanon. I must say from the outset that I think the book is an improvement on the previous volumes. I said this about volume 2 as well, so the series is getting better with each release. I still have my reservations about the graphic design and layout of the books, but on the whole, they fill a required niche.

The book's set out is similar to the preceding 2 in the series. This time starting with a 2 page history of the M113 in South Lebanon followed by a contributor page. The body of the book then is an eclectic mix of in-action and destroyed M113's – all good modelling reference. At the end of the book we have a 5 page spread on one of the author's finished M113 models.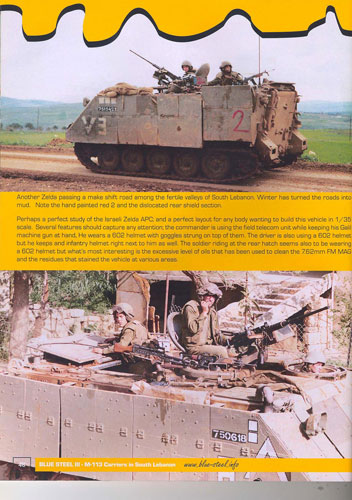 The mix of destroyed / operational vehicles within this volume is a little more biased towards the latter which is a good thing. The photography generally is the best yet in the series. We have 1 or 2 photos per page with most shots well exposed and sharp. The mix of close and long shots is good also, and should be very helpful to the modeller.

There are no true walkarounds to be found, however, there is a 12 page section that highlights an ex-IDF, ex-SLA Zelda fitted with TOGA armour. Of particular interest are the shots of a damaged section of the TOGA panels that focus on the armour attachment brackets – very useful detail for modelling the TOGA arrays, which the author has capitalized on for the construction of his model!

An interesting series of photos that divert from the subject of the book is a sequence of shots taken along the Lebanese / Israeli border. Here we have some quite good shots of the IDF NUN NUN command car (soon to be released by MIG Productions), Nagmashot's, Merkava's and even a page devoted to IDF helicopters!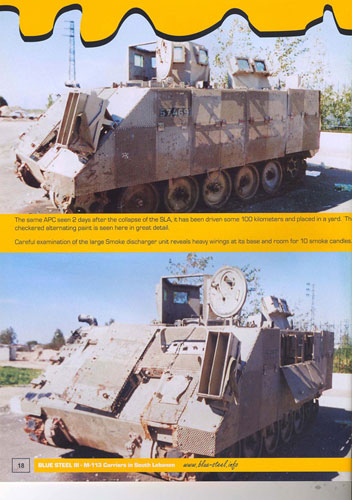 Spread throughout the book is a series photos of M113 models produced (I assume) by the author. They are nicely constructed and compliment the book, though we have no build-up or painting descriptions.
---

Conclusion
Blue Steel 3 is a definite improvement over the first 2 books in the series. Modellers of SLA M113's will find this book useful in converting, detailing and weathering their kits. A mix of IDF "border patrol" shots only adds interest to this handy volume.
Recommended.
Thanks to Moustafa El-Assad for the review copy.

Text and Images by Adam O'Brien
Page Created 06 October, 2007
Page Last Updated 05 October, 2007