Bison Decals: Croatian Tanks '91-95 BD-35003, Balkan T-55s BD-35004, Balkan Armour '91-95 BD-72008
by Nicola Cortese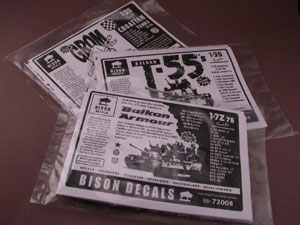 Bison decals, formally known as "AFV-decals", are a relatively new company and are known primarily for their high quality 1/72- and 1/76-scale armor decals.
I was most pleased to receive three of their latest decal sheets for review, and frankly being someone who in the past has hated using decals, I felt that I would be slightly biased against them. However, these sheets definitely made me give decals sheets another try.
They have recently made the step up to 1/35 scale and just released two new sets of 1/35-scale decal sheets, which will delight modern armour and T-55 fans.
There has been a plethora of T-55 kits released in recent years, most notably. Tamiya's excellent T-55 offering. This particular vehicle was quite prolific throughout its long history and many exotic and interesting variants have come to being – take a look at the T-55 m-18 hybrid, for example.
The accompanying black and white instruction sheets are packed with individual vehicle scheme patterns in rather small print, which may make it difficult for some to figure out the more intricate camo schemes. I would like to recommend that a color instruction sheet be added in by Bison, particularly considering some of the colorful paint schemes featured.
There are plenty of vehicles within each decal set, which make each great value for the money.
The overall quality of the decals looks great. Manufactured by "micro scale" the decal registration is spot on and colors are vivid and clear.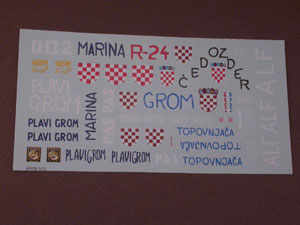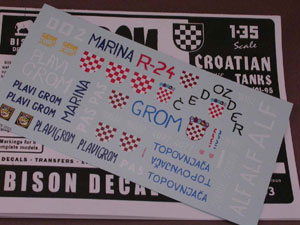 Croatian Tanks '91-95 BD-35003
These decal sets are wonderful. Bison have produced a decal sheet of interesting subjects, with the majority of vehicles T-55s; but also thrown in is a neat M-36 Jackson and a T-34-85.
Complete markings for the eight models:
T-34-85M 'PAS'
T-55A 'ALF'
T-55A 'GROM'
T-55A 'MARINA'
T-55A 'CEDOZDER'
T-55A 'PLAVI GROM'
T-55A '002 / GROM'
M-36B2 ' TOPOVNJACA'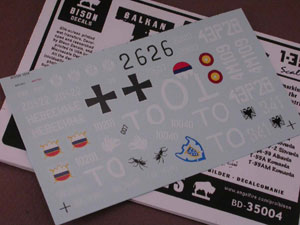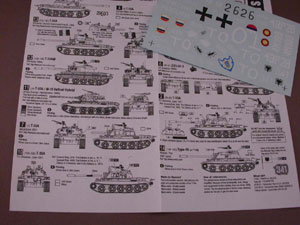 Balkan T-55s BD-35004
Once more this set is mainly T-55s, but also thrown in is ZSU-57-2, and a neat T-55 / M-18 Hellcat Hybrid.
Complete markings for 15 models are:
5x T-55A. JNA / Serbia
T-55A. Macedonia
T-55 / M-18 Hellcat Hybrid. Armija BiH
2x T-55A. TO Slovenia
ZSU-57-2. SV Slovenia
M-55S1. SV Slovenia
Type-59. Albania
T-55A. Romania
T-55AM. Romania
T-55A. Croatia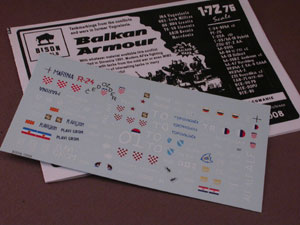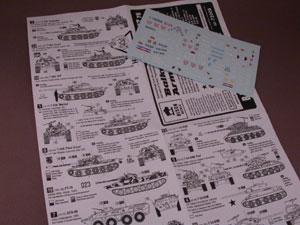 Balkan Amour '91-95 BD-72008
For those of you who like to tackle braille-scale 1/72 and 1/76-scale armour, Bison have also released a set with which you can model an astounding 34 vehicles from T-55s to M-36 Jacksons.
Complete markings for 34 models:
5x T-34-85M
PT-76
10x T-55A
T-55/M-18 Hellcat Hybrid
ZSU-57-2
M-55S1
2x M-84 (version of T-72)
M-18 Hellcat
2x M-36B2 Jackson
M-47 Pershing
BRDM-2
BRDM-2 SA-9 SAM
2x 2S1 Gvozdika SPG
TAB-71 (version of BTR-60)
BTR-50 PB
BTR-50PU
BTR-80
More details can be found at www.angelfire.com/pro/bison
Nicola Cortese