M151A2 TOW Missile Launcher
by Cookie Sewell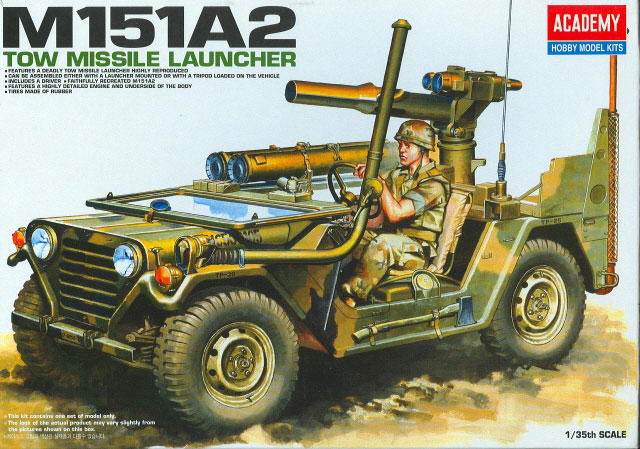 Summary
Stock Number and Description
Academy 1/35 Scale Kit No. 13406; M151A2 TOW Missile Launcher
Scale:
1/35
Media and Contents:
247 parts (217 in dark green styrene, 25 clear styrene, 5 vinyl)
Price:
retail price US $18.00
Review Type:
First Look
Advantages:
New kit of this small vehicle replaced obsolete and cloned kits; engine and many extras provided in the kit
Disadvantages:
Still has not fixed the incorrect or partially provided suspension and underpan components
Recommendation:
Recommended for all US Army and Marine Corps fans of 1980s equipment
FirstLook

NOTE: THIS IS A NEW KIT AND NOT A RE-RELEASE OF KIT NO. 1325

Back in 1983 I was a controller for a strategic war game played at Fort Bragg, North Carolina, and involving the US XVIIIth Airborne Corps deploying to the Middle East to stop a Soviet thrust into the oil fields. One of the more curious results took place (note this was using the US Army's "First Battle" wargame rules with tables and dice) when a jeep-mounted TOW section of four jeeps and 12 personnel took out an entire Soviet tank regiment – 93 tanks – in a couple of turns without loss! Not bad for a section that only carried 12 missiles (three per system, and one system per jeep!) We as controllers later judged whoever pled his case on that result must have the new optional "Belt Fed" TOW launchers!

All kidding aside, the TOW was mounted on the M151A2 1/4 ton truck platform in the late 1970s to provide light units with mobile heavy antitank firepower. They were allocated to light scout sections in armored cavarly squadrons (divisional) as well as to the airborne or airmobile infantry regiment battalions.

About 30 years ago Tamiya released a kit of this vehicle on their M151A2 kit which was acceptable for the time, although Tamiya had skimped on a lot of the details and really screwed up the underside of the 151 as well as many of its details. When Academy first got into 1/35 scale they produced a clone of this kit (kit #1325) with a clone of the Tamiya M107 4.2" mortar thrown in for good measure, but it was even worse than the Tamiya kit. Academy have now atoned for their earlier sins with a new kit based on their M151A1 kits from 2002.

Academy have gone the DML route with "mix and match" sprues to provide this kit: they have taken the engine sprue (A), the suspension sprue (B) and interior and wheels sprue (C) from their M151A1 kits, the window sprue (G) from the "hardtop" M151A2 kit along with its body shell, and added two new sprues (L and M) with the TOW launcher, racks, missiles, driver, and other fittings as required.

The M151A1 kits were nicely done on top, but made the major error of copying the Tamiya M151A2 suspension and underpan detail. They have again supplied those parts with this kit, but at least since it is an A2 platform the goof is not so bad. But they still do not provide the battery box bottom nor the bottom of the fuel tank (directly under the seats), use the ancient Tamiya-style drive shafts with no universal joints (the real vehicle has IRS so there are plenty of them missing – 12 to be exact), and the springs still leave the vehicle 4 to 6 inches too low. (Jeeps are NOT low riders unless overloaded to the breaking point!)

If you are not concerned with the suspension, the rest of the kit is very nice. It comes with a new windshield frame and one-piece windshield (electric wipers were used vice the vacuum ones of the M151 and M151A1), all of the parts which should be here (the three-spoke "Detroit" plastic steering wheel vice the flat metal spoked one of the other two variants) but they do leave the seat adjustment found on the A2 off (the driver's seat had two tabs under its center for 2 ½" of travel to adjust for taller drivers.)

All lights are provided with clear lenses, which is somewhat odd as the turn signals and tail lights will still have to be painted. This is, however, better than the Tamiya kit which provided a one-piece grill that had to be drilled out to mount lenses.

The interior is still provided to the M151A1, which means that it comes with a complete AN/VRC-47 radio set (RT-524A transceiver, R-442 receiver, and the two antenna mounts for them plus rack mounts for the body) that can go straight into the spares box. The TOW sprues provide the correct AN/GRC-160 radio setup (an AN/PRC-77 on a vehicle power and speaker mount) which is not bad.

The TOW launcher is the correct early or "Short Barrel" variant used on these vehicles, and comprises 20 parts with a missile tube extra. Two spare missiles are provided on a rack, and a spare cap is also provided if you wish to have a crew loading the launcher rather than pre-loaded. Two "jump" seats and side mounts for the spare tire and five-gallon fuel can are also provided. Battery boxes and power supplies, as well as a complete tripod ground mount, round out the basics. Buckles for straps (which will have to be provided by the modeler) are molded on the edge of one of the sprues.

Oddly, while the model states it is a Marine Corps version it comes with the short Army bumper and not the full-width Marine Corps one with shackles on the ends. This will have to be either made from scratch or borrowed from a Tamiya M151A2 kit. Army markings are not provided but may be used with some research. The decals for the missiles and general stenciling are much better than recent Academy efforts, and they are to be complimented on that nice touch.

Overall, this is a much improved model over either the ancient Tamiya kit or its forgettable Academy clone from 20 years ago. But I wish they would spend more time on research, as while their molding is first rate their research lets them down on many of their recent projects.
Recommended
Thanks to Bob Lewen of MRC for the review sample.
Text and Images by Cookie Sewell
Page Created 24 March, 2006
Page Last Updated 15 September, 2006