M2A2 Bradley O.I.F.
by Cookie Sewell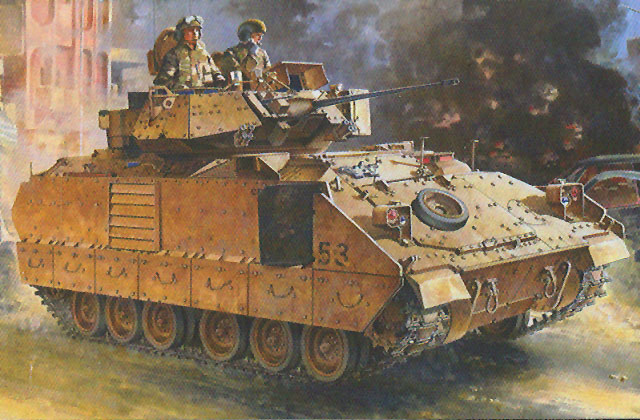 Summary
Stock Number and Description
Academy Model Kits 1/35 Scale Static Model Kit No. 13205; M2A2 Bradley O.I.F.
Scale:
1/35
Media and Contents:
387 parts (369 in yellow sand styrene, 16 in sand vinyl, 2 in dark silver grey vinyl)
Price:
retail price US $38.00
Review Type:
First Look
Advantages:
Nicely done new kit, makes use of "slide molding" for some parts; many parts up to date and current with ongoing Bradley modifications; correct current 25mm gun barrel
Disadvantages:
Tracks not correct for late-model M2A2 ODS versions; no stowage provided; some details a bit soft
Recommendation:
Recommended for all modern US Army and Iraqi Freedom fans
FirstLook

When the Soviets came up with the concept in the early 1960s of the "boyevaya mashina pekhoty" or infantry fighting vehicle, they had a low, compact machine armed with a 73mm grenade launcher, a 7.62mm machine gun, an ATGM launcher, and carrying a crew of two and nine infantrymen in a package weighing about 13 tons. The US Army took a long time to respond, and when they did the vehicle debuted to a lot of ridicule and suspicion. The new vehicle, dubbed the Bradley, came as either the M2 infantry fighting vehicle or the M3 cavalry fighting vehicle, the difference being the size of the crew and internal layout. But it was now the same size and weight as a WWII Sherman tank, and looked bloated compared to the Soviets' sleek BMP.

Negative publicity did not help (as smarmily portrayed in the HBO "history" of the Bradley) but the press – as usual – did not grasp the function of the Bradley and derided it for not offering the protection of a tank. Nevertheless, the Army persevered and in 1990 began taking the developed Bradley to war in the Persian Gulf. Overall it did well, suffering more casualties from fratricide than Iraqi units. It then spent 12 years in peacekeeping duties before an updated version went into Iraq in March 2003. Serving there still, the Bradley has now taken some losses from massive roadside bombs, but overall it has proven itself and remains popular with US mechanized infantry troops.

There are five major versions of the BFV (Bradley Family of Vehicles, which now also adds the M4 artillery forward observation post and M7 Linebacker light antiaircraft variant to the original two vehicles) which FMC – the builder, numbers as follows:

A0 series – basic vehicle with four firing ports mounting lightweight M16 rifles, 25mm "Bushmaster" cannon, twin TOW launcher, integrated gunner's sight, and either a crew of 5 (M3 CFV) or 9 (M2 BFV); 2,300 built May 1981 - April 1986

A1 series – firing ports blocked up, TOW upgraded to fire TOW II, GPFU, new fire suppression system, new internal stowage; 1,371 built May 1986 - April 1988

A2 series – new 600 HP engine, 30mm cannon protection ("plate" armor and skirts), spall liners, modified ammunition stowage, provision to mount reactive armor; 3,107 new build vehicles from May 1988 to February 1995; also rebuilds of A0 series vehicles

A2 ODS series – Operation Desert Storm Lessons Learned improvements, to include eyesafe laser rangefinder, GPS, provision for missile countermeasures, enhanced driver's viewer, internal stowage changes, twin facing bench seats in BFV, and provisions to mount the BCIS IFF system

A3 series – improved sights, commander's independent viewer on right side of turret, situational awareness tactical display, new armor and NBC protection, and embedded diagnostics

The so-called A2 "Operation Iraqi Freedom" variant is mostly the A2 ODS series with the addition of a few factory items, such as now mounting the reactive armor tiles, and many local or unit ones such as the thermal identification panels, extra stowage bins, etc.

From a modeler's standpoint in 1/35 scale, in 1985 Tamiya released a great model of the M2A0 Bradley with a partial interior. They followed it with an M3A0 CFV but as this did not have an interior it was not as nice a kit. Academy first released their own M2 and M3 models in 1987, but they were basically clones of the 1985 Tamiya kits.

In 1991 Tamiya jumped on the Desert Storm bandwagon and hastily reworked their M2 Bradley into an M2A2, and their M1 into an M1A1. Both had a number of errors, and like all Tamiya kits, were released at much higher prices than their base kits. Tamiya's solution on the M2A2 kit was to simply replace one sprue with a new one of 46 parts to provide the plate armor and applique panels for the vehicle. Some were not correct, and others, like the skirts, overly simplified. (The skirts on all A2 and beyond BFV consist of two thin plates of armor with a standoff distance of about 12-15mm between them, and the kit provides them as a single slab of styrene.

Later, in late 2004 Tamiya added another sprue to their M2A2 kit to produce an M2A2 ODS vehicle as used in Operation Iraqi Freedom. This appears to be the same detailing sprue provided with their "M113A2 ODS" model, which is also not that vehicle but an M113 kit with a lot of stick-on parts. But whereas the 1985 release had been around US $20, now the retail price was US $50 and this kit did not come with an interior as the first one did. (The interior changed with the first M2A2 and Tamiya didn't see fit to rework their molds.)

Academy has now reworked their 1987 clone kit to provide a new model of the M2A2 "Operation Iraqi Freedom" Bradley. First off, as noted above, it is an M2A2 ODS without all of the ODS add-ons such as the missile countermeasures device. It changes out sprues as well and adds a total of 151 new parts (20 of which are nuts and bolts and bolt heads). This kit is also about twice what the 1987 "clone" sold for, but it is vastly improved.

Academy has now joined DML and Trumpeter in the use of "slide molding" and the new hull and one of the new sprues show it being used. The complete upper hull is a single molding with the side plates and skirts in place; alas, the skirts as with all of the previous A2 efforts are still monolithic. Detail on the upper hull molding is better than the regular Tamiya M2A2 kit's and all of the lift holds/tie-downs on the lower side of the skirts are provided as separate parts (Tamiya's are molded onto the skirts.)

Neither kit comes with the "non-skid" surfaces found on the outside of the vehicle, especially on the uparmored engine access hatch. Academy provides that as a separate part with separate applique armor, but Tamiya simply smoothed over the glacis and provides everything as one big stick-on part. Both kits provide the A2's new light clusters, but the Tamiya ones have crisper details. Also, Academy includes the flexible rubber screens (originally designed to fair into the reactive armor tiles) on both sides of the hull, and Tamiya does not. Also, the Academy kit does not have the engine servicing platform provided with all Bradleys since the wave breaker was removed after A1 production ceased. (The Tamiya kit has one that is stowed on the left side of the hull roof parallel to the ground and even with the turret.)

The kits' lower hulls are nearly identical but have their differences. Tamiya provided the improved M2A2/A3 series tracks with rectangular pads, whereas Academy still provides the original track pads with V shaped chevrons. Wheels and running gear are unchanged from the first versions of the kits (1985 and 1987 respectively.)

The turrets are virtually identical, but the Academy kit comes with a hollow muzzle brake and fluted barrel that match the latest versions of Bushmasters on A2 series and A3 series vehicles whereas Tamiya still has the original barrel from the M2A0 series vehicle.

Both vehicles do include the GPS antenna at the right rear of the hull. But neither one offers any of the unit designed bins for storage seen on most of the M2A2 ODS vehicles used in March and April 2003,which is a shame. Also, the Academy kit comes with NO external stowage of items like sleeping mats, duffel bags, cots, rations, etc. seen in action and provided with the Tamiya kit. (The box art also shows a somewhat sterile BFV.) The model does come with a spare set of road wheels, a spare driver ring, and the thermal identification panels for mounting.

Once again, alas, Academy misses out on the decals, which appear to have been based on distant side shots of vehicles in Iraq and do not include bumper or unit set storage codes like those seen frequently during OIF. Two vehicles have partial decal sets provided.

In summary, this is a nice effort but a bit disappointing. For making an accurate M2A2 ODS it's a bit better place to start than the Tamiya kit, as it costs about 25% less, but it will need new tracks and decals at a minimum to make an accurate model.
Thanks to Bob Lewen of MRC for the review sample.
Text and Images by Cookie Sewell
Page Created 24 March, 2006
Page Last Updated 12 May, 2006