A30 Challenger Tank
Reviewed by Mike Starmer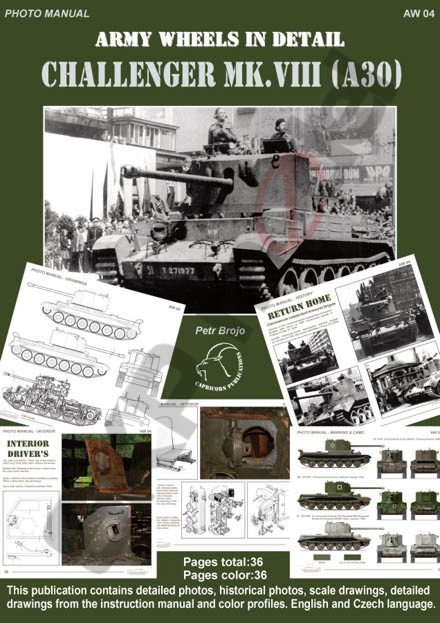 Summary
Title and Publisher:
A30 Chellenger Tank
ISBN:
978-80-903945-2-0
Media and Contents:
Horizontal format, soft cover
Price:

12,90 Euros

Review Type:
FirstRead
Advantages:
Superb detail and stowage reference.
Disadvantages:
Recommendation:
Recommended
FirstRead
"A30 Chellenger Tank" is a new and timely book on this little known and little used tank.
Published by Capricorn Publications in Czechoslovakia, ISBN 978-80-903945-2-0 and written by Petr Brojo. A slim horizontal format, 24 x 22 cm soft cover volume in the AW series of armoured vehicles. Written in Czech and English it has a development history with user units and more B/W photographs than I have ever seen of this particular tank.
There are close-up colour photographs of components and some interior of the Overloon Museum example and to the modellers delight, detailed drawings of the armour layout, engine hatches, lamps, engine bay, turret interior layout and much more.
Also most usefully a copy of the stowage diagram, all from the handbook. There is a 1/48 scale drawing and colour artwork covering six examples all in the usual SCC 15 Olive Drab with one carrying white winter over-painting. All in all a very useful book that I wish was about when I scratch built my model years ago.
I can recommend it to lovers of British tanks and anyone who revels in detail.
Thanks to Jiri Sehnal for review copy
Text by Mike Starmer
Page Created 2 February, 2008
Page Last Updated 2 February, 2008