VK-30.01 Test Shot QuickLook
Trumpeter, 1/35 scale

Preview by Cesar L. Martinez, M.D.
Historical Perspective:
The German concept of a 30 ton heavy tank was first conceived in 1935, and would culminate in the famous PzKpw VI (Tiger tank). The first two prototypes, the D.W.1 and D.W.2, had 50 mm thick mild steel armor all around, six pairs of torsion bar suspension road wheels and a 12 cylinder Maybach HL120 engine producing 280 hp. Krupp built a prototype cast iron turret of 50 mm thick armor and mounted the 7.5 cm L/24 short gun installed in the PzKpfw IV. These first prototypes were tested by Henschel.

The subject of this kit is the VK-30.01 (30 Ton Experimental Vehicle) which is next in line in the prototype development. It also carried 50 mm. thick armor but its Maybach six cylinder HL116 engine with 300 hp gave better power to weight ratio. The suspension was improved to seven pairs of torsion bar mounted rubber-rimmed road wheels on each side, with three return rollers per side. The road wheels were interleaved to shorten the chassis length. Initially the same Panzer IV 7.5 cm gun was used but further testing was underway to mount a bigger gun in the Krupp built turrets. These prototype turrets would eventually be used as fixed emplacement turrets (Panzerstellung) in the last defense of the Reich. The prototype chassis were later used to mount a self-propelled 12.8 cm K L/61 antitank gun and sent to the Russian front in service trials.
The Kit:
The new item information sheet that came with the test shot reads as follows:
Item no. 01515

Item name: German VK (3001) PzKpw VI (Ausf. A)

Scale: 1:35

Model Brief: Length 277.2 mm., Width 90.7 mm., Height 78.9 mm.

Total Parts: 230 pcs.

Total Sprues: 5 sprues plus lower hull, upper hull, tracks

Paint Schemes: With the vehicle being a prototype, so give a small decal sheet consist of four black/white Balkancreuz, to represent the vehicle in field gray (sic).
More Features:
Chassis – New tooled one piece slide molded lower hull with authentic details

New tooled slide molded upper hull rendered in fine details

Exhaust pipe delicately recreated

Side fenders with pattern detail on upper surface

Upper hull rendered in fine detail

Suspension and wheels- Sprocket wheels with multiple delicate parts

Correctly detailed idler wheels

Road wheels and suspension finely detailed

Fighting compartment- Slide molded one piece turret accurately shaped for ease assemble (sic)

Turret realistically designed to allow movement- 360@ traverse, gun elevation and depression

Turret has exquisite interior detail

Hatch can be assembled open/closed

Numbers (sic) of periscopes are made of clear parts

Gun- Newly tooled 7.5 cm L/24 gun

Completely new gun cradle for L/24 gun

Newly tooled gun mount with extreme detail

Tracks - A set of full length vinyl tracks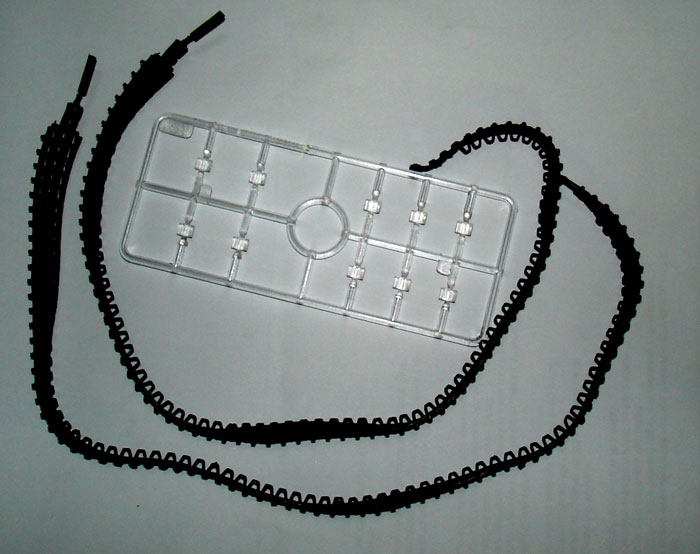 The test shot as I received consisted of three sprues of grey styrene, a clear sprue of periscope vision blocks, some loose parts consisting of the upper and lower hull, side fenders, turret parts, and two vinyl tracks. There were no photo etched frets, aluminum barrel nor decals included. Apparently the other sprues for the turret and gun interior details were not included with the sample. Two sprues carrying the road wheel and torsion bar suspension arms were identical. Of interest is the separate casting of the main road wheel and its rubber rim, presumably to assist in painting and final assembly. The last remaining sprue contained various hatches, grab handles, the exhaust system and the gun mantlet, but did not include the gun barrel and muzzle. Probably of notable interest in this kit are the vinyl tracks, which have the track guide teeth hollowed out, previously not possible with this material. All the styrene parts are flash free and are indeed well detailed, including the tracks. Initial dry fitting of the upper and lower hull, turret parts and side fenders show very nice fit with no discernible gaps.
The preview sheet shows a side view photograph of a VK-30.01 prototype with its turret removed and several steel plates bolted on the upper hull to simulate the weight of the turret in field tests. Given the incomplete parts for the turret and gun with the test shot, this could be an option during initial assembly of the kit (build review to follow).
Reference: The Modeler's Guide to the Tiger Tank by Patrick A. Stansell (Historical text by Bruce Culver), Ampersand Publishing (2003).
---