Panzerkampfwagen IV Ausf. G
Sd.Kfz. 161
Tamiya 1/35 scale
Reviewed by Brett Green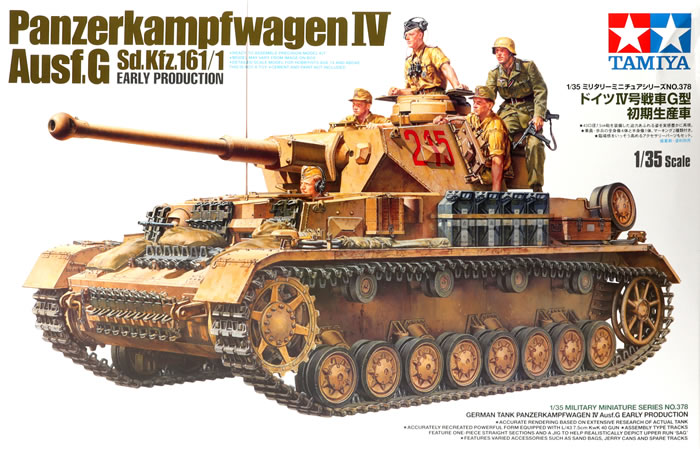 Summary
Stock Number and Description

Tamiya Kit No. 35378 - Panzerkampfwagen IV Ausf. G Sd.Kfz. 161

Scale:
1/35
Media and Contents:

471 parts in dark yellow plastic; 47 parts in medium grey plastic (five crew figures); polythene caps; markings for a choice of two vehicles.

Price:
TBA
Review Type:
First Look
Advantages:

High level of detail; crisp mouldings; link and length tracks; includes stowage; high quality figures.

Disadvantages:
Recommendation:
This kit is largely based on Tamiya's new Panzer IV Ausf. F from late last year. Detail is very good, and the inclusion of link and length tracks is welcome. The five included figures will deliver an instant vignette too. I'm really liking Tamiya's latest generation of military vehicles and it won't be long before I am building this one too!

B a c k g r o u n d
On 26 May 1941, mere weeks before Operation Barbarossa, during a conference with Hitler, it was decided to improve the Panzer IV's main armament. Krupp was awarded the contract to integrate again the 50 mm (1.97 in) Pak 38 L/60 gun into the turret. The first prototype was to be delivered by 15 November 1941. Within months, the shock of encountering the Soviet T-34 medium and KV-1 heavy tanks necessitated a new, much more powerful tank gun. In November 1941, the decision to up-gun the Panzer IV to the 50-millimetre (1.97 in) gun was dropped, and instead Krupp was contracted in a joint development to modify Rheinmetall's pending 75 mm (2.95 in) anti-tank gun design, later known as 7.5 cm Pak 40 L/46.
Because the recoil length was too great for the tank's turret, the recoil mechanism and chamber were shortened. This resulted in the 75-millimetre (2.95 in) KwK 40 L/43. When the new KwK 40 was loaded with the Pzgr. 39 armour-piercing shell, the new gun fired the AP shell at some 750 m/s (2,460 ft/s), a substantial 74% increase over the howitzer-like KwK 37 L/24 gun's 430 m/s (1,410 ft/s) muzzle velocity.
Initially, the KwK 40 gun was mounted with a single-chamber, ball-shaped muzzle brake, which provided just under 50% of the recoil system's braking ability. Firing the Panzergranate 39, the KwK 40 L/43 could penetrate 77 mm (3.03 in) of steel armour at a range of 1,830 m (6,000 ft).
The longer 7.5 cm guns were a mixed blessing. In spite of the designers' efforts to conserve weight, the new weapon made the vehicle nose-heavy to such an extent that the forward suspension springs were under constant compression. This resulted in the tank tending to sway even when no steering was being applied, an effect compounded by the introduction of the Ausführung H in March 1943.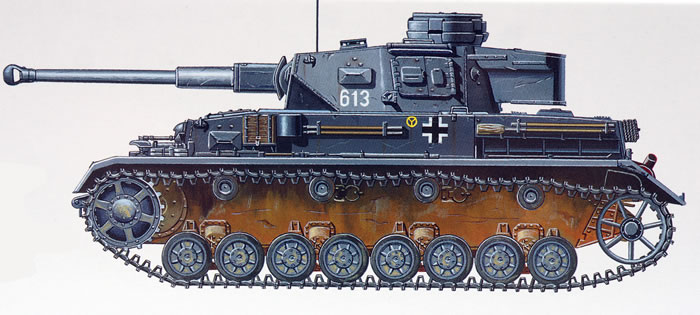 The 1942 Panzer IV Ausf. F2 was an upgrade of the Ausf. F, fitted with the KwK 40 L/43 anti-tank gun to counter Soviet T-34 medium and KV heavy tanks.
The Ausf. F tanks that received the new, longer, KwK 40 L/43 gun were temporarily named Ausf. F2 (with the designation Sd.Kfz. 161/1). The tank increased in weight to 23.6 tonnes (26.0 short tons). Differences between the Ausf. F1 and the Ausf. F2 were mainly associated with the change in armament, including an altered gun mantlet, internal travel lock for the main weapon, new gun cradle, new Turmzielfernrohr 5f optic for the L/43 weapon, modified ammunition stowage, and discontinuing of the Nebelkerzenabwurfvorrichtung in favor of turret mounted Nebelwurfgerät. Three months after beginning production, the Panzer IV Ausf. F2 was renamed Ausf. G.
During its production run from March 1942 to June 1943, the Panzer IV Ausf. G went through further modifications, including another armour upgrade which consisted of a 30-millimetre (1.18 in) face-hardened appliqué steel plate welded (later bolted) to the glacis—in total, frontal armour was now 80 mm (3.15 in) thick. This decision to increase frontal armour was favourably received according to troop reports on 8 November 1942, despite technical problems of the driving system due to added weight. At this point, it was decided that 50% of Panzer IV production would be fitted with 30 mm (1.18 in) thick additional armour plates. On 5 January 1943, Hitler decided that all Panzer IV should have 80 mm (3.15 in) frontal armour. To simplify production, the vision ports on either side of the turret and the loader's forward vision port in the turret front were removed, while a rack for two spare road wheels was installed on the track guard on the left side of the hull. Complementing this, brackets for seven spare track links were added to the glacis plate.*
---
F i r s t L o o k
Tamiya released their substantially new 1/35 scale Panzer IV Ausf. F late last year. That kit that had nothing at all in common with Tamiya's 1977 Panzer IV Ausf. D, with only the lower hull and some of the running gear sourced from the 1994 Panzer IV Ausf.H/J kits.
Everything else was brand new.
Not surprisingly, Tamiya has now released the up-gunned Panzer IV Ausf. G. This adds a number of new parts, mainly related to the long-barrel turret, stowage and five new figures.
Tamiya's new 1/35 scale Panzer IV Ausf. G kit comprises 471 parts in dark yellow plastic, 47 parts in medium grey plastic; polythene caps, markings for a choice of markings for two vehicles.
One of the large sprues is brand new and includes items such as the long gun barrel, sandbags, spare wheels and tracks, jerry cans, unique turret parts and more.
The distinctive early ball-shaped muzzle brake is moulded with one half on the barrel and one half separate.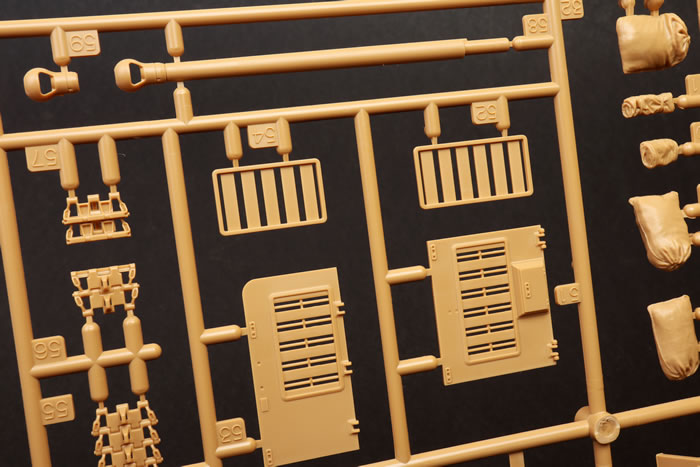 The lower hull is provided as a single-part tub.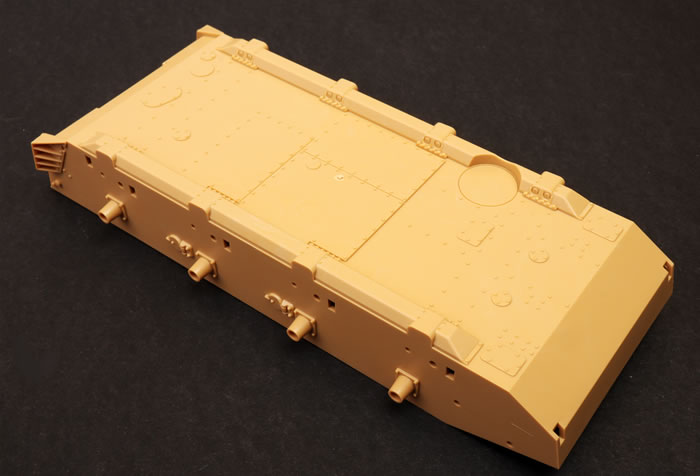 The upper hull is broken down into separate parts for the top, the sides, the reat and the glacis plate. Plastic braces to set the correct angles for the upper hull are also included.
The track guards are supplied separately as multiple parts for each side too. Non-slip texture looks good.
The running gear comprises simple one-piece axles, springs and mounts, to which are added plastic two-part road wheels with separate hub caps.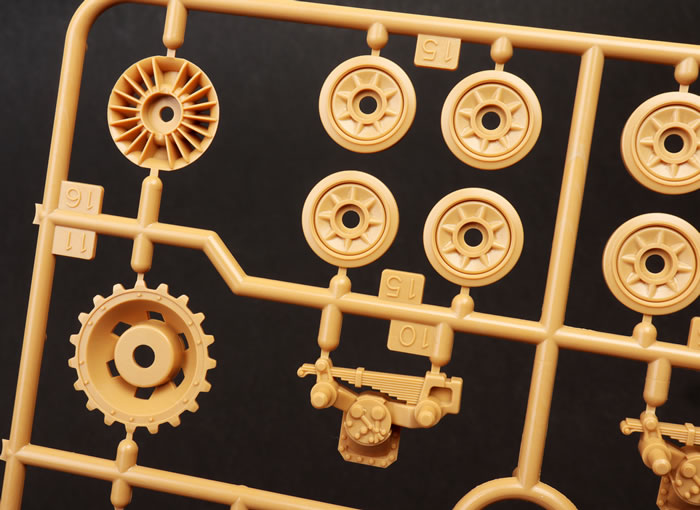 The tracks are link and length although the approach is somewhat different from Tamiya's recent efforts. Instead of having a single long run for the top and bottom of the tracks, this kit supplies a combination of single, dual and seven link sections.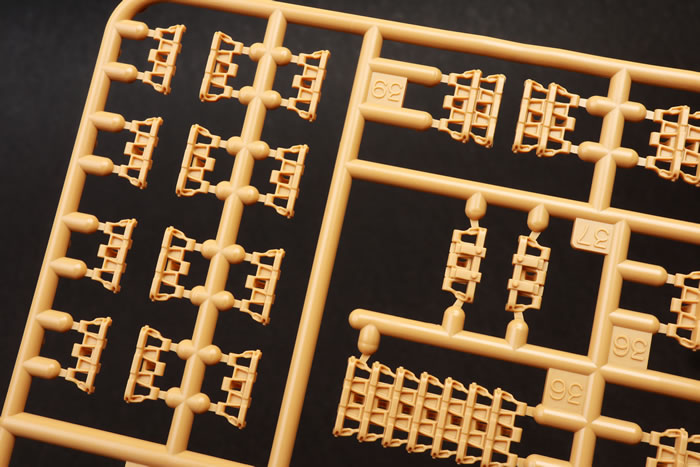 The upper run will be assembled with the assistance of jigs for each side.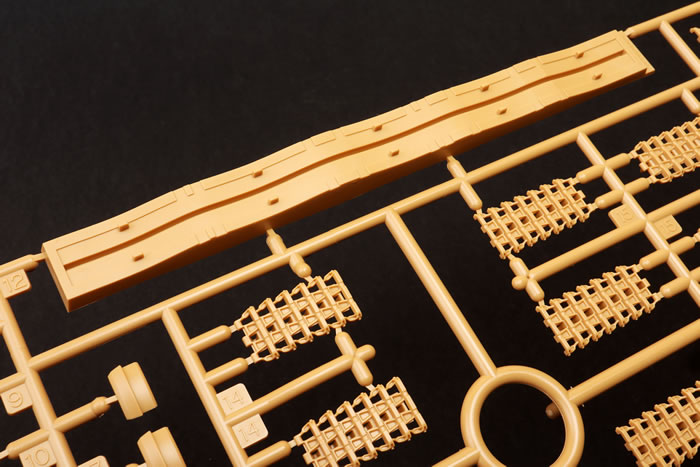 Detail on the outer surface is well done. There are some very faint ejecor pin circles on the inner surface. These will be easy enough to eliminate but if you don't feel like doing this, they will be pretty much hidden once the tracks are fitted.
Similar to the hull, the turret is broken down as a flat pack with separate bottom, sides, front, rer and roof.
The new long-barrel 75mm mm gun is nicely detailed. The gun features a poseable breech block and the ability to elevate. A spent shell basket with convincing fabric draping effect is also included. Apart from this, the Commander's seat is also included and the cupola is well detailed inside and out. All of this is probably plenty for glimpses through open hatches.
Speaking of which, the turret side hatches and the Commander's hatch may be posed open or closed.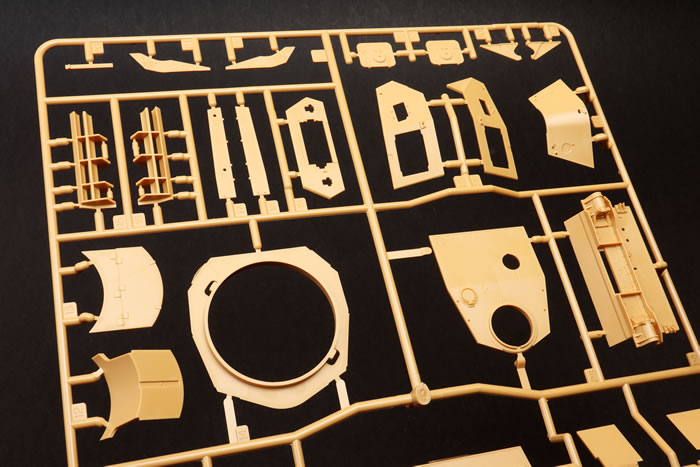 Smaller detail parts such as tools, stowage, tow cable guides and the gun barrel travel lock are well moulded.
The plastic parts are rounded out with five brand new crew figures in the driver's position, the turret hatches and one infantryman hitch-hiking on the engine deck.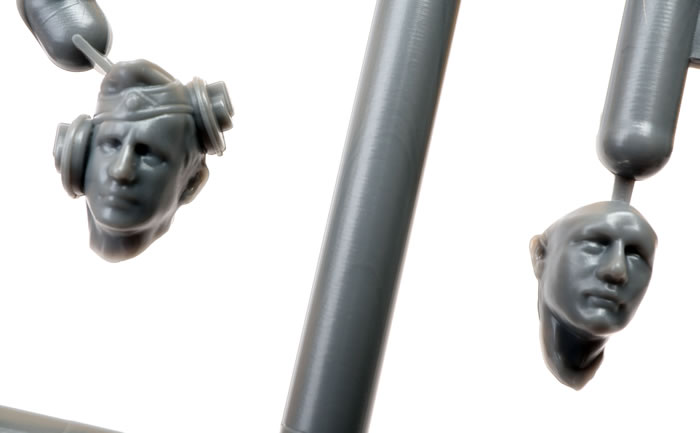 In common with Tamiya's recent figure release, they are all well moulded and the facial detail is particularly nice.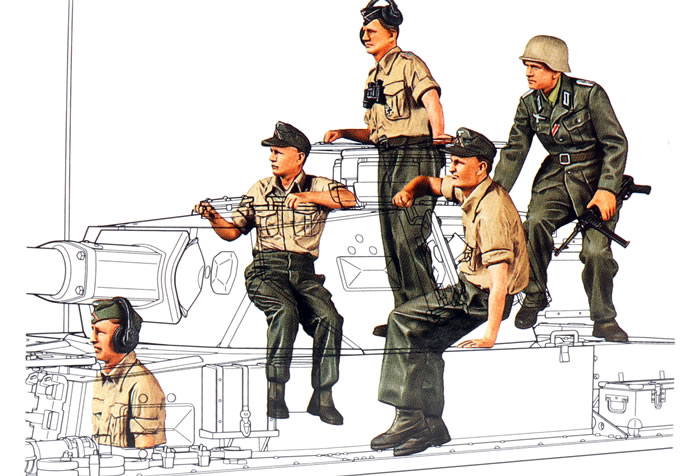 Two marking options are provided for vehicles in service in North Africa and the Eastern Front. One of the vehicles is finished in overall DAK Yellow Brown, and the other is in Panzer Grey.
In addition to vehicle markings, the decal sheet also supplies white crosses for the jerry cans.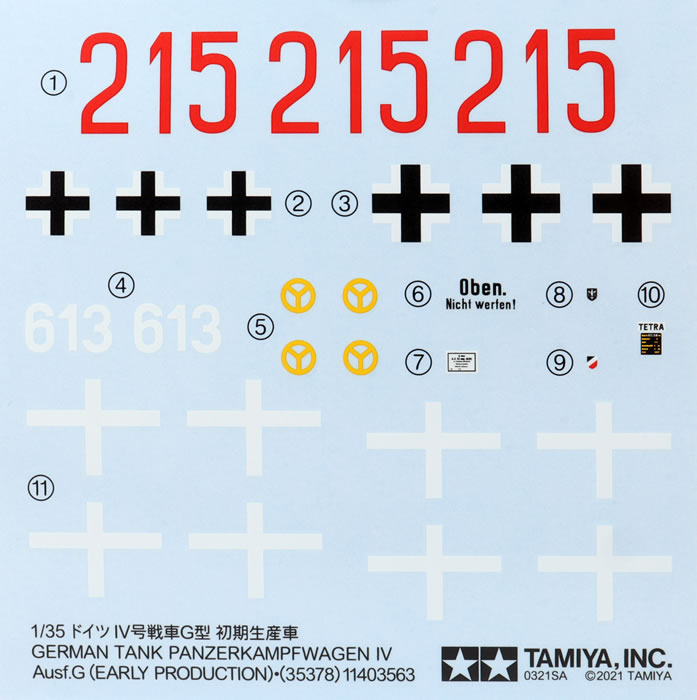 The instructions are well laid out over 41 steps with clear illustrations supplemented by brief text directions where required. The section dealing with the tracks is especially well done.
---
C o n c l u s i o n
This kit is largely based on Tamiya's new Panzer IV Ausf. F from late last year.
Detail is very good, and the inclusion of link and length tracks is welcome. The five included figures will deliver an instant vignette too.
I'm really liking Tamiya's latest generation of military vehicles and it won't be long before I am building this one too!
*Historical summary courtesy of Wikipedia.
Thanks to Tamiya Japan for the sample
Tamiya kits are distributed in the UK by The Hobby Company Limited for the sample.

Text and Images by Brett Green
Page Created 17 July, 2021
Page Last Updated 17 July, 2021