Home > Reviews > Canada > Elite 143, Canadian Airborne Forces since 1942, by Bernd Horn & Michle Wyczynski, illustrated by Carlos Chagas, Osprey Publishing Ltd
Canadian Airborne Forces since 1942
Reviewed by John Prigent

Summary
| | |
| --- | --- |
| Publisher and Title | Elite 143, Canadian Airborne Forces since 1942, by Bernd Horn & Michle Wyczynski, illustrated by Carlos Chagas, Osprey Publishing Ltd |
FirstRead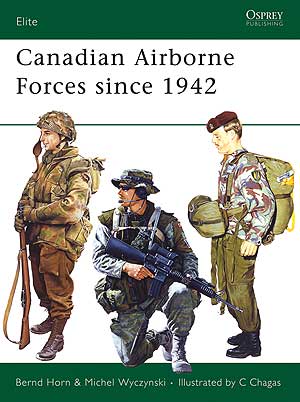 Canada's first parachute unit was a single battalion formed in 1942 for home service –the Government thought it might be needed to recapture airfields or remote areas seized by a German invasion of Canada. Raising the men needed was difficult, and not made easier when a second "parachute battalion" was formed that was actually a commando unit but sucked away many men who had been trained as paratroops in the US. A proper Canadian parachute-training centre was established in 1943 to make things easier, but it was not until June that year that the 1st Canadian Parachute Battalion deployed to England to become part of 6th Airborne Division.
As part of the Division the battalion dropped on D-Day and fought in Normandy until September 1944 before returning to England to be brought back up to strength and prepare for future operations. This process was rudely interrupted by the Battle of the Bulge, with the battalion being deployed to Belgium and thus becoming the only Canadian unit to fight in the Ardennes. It then moved to Holland for several weeks of aggressive patrolling on the banks of the Maas before returning to England to prepare for the Rhine crossing. Dropping as part of Operation Varsity, the battalion not only seized and held its objective but took so many prisoners that they were as numerous as the battalion itself. The Canadians then took part in the chase across Germany to the Baltic coast, where they met the advancing Russians near Wismar.

With this proud record they returned home, only to be hit by the usual idiotic "peace dividend" economies and reduced to company strength. A series of tribulations followed for many years until the Canadian Airborne Regiment was established in 1968. It took part in peacekeeping operations in Cyprus, Somalia and Rwanda before falling foul of a racism scandal which led to its disbandment. However, at the last moment it was decided that a parachute capability must be kept so a company-sized group was retained as 3 Commando Group. This was later replaced by the creation of three airborne companies, one in each of Canada's Light Infantry battalions, which have given good service in Afghanistan, East Timor, and Bosnia.

This is a very readable account of the triumphs and troubles of Canada's airborne troops.
Recommended!
Thanks to Osprey Publishing for the review sample
---