TANKART 2
WWII Allied Armor
PREVIEW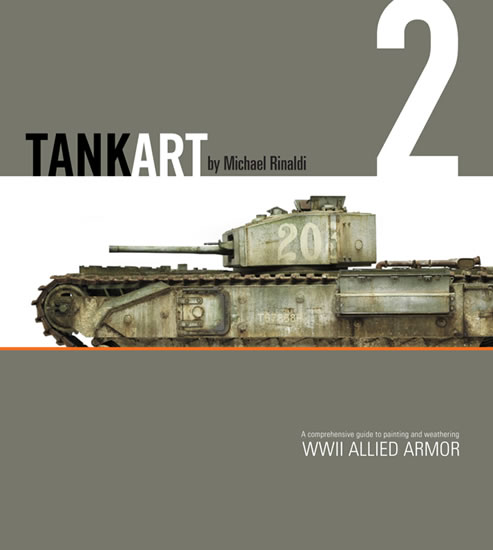 Preview
Michael Rinaldi has sent Preview information about the next book in the TANKART series:
We are very pleased to announce our next book release -- TANKART Vol. 2 WWII Allied Armor.
TANKART Vol. 2 WWII Allied Armor -- There are many "how-to" books in today's world of scale modeling, but none has covered the "why's", as well as, the "how-to's"… the artistic approach… until now. In TANKART, a painting and weathering guide book series, the focus is on taking real-life observations of paint and weathering effects and incorporate the best techniques to replicate them. Within this second volume, WWII Allied Armor, the author will go deeper into his thoughts about why of certain steps as it relates to Allied camouflage schemes. To bring these ideas to life requires a spectrum of processes and techniques which are covered in great detail; including the Hairspray Technique and the new Oil Paint Rendering -- plus Pigment Applications and Painting Olive Drab chapters that can be combined in an layered array to tell the story of each model.
The book format is 8.5" x 9.5", 208 pages, softcover on high-quality book paper. There are 5 models featured inside, 4 dedicated technique chapters, plus a special bonus figure modeling chapter by Radek Pituch. Inside features over 500 color photos reproduced in a large format. ISBN 978-0-9883363-2-2
Pre-Order begins March 15, 2013. Shipping begins April 8, 2013.
www.facebook.com/RinaldiStudio
---
Text and Images by Rinaldi Studio Press
Page Created 17 March,2013
Page Last Updated 17 March, 2013