A34 Comet British Cruiser Tank
Tamiya, 1/35 scale
Reviewed by Brett Green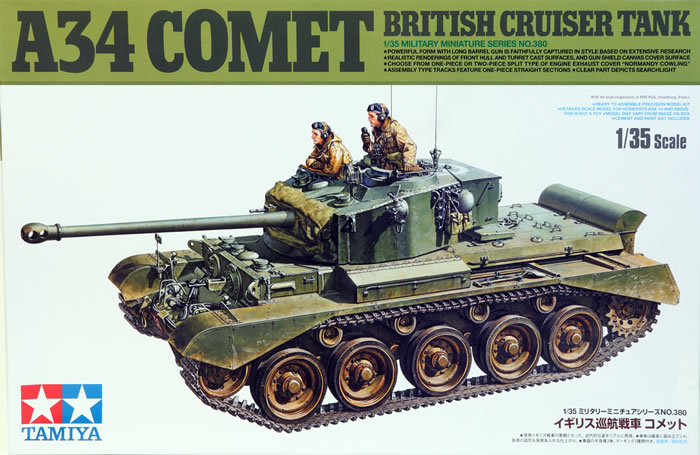 Stock Number and Description

Tamiya 1:35 A34 Comet British Cruiser Tank. Kit No. 35380

Scale:

1/35

Media and Contents:

320 parts in olive coloured plastic; five parts in clear and markings for two vehicles.

Price:

TBA

Review Type:

First Look

Advantages:

High level of detail; convincing surface textures; turret stowage supplied; includes two crew figures.

Disadvantages:
Recommendation:

Another accurate and easy to build replica of an interesting subject. Keep 'em coming Tamiya!

Background
The Comet tank or Tank, Cruiser, Comet I (A34) was a British cruiser tank that first saw use near the end of the Second World War, during the Western Allied invasion of Germany.
The Comet was developed from the earlier Cromwell tank and mounted the new 17 pdr High Velocity (HV) (3 inch; 76.2 mm – sometimes referred to as "77 mm") gun, in a lower profile, partly-cast turret. This gun was effective against late-war German tanks, including the Panther at medium range, and the Tiger.
The Comet rendered the Cruiser Mk VIII Challenger obsolete, and led to the development of the Centurion tank. When firing APDS rounds, the 77 mm HV was superior in armour penetration capability to the 75 mm KwK 42 gun of the equivalent Axis tank, the Panther.
The Comet entered active service in January 1945 and remained in British service until 1958. In some cases, Comets sold to other countries continued to operate into the 1980s.
---
FirstLook
Tamiya's 1:35 scale A34 Comet British Cruiser Tank comprises around 320 parts on six olive coloured sprues, five parts in clear and markings for two vehicles.
This is an all-new model.

Crisp surface detail is present throughout including convincing cast and rolled armour plate texture where appropriate
Weld beads are subtle, and tie-downs are moulded directly to the hull and turret.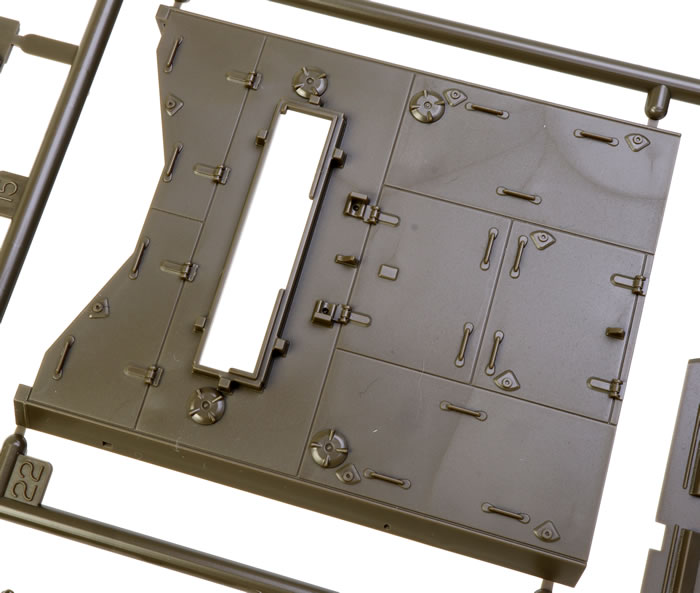 The wheel axles are separate parts.
The lower hull is made up from a "flat pack" arrangement of separate floor, skins, sides and two reinforcing bulkheads. The hull hatches are separate parts but I am not sure if they can easily be posed open. Assembly will tell!
The engine grille is solid but it should look good after painting and a dark wash.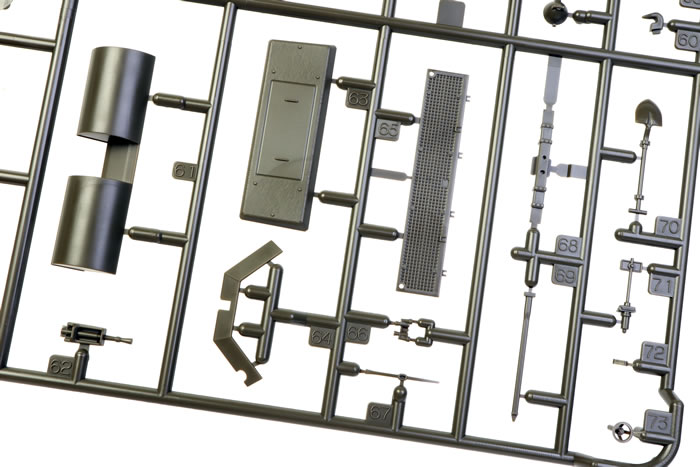 Two styles of engine cowls are included - the split "Normandy" version of the full length cover.
Tracks are Tamiya's excellent link and length style with a combination of long runs for the top and botton, multiple link sections and individual links delivering a convincing full run.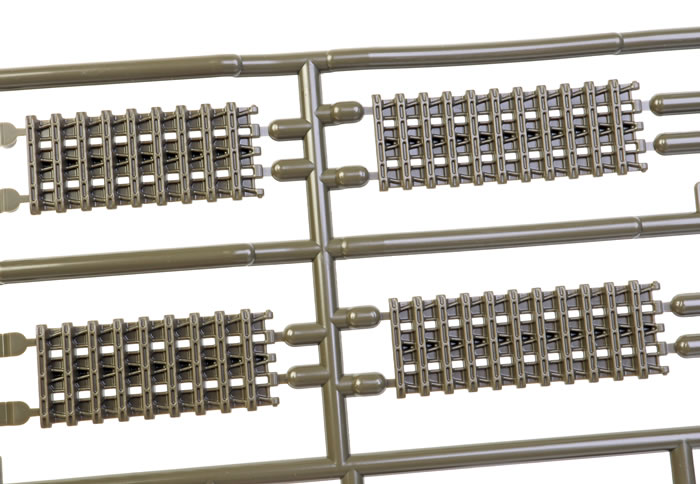 The top run features subtle sag between the return rollers.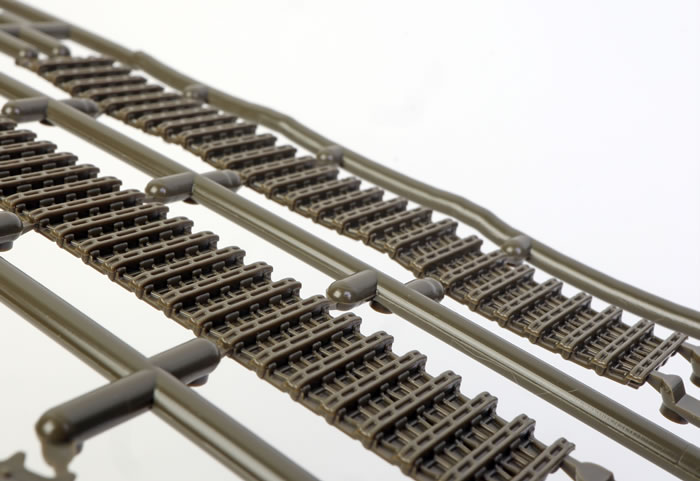 The clear sprue includes light lenses, lights and a vision block.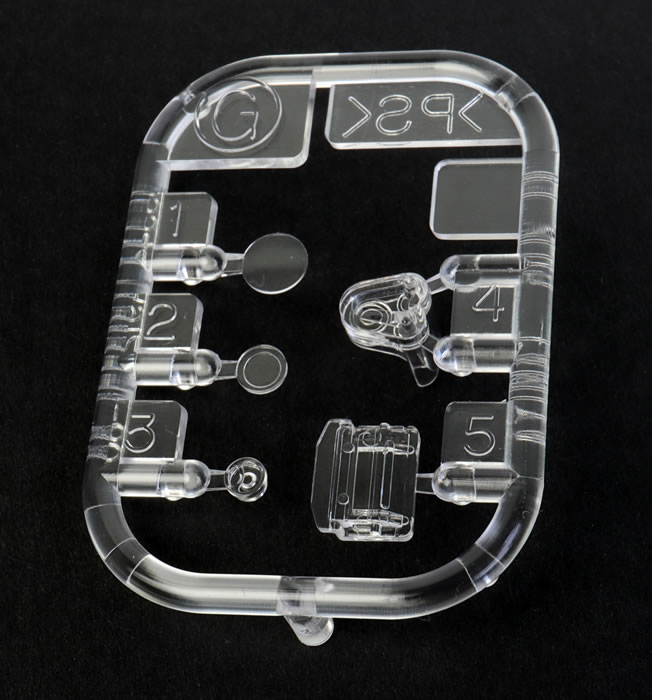 The turret is a multi-part assembly. It includes hanging spare track lengths and stowage on the sides - a nice touchThe turret hatches may be posed open or closed.
The 17Pdr gun barrel is moulded in one piece with a separate muzzle brake half.
The mantlet is moulded with the fabric cover. The moulded texture looks great.
Markings are supplied for two vehicles in overall SCC15 British Olive Drab. These are boith based in North Western Europe in 1945.
The package is rounded out with two casual crew figures posed in the turret.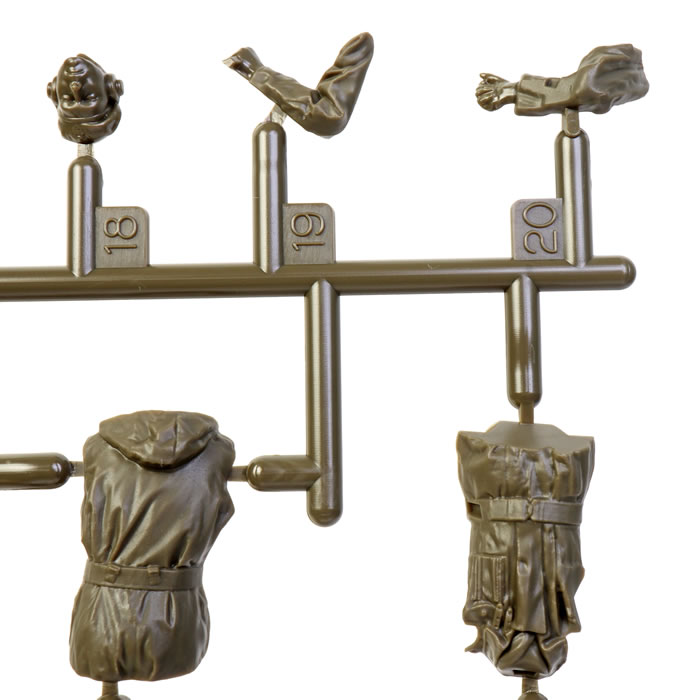 They are wearing Pixie Suits.
---
Conclusion
Tamiya brings their easy-building philosophy to this popular subject.
Tamiya's 1:35 scale A34 Comet is a well detailed model with crew figures that lifts it into the category of instant vignette.
Purchased by the reviewer
Tamiya kits are distributed in the UK by The Hobby Company Limited www.hobbyco.net
Text and Images by Brett Green
Page Created 30 March, 2019
Page Last Updated 21 October, 2022