British Self-Propelled Anti-Tank Gun Archer
Tamiya, 1/35 scale
Reviewed by Brett Green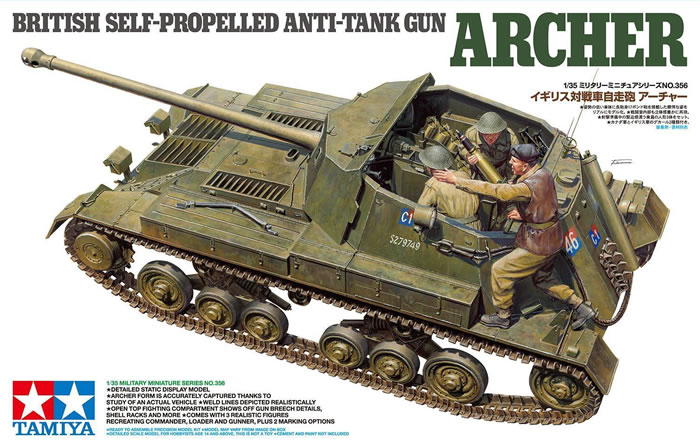 Stock Number and Description

Tamiya 1:35 British Self-Propelled Anti-Tank Gun Archer. Kit No. 35356

Scale:

1/35

Media and Contents:

391 parts in pale grey plastic (test shot colour), five parts in clear; ten polythene caps and markings for two vehicles.

Price:

TBA

Review Type:

First Look

Advantages:

Excellent detail including the fighting and driver's compartments; convincing surface textures; easy-to-assemble link and lenth tracks; includes three crew figures.

Disadvantages:
Recommendation:

Another accurate and easy to build replica of an interesting subject. Keep 'em coming Tamiya!

Background

The Self Propelled 17pdr Valentine Mk. I Archer was a British self propelled anti-tank gun of the Second World War based on the Valentine infantry tank chassis fitted with an Ordnance QF 17 pounder gun.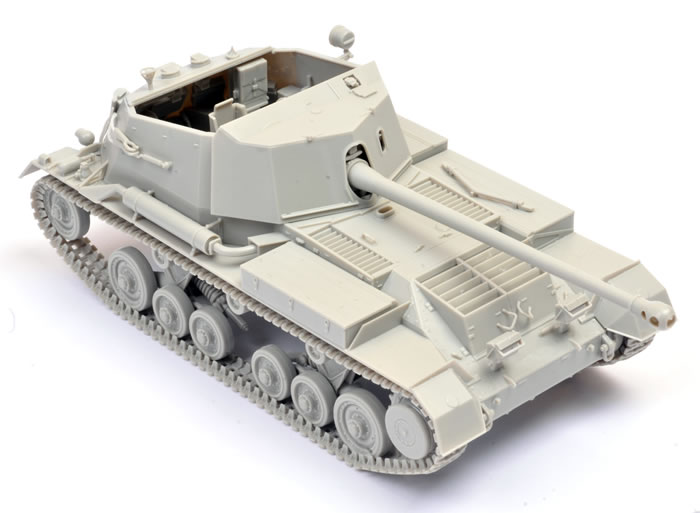 Designed and manufactured by Vickers-Armstrongs, 655 were produced between March 1943 and May 1945. It was used in North-West Europe and Italy during the war and post-war the Archer served with the Egyptian Army.
The vehicle was unique for its gun being mounted facing the rear of the chassis instead of the front.*
---
FirstLook
Tamiya's 1:35 scale British Self-Propelled Anti-Tank Gun is a new kit that follows close in the footsteps of their Valentine Mk.II/IV, released earlier this year.
You might expect many parts in common between Tamiya's Valentine and Archer kits as the real SPG was based on the chassis of the gun tank, but in fact only Sprue A – the tracks and some of the running gear parts - is common to both kits.
Tamiya's new Archer test shot comprises 391 parts in pale grey plastic, a substantial increase from the 283 parts of the Valentine. Most of the higher parts count is due to the gun and fighting compartment interior detail. The kit also includes five clear parts, ten polythene caps and markings for two vehicles.
I would guess that the production kit's plastic parts will be dark green.
The kit is broken down quite conventionally. The lower hull is made up from separate sides, front, rear and bottom, while the upper hull is a single piece with the superstructure built up from sides and a rear part.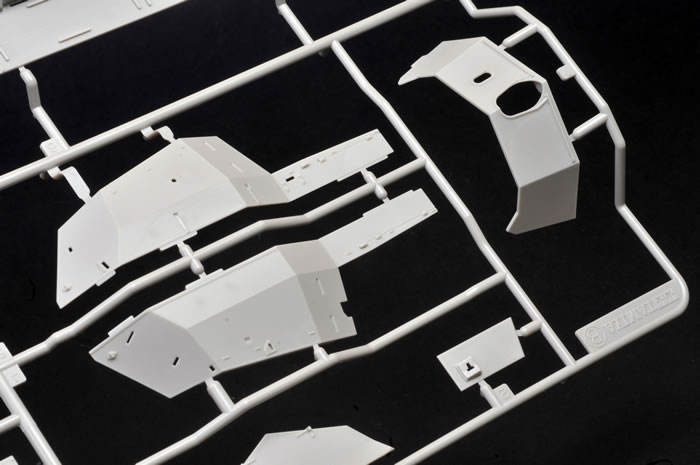 The running gear is nicely detailed but simple to assemble with a modest number of parts. The road wheels represent the later style. These are new for this kit.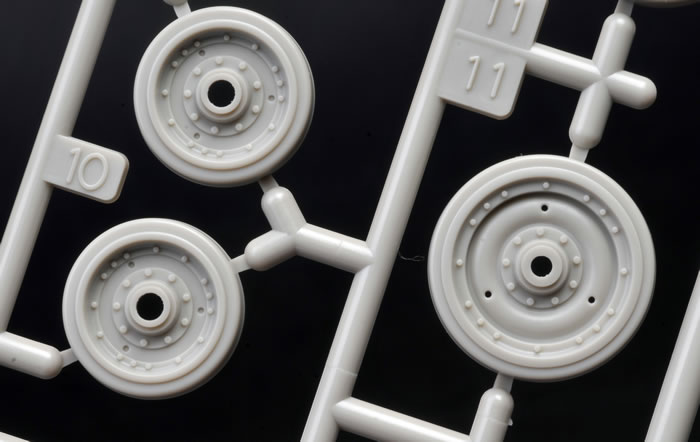 Tracks are link-and-length, with subtly sagged upper runs and straight lower runs. Individual links are designed to be glued direct to the drive sprockets and idler wheels.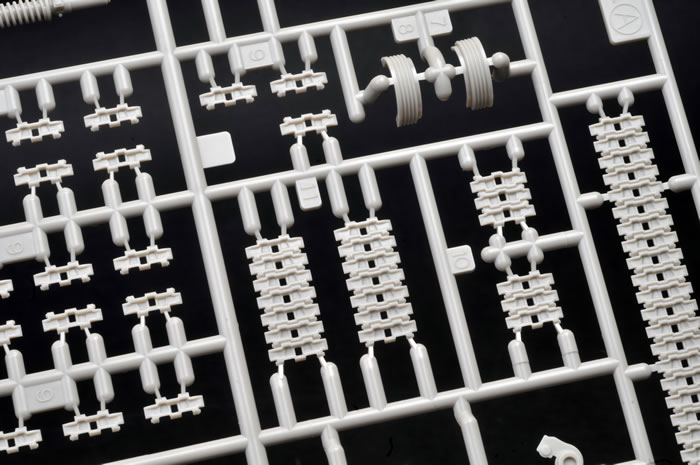 The fighting compartment and 17pdr gun are bristling with detail. All the key structural elements of the interior are provided, including a nicely fitted out driver's position with levers, seat and instrument panel, plus plenty of stowage and stowed ammo. All of this detail is offered with a typically modest parts count thanks to Tamiya's clever engineering.
The big gun looks great and will be able to rotate and elevate due to the use of polythene caps.
Surface texture is everything we have come to expect from a new Tamiya release. Cast metal is beautifully depicted on the turret, and raised rivets look great.
Clear parts are included for the light lenses. A vision block is on the sprue too.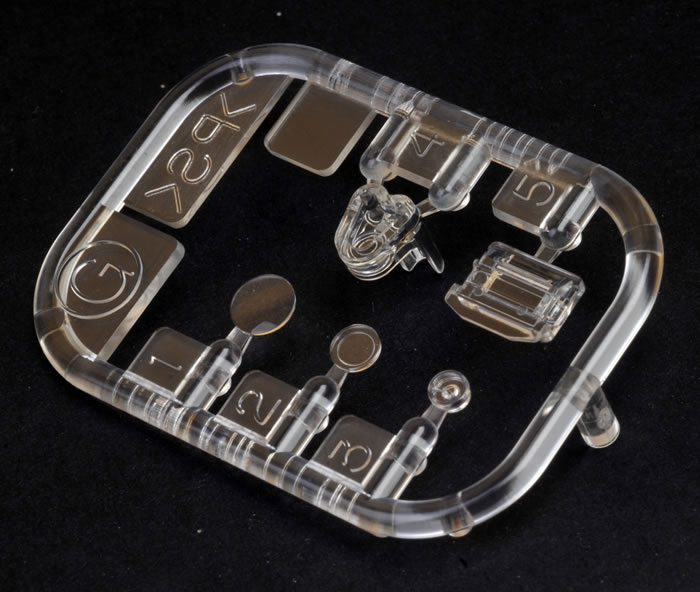 Three crew figures are also supplied. Two are in the fighting compartment loading and firing the gun, while the Commander will be perched on the front fender directing the action. The action poses are natural and sculpting is very good.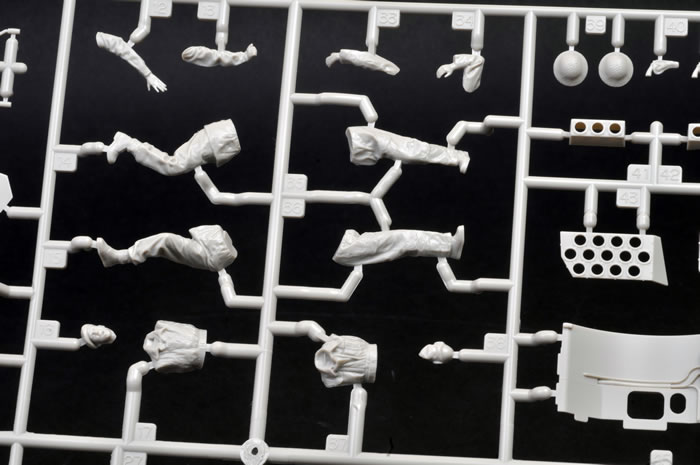 Moulding quality is marvellous. There are ejector circles but they are mainly in places that will not be visible on the finished model.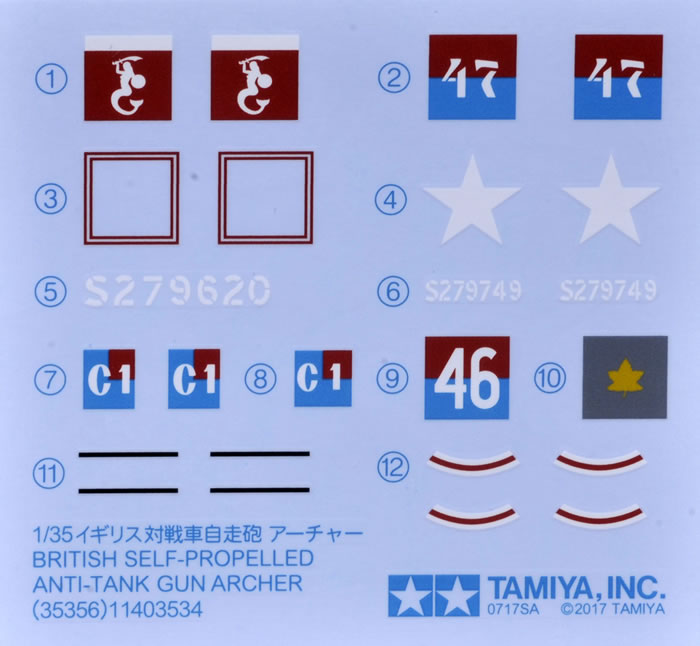 Decals are included for two vehicles in overall dark green.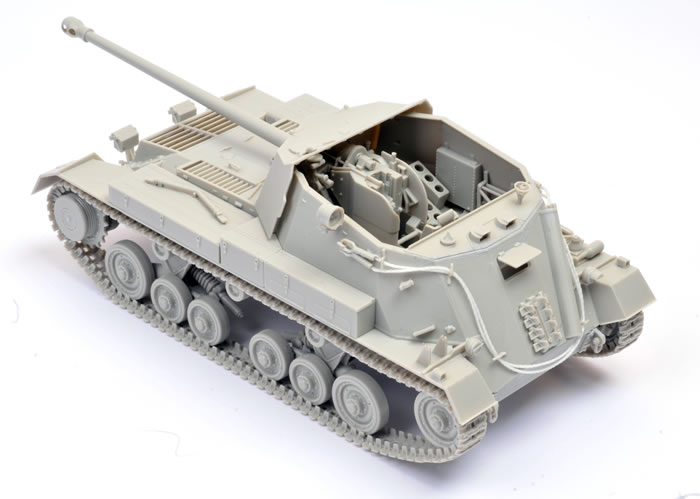 I have nearly finished building this kit, which has proven to be another accurate and easy to build replica of an interesting subject. Keep 'em coming Tamiya!
Thanks to Tamiya for the sample www.tamiya.com
Tamiya kits are distributed in the UK by The Hobby Company Limited www.hobbyco.net
Text and Images by Brett Green
Page Created 1 October, 2017
Page Last Updated 1 October, 2017