Universal Carrier Mk.I


with Crew
Riich Model, 1/35 scale
Reviewed by Luke Pitt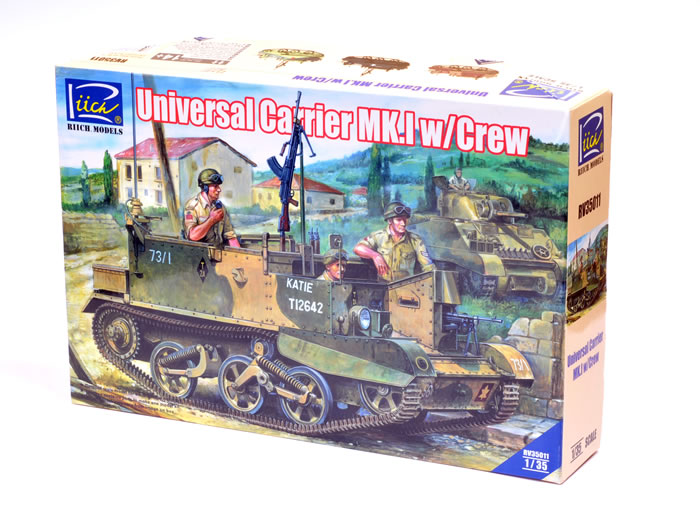 Stock Number and Description

Riich Model 1/35 scale Universal Carrier with Crew. Kit No. RV-35011

Scale:

1/35

Media and Contents:

475 parts in grey plastic and clear plastic. 128 photo-etched parts. 32 springs, both large and small, and a length of twine and chain.

Price:
TBA
Review Type:

First Look

Advantages:

Remarkable level of detail including interior and full engine; high quality moukding; link and length tracks; long wished-for subject by Allied armour fans.

Disadvantages:

Very high parts count and tiny parts will demand previous experience, patience and probably an Optivisor!

Recommendation:

Highly Recommended.

FirstLook
This model has been a long time coming.
I must confess converting and updating the Tamiya Universal Carrier has always been on my "bucket list" but the very thought of spending vast amounts of money on that kit just turned me off. Admittedly I did purchase the old Modelkasten track set many years ago for that very purpose, but brother, those links were small! It is therefore pleasing to report then that this new kit from Riich is a cracker and basically blows anything that has preceded it out of the water.
Riich Model's 1:35 scale Universal Carrier represents the Mk.I production variant that differed from the later versions by the inclusion of minor fittings. These variations are in themselves welcome, as they differentiate it from the Tamiya offering.
The kit comprises 475 parts moulded in grey plastic over 12 sprues, with one of these in clear plastic. A further 128 photo-etched parts are included as well as 32 springs, both large and small, and a length of twine and chain. A well-illustrated and precise set of instructions is included with the option of four marking choices. 44 construction steps are called out for, which is a huge amount for such a small vehicle.
The standard of moulding is very good, with detail on all parts rendered to a high standard. A complete engine is included and is moulded as a multiple part affair and is very well done. But honestly, most will not be seen when the model is complete The lower hull is made up of just three parts in total with the drive train/ differential attached to it. Overall this assembly is very well detailed and accurate when complete.
The distinctive bogie assemblies are made up from 23 parts each and are very well done. You have the option of using either a metal pin and photo-etch or a plastic part for the connector rod between the two road wheels but, in reality, when the springs are installed, almost nothing is seen of the rod itself. The road wheels are very well done with a fine manufacturer's mark on the rubber portion and a fine rib pattern on the inner face of the wheel itself.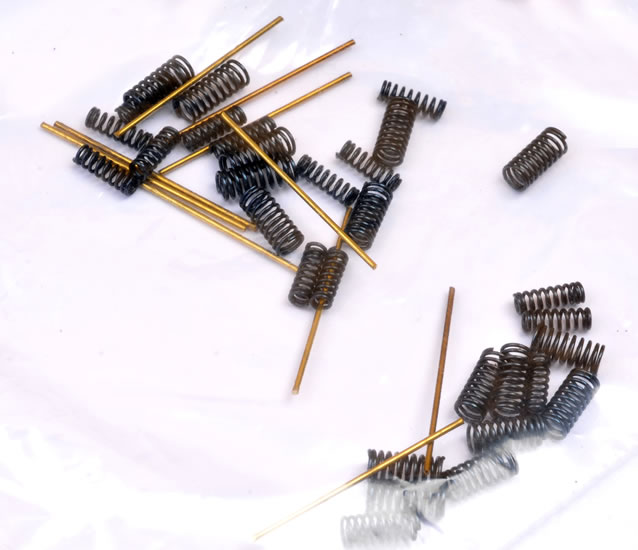 The tracks are of the length and link variety and while I'm not a huge fan of this type of track, they are (for this vehicle) the most effective and sensible solution. The tracks are very detailedbut care may be needed when removing them from the sprue gates. The tracks also exhibit slight sag which is a nice touch.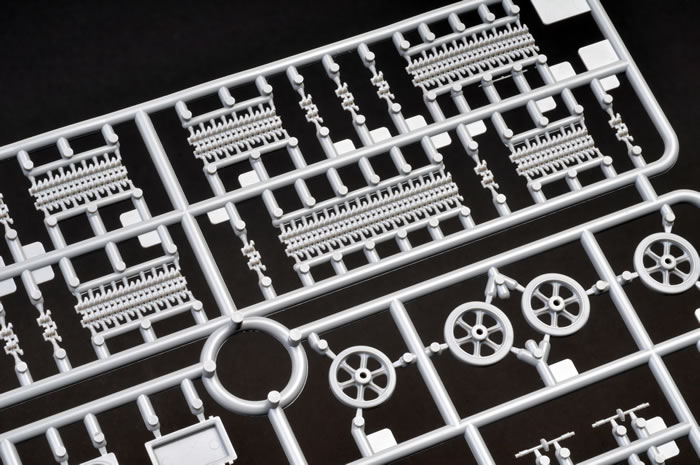 The all important side wall thickness is for the most part very well done and is a vast improvement to the Tamiya kit (to my eye at least), they look more in scale in appearance. There are however, a few small knock out marks to contend with but most will be hidden from view on the completed model.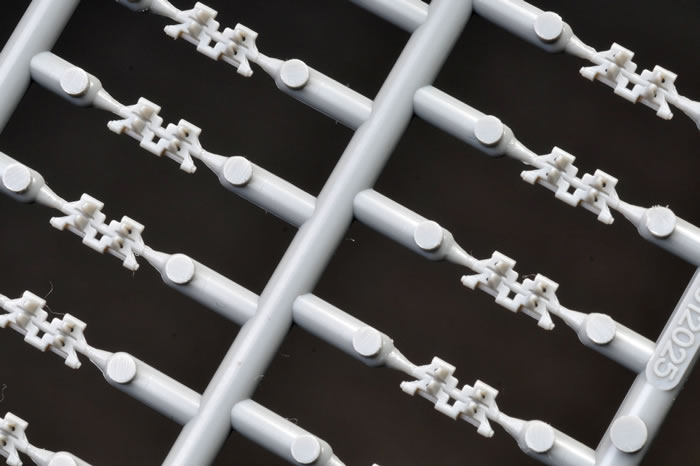 The interior, dash board and instrument cluster are fine representations, with the radio being rendered very well, both a photo etch guard and plastic options are included, but in reality, the plastic guard is so fine you would be hard pressed not to use this piece.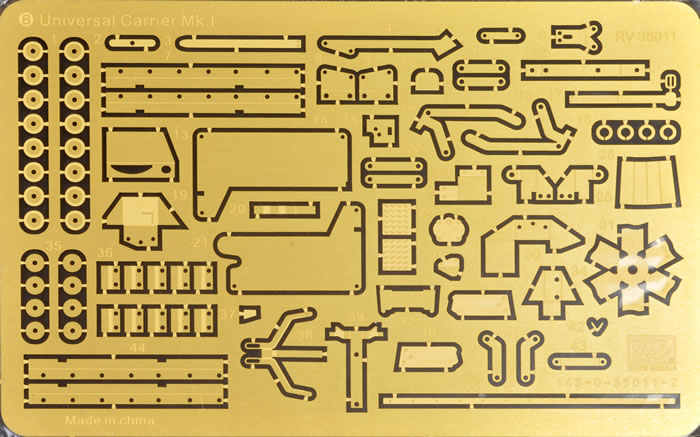 This really sums this kit up. It's all about options. Take for example the driver's seat assembly you may complete this in various positions to suit the driver's height.
A set of three figures is included and they are very well done. The only real fault with these is, the moulding of the ears, or lack thereof, on the heads. The facial detail however, is first rate as is the fabric folds on the uniforms.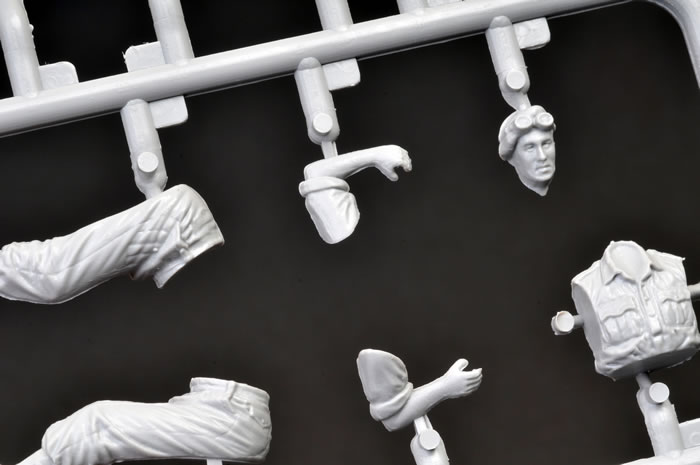 Speaking of fabric folds, the rolled up tarp on the vehicle itself is by far one of the best renditions of this I have seen on a mainstream plastic kit.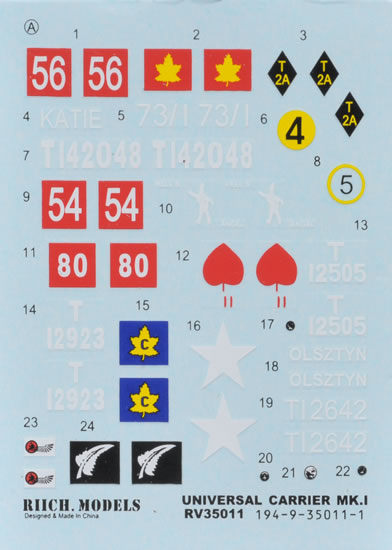 In summary, this is a very good kit and is in my opinion better overall than other kits that have preceded it. The one thing that does impress me with this kit is its feeling of quality. The model is packed with options and really needs nothing in the way of aftermarket detail sets. Judging by this release, Riich Model is at least as good as the class leaders.
If you have all those various updates for the old Tamiya kit in your stash it may be time to offload them and buy this kit.
You will not be disappointed.
Highly Recommended.
Thanks to Riich Models for the sample www.riichmodel.com


Text by Luke Pitt
Images by Brett Green
Page Created 26 May, 2013
Page Last Updated 26 May, 2013