Quarter Master's Depot British Tanks Training in the UK 1 and 2 (35088) and (35091)
by Cookie Sewell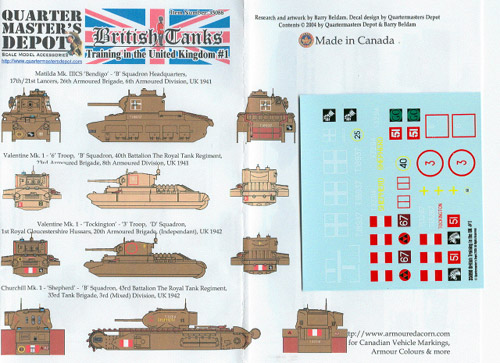 Advantages: Interesting choice of vehicles and time frame; bright choice of schemes and markings offset nominally drab subjects
Disadvantages: Every subject listed will require modification, conversion or scratchbuilding of existing kits
Rating: Highly Recommended
Recommendation: to "Home Front" Commonwealth armor modelers

After the disastrous withdrawal from France at Dunkirk in June 1940, the British Army proceeded to rebuild itself and conduct vigorous training of its main forces at home in view of their eventual deployment to various theaters of war and the "big push" for the Second Front in western Europe. During that period – most of 1941 and early 1942 – new tanks were built to replace losses as well as field new formations, new concepts were tried, and new tactics adopted.
That training period is one virtually completely ignored by model companies, as it appears to be dull and of no interest. This is a shame, as some of the more interesting marking schemes were tried out and either adopted or ignored at that time.
Quartermaster's Depot now has started a new series of decal sheets in its very nice waterslide family, and these cover that "home front" training period. Each of the sheets has been researched by Barry Beldam and provides complete markings for four separate vehicles. Each sheet is accompanied by two large 11 x 14 sheets of instructions, explaining how to use the markings and where they go. The directions call for what many of us use as "standard procedure:" coat the model with a gloss coat (e.g. Future in the US), cut the markings apart close to the subjects as the sheets are one big sheet and not separate subjects, apply, use a setting agent, and then top-coat with a flat varnish or coating to hide them and kill the shine.
The decals are excellent and cover the subjects at hand, and any omissions are covered in the directions and reasons cited (e.g markings were not visible due to obstruction). But one thing not given is a color match for the period; all of the vehicles in this sheet series are shown in a khaki drab color (e.g. brownish tint, not green) and I have no idea if that is correct or not. I would assume so given the background Barry has on Commonwealth armor, but have no idea what the match would be. (Barry once noted that the greenish color was a dead match to the old Pactra Artilllery Olive shade.)
Nearly all of the vehicles covered, however, will require either conversion of existing kits or scratchbuilding major components to match. Some are available in resin as well, so at least the modeler will have a made-to-order set of markings for those kits. Also, no comments are provided as to any specific modifications or changes that would be required to match that vehicle at that specific point in time.
Overall, the selection is excellent and Quartermaster's Depot has done a great job on these markings.
Quarter Master's Depot, 1071 Ambleside Drive, Suite 1111, Ottawa, Ontario K2B 6V4, Canada (http://www.quatermastersdepot.com); price CDN $12.00 each (about US $10.00)