Staghound Mk.I
Late Version
Italeri 1/35 Scale
Reviewed by Brett Green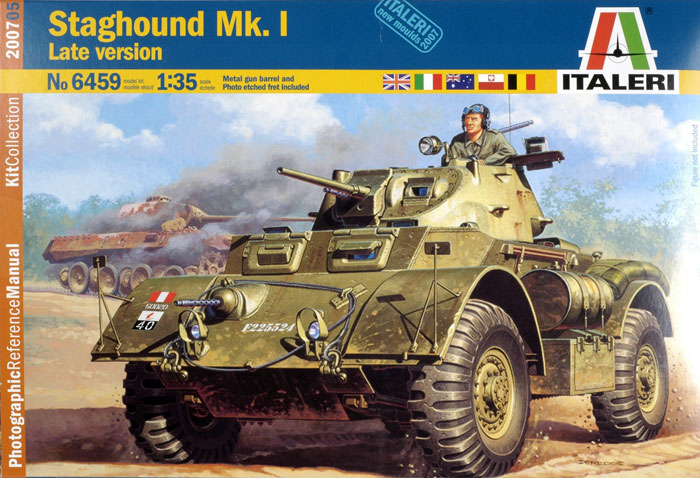 Summary
Stock Number and Description
Italeri No 6459 - Staghound Mk.I Late Version
Scale:
1/35
Media and Contents:
198 parts in olive coloured plastic on four sprues; one sheet of photo-etched metal; one turned metal gun barrel; length of string; die-cut clear acetate sheet; markings for five vehicles, instructions plus 48 page reference booklet and cardboard artwork.
Price:
around £24.99 available from good hobby shops worldwide
Review Type:
First Look
Advantages:
Interesting subject; well detailed; separate (positionable) hatches; interior turret detail; useful options including stowage and alternate casting marks; excellent quality moulding; should be a fairly straightforward build; good decals; 48 page reference booklet makes this a one-stop shop; plastic tyres
Disadvantages:
Recommendation:
Highly Recommended
FirstLook
It never rains but it pours.
The Staghound was an American built four wheel drive vehicle based on a British specification. The result was a big, tough looking armoured car that eventually saw service with the British Army and most Commonwealth forces during WWII and post-war. Around 3,000 Staghounds were built.
Until now, there have been only a few examples of expensive limited run resin kits in 1/35 scale. A few months ago, Bronco released their excellent injection-moulded styrene Staghound.
Considering Italeri's recent penchant for co-operative ventures, you would be forgiven for thinking that this was the Bronco kit in a new box.
In fact, it is a wholly unique and brand new Staghound.
Italeri's 1/35 scale Staghound Mk.I Late Version comprises around 198 parts in olive green-coloured plastic, one sheet of photo-etched metal, one turned metal gun barrel, a length of string, a die-cut clear acetate sheet, markings for five vehicles, instructions plus a 48 page reference booklet and cardboard artwork.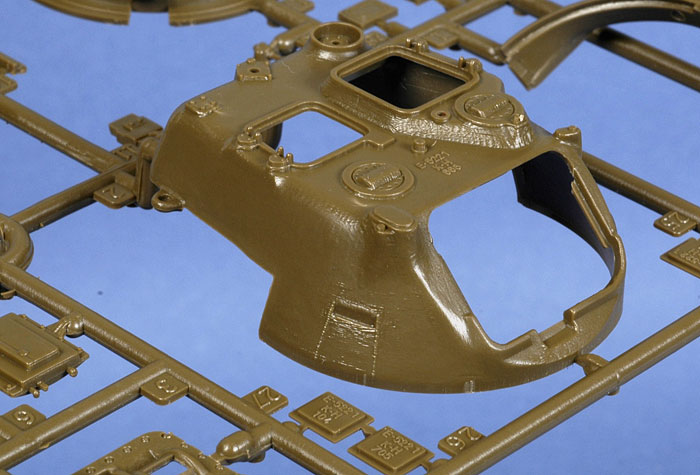 Click the thumbnails below to view larger images:
---
Surface detail is crisp and plentiful, and moulding quality is very good. I particularly like the rough cast texture of the turret. A very nice touch here is the inclusion of three alternate sets of casting numbers moulded on separate squares of styrene for the top of the turret. If you want a different vehicle, just cut out the moulded-in default and glue your casting number square in place.
In this age of 1,000 part uber kits, the overall parts count is relatively modest, but detail is hardly compromised.
It is pleasing to note that all crew and engine hatches are moulded separately. Partial detail is supplied for the turret, including a radio, decently detailed breech, turret basket and seats. All periscope hatches on the turret and hull are moulded shut.
The lower hull is provided in a single piece with some external detail moulded in place. This will help speed construction by avoiding the need to align multi-piece hull sections and locate tiny fiddly parts. Some nice delicate weld beads are also moulded in place.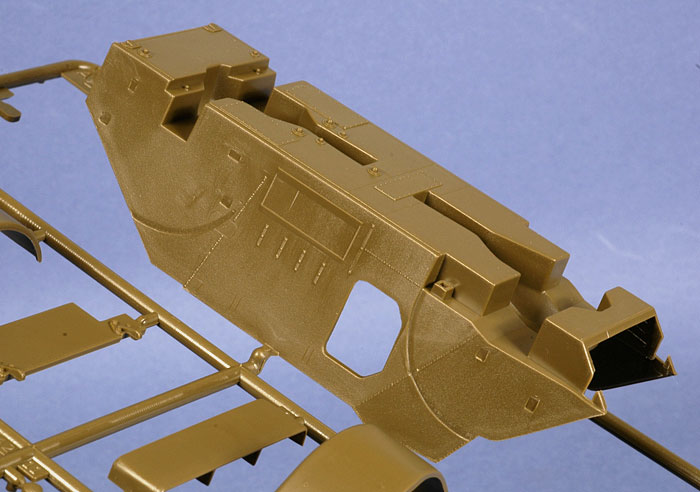 This kit sees Italeri steer away from their traditional vinyl tyres. Nicely detailed styrene wheels/tyres are included on the sprues.
The photo-etched fret provides some very useful smaller parts in scale thickness, including straps for the fuel drums and tools, perforated rear stowage box, wing nuts and brush guards for the headlights. The sprues are moulded with a plastic template over which the brushguards may be formed. Another nice inclusion on the photo-etched fret are frames and wipers for the driver's large vision blocks. The clear vision ports are provided by Italeri on a die-cut acetate sheet. A lens for the searchlight is also included on this handy clear sheet.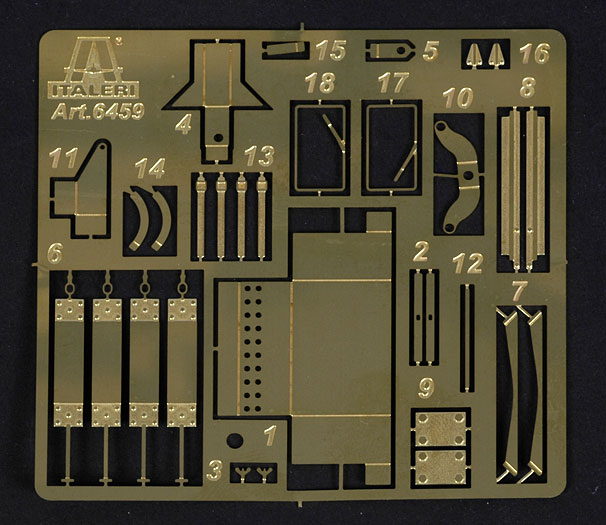 A lovely turned metal gun barrel is included for the main armament.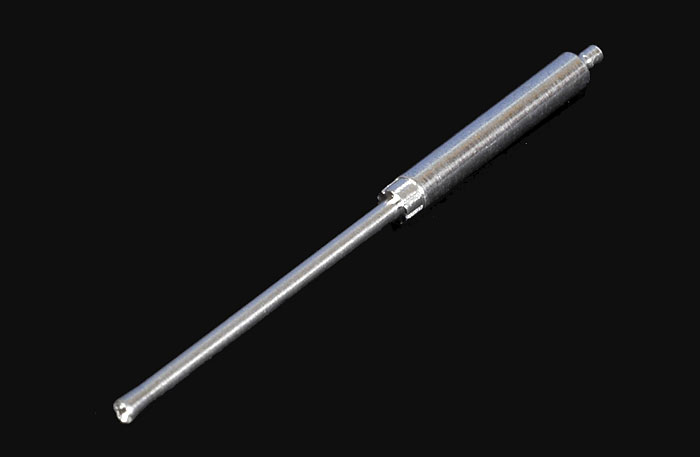 Five marking options are offered, covering five different Staghound operators - Britain, Belgium, Italy, Australia and Poland. All schemes are overall Olive Drab except the disruptive finish of Medium Green and Sand for the Polish vehicle (although this one may in fact be an early version which differs in some details).
The decals appear to be well printed and in register. An errata sheet is included.
The instructions are well laid out, and it is nice to see full colour painting guides on the back of the box.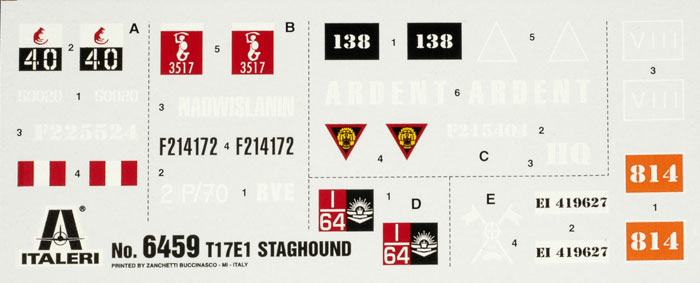 In addition to the kit itself, Italeri has supplied a 48 page reference booklet packed with photos of the Staghound in wartime and post-war service, extracts and drawings from the Staghound technical manual, detailed walkaround photos of the exterior and interior, plus colour profiles of the aforementioned marking options. A large version of the box art printed on stiff cardboard is also included as a mini display poster.
Comparisons with Bronco's kit will be inevitable. As it turns out, I bought a Bronco Staghound which turned up just one day before the Italeri kit arrived.
The two kits take a noticeably different approach. In short, Bronco has favoured separate (and often tiny) detail parts, while Italeri appears to have focused on relative ease of construction. When both models are built and painted, it will most likely be difficult to pick one from the other on the basis of detail alone.
There are some differences worth mentioning though.
For example, I prefer the rough cast texture of the Italeri turret. I also like the perforated toolbox, the open grilles of the engine deck, the driver's visor arrangement and the extra stowage of the Italeri kit. The one-piece lower hull will make construction of the Italeri kit easier (compared to the separate floor and walls of the Bronco kit), and a lot of detail is already moulded in place. Italeri offers more interior detail, including the turret basket and seats. The little reference booklet is great too, especially as titles on the Staghound are not exactly common.
For the Bronco kit, the clear plastic periscopes and positionable ports are very nice, and the photo-etched parts do seem finer. Also, if you like many delicately rendered separate parts, you will like this kit a lot.
In the end though, the decision is yours. Either kit will deliver a nicely detailed replica of this chunky trans-Atlantic armoured car.
---

Conclusion
With their growing Italian / AS-40 / AS-41 / AS-42 / AS-43 family and now this Staghound, Italeri seems determined to corner the armoured car market. In fact, this new release is similar in approach to the Italian armoured cars released over the last year, and matches their high quality and level of detail. Considering Italeri's recent hectic release schedule and the parts breakdown of this kit, I would not be surprised to see more versions of the Staghound available in the next year or so.
Italeri's 1/35 scale Staghound Mk.I Late Version is an attractive and well detailed package that should be quite straightforward to build. The inclusion of multi-media parts and the reference booklet is a real bonus.
Highly Recommended.
Thanks to Italeri for the sample
Text and Images by Brett Green
Page Created 15 December, 2007
Page Last Updated 15 December, 2007