Home > Reviews > Britain >
Gecko Models 1:35 scale British Cruiser Tank A10 Mk.I Kreuzer Panzerkampfwagen Mk II, 742(e), A10. Kit No. 35MG0005
British Cruiser Tank A10 Mk.I Kreuzer Panzerkampfwagen Mk II, 742(e), A10

Gecko Models, 1/35 scale
Reviewed by Al Bowie
Stock Number and Description

Gecko Models Kit No.35GM0005 - British Cruiser Tank A10 Mk.I Kreuzer Panzerkampfwagen Mk II, 742(e), A10

Scale:

1/35

Media and Contents:

1,009 medium grey plastic parts; one polythene cable; 1 PE fret and markings for five vehicles. 1 colour plate of the box art is included

Price:

TBA

Review Type:

First Look

Advantages:

Excellent level of detail; convincing surface textures; Interior of Drivers and Fighting compartments, crew Commander figure. Offers both British and Beutepanzer (Captured German) markings .

Disadvantages:

Complex track assembly; missing step in the instuctions.

Recommendation:

Amazingly detailed and accurate but overly complex in places.

FirstLook
I was over the moon when Brett offered me this kit to review. I have long been a fan of British WWII armour through its lows to highs and the A9 and 10 have been particular favourites.
The fact that Gecko Models chose to do these as their first kits was interesting as we all know only German sells and this must be a big risk for a new player. When I first heard about this kit through someone involved with the project I was thrilled. I was surprised when Bronco was the first to market with a mainstream plastic kit in 1:35 scale of the early war British Cruiser Mk II in both the Mk II, 11A and II CS versions which was very well received however some obvious omissions were noted by previous reviews such as the lack of Desert fittings and some minor detail errors.
Gecko Models now follow the Bronco variants with even more detailed and complete kits offering a number of variants of the A9 and A10 Family and with interiors.
This kit particular offers parts to build either an A10 Mk.I or a German operated one designated as Kreuzer Panzerkampfwagen Mk.II, 742 (e). The kit contains markings for five vehicles with only one being the German Beutepanzer version and the other four being British 1st Armour Division vehicles from the ill-fated British Expeditionary Force 1939-40.

The A10 was an important British Cruiser tank of the pre-war/early war period and for its day was exceptional well-armed with an adequate speed and manoeuvrability. It had reasonable armour for the time of 30mm. The A10 Mk.1 had a coaxial .303-inch Vickers Water-cooled MG and a prominent external mantlet cover. It was originally ordered as an Infantry support tank but early war shortages saw it employed as a Cruiser tank whose role was to exploit breakthroughs in the enemy line rather than slug it out in the Break in battles. It equipped the British 1st Armoured division which was sent ill equipped, under trained and under prepared to France in early 1940 where it was squandered in the Infantry tank role by the French command and most of the Division was destroyed or abandoned near Calais, leaving many examples for the Germans who adopted it as the Kreuzer Panzerkampfwagen 742 (e) and used mainly for training and occupation duties in the early war.
The kit comes in a sturdy storage type box and is jam packed with sprues in a light grey plastic. It consists of a whopping 37 plastic sprues and 2 etched frets with 1,009 parts in light beige plastic (including 588 track link parts); 9 clear & 34 PE parts, 1 vinyl cord and 1 decal sheet for 5 marking options
I was impressed by the kit on seeing the amount of detail and the sheer number of parts that absolutely fill the box. Despite the number of parts construction does not appear overly complex and starts with a good fitting multipart hull. This quickly populated by interior detail although a check of pictures of the actual vehicle and the user manual it shows this to be simplified with differences in positioning of the Drivers seat and the access hole in the compartment bulkhead. Gecko have chosen to mould the suspension mounting brackets in plastic and these are finely done and look the part. Ammunition for the 2 Pdr gun is provided in multi shell mouldings but again are a little simplified with little in the way to restrain them. For some reason Gecko have moulded the turret basket floor with a woodgrain panel where the real floor access hatch is which may be as a result of copying a museum example?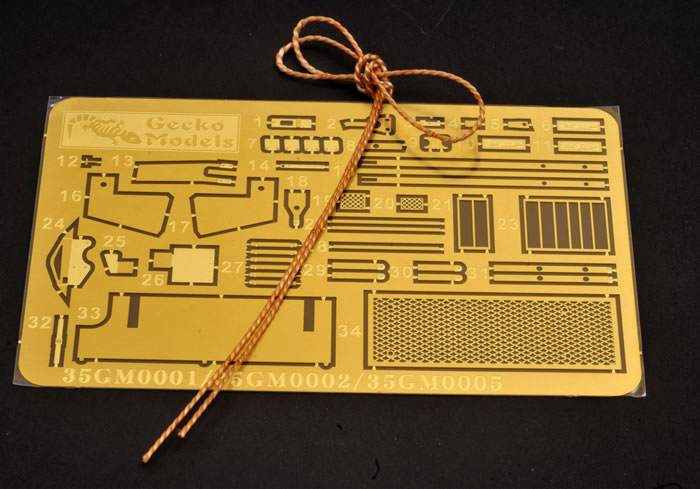 Steps 9 – 12 deals with the suspension which is designed to be moveable and has finely moulded springs (Fh9) which really look the part. The idlers and drive sprockets are multi part assemblies and match the originals well. Again, construction is not overly complex or difficult. A word of warning here, do not cutoff the two pins on the nut side of part Fh7 as these locate to the mounts parts Fc24 and Fc26. Take note which version you are building as there are optional parts.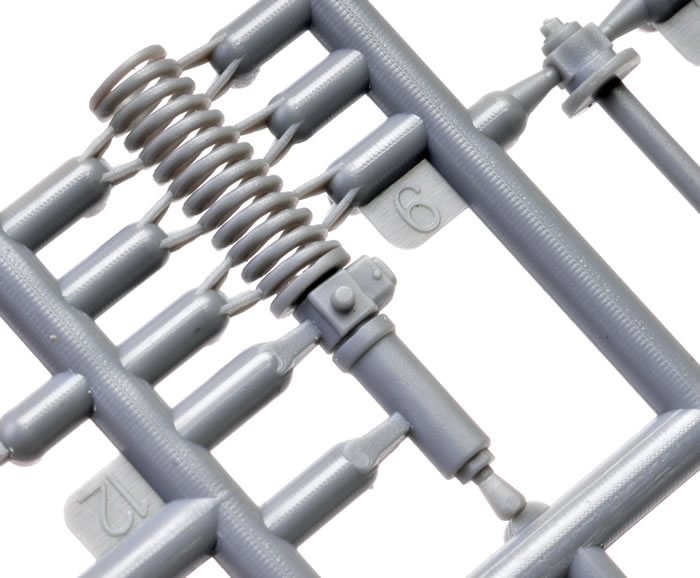 Step 13 is where the majority of kit parts will be put together in the form of the kits multipart workable track. Gecko have given the modeller a jig but I found it more than a bit fiddly requiring the patience of saints and a very good optical enhancement device as the parts are miniscule. The track link is made up of a top and bottom and they are faithfully detailed. The instructions have you place the outer face (Fj1 in the jig side by side them "Connect" these using the pin assembly Fj3 without glue). Then you somehow glue part Fj2 to Fj 1 without getting glue on the pin assembles. Just getting these off the sprues and cleaned up will take a great amount of time. An alternate assembly route is to Glue the pads together then cut the pins (Fj 3) in half then slide in, a method I use on Bronco M4 tracks. It is still fiddly as there is little positive location alignment and you will need pliers of tweezers due to the part sizes and the recessed Pin mounts. There are 74 track links of three pieces each. Good luck!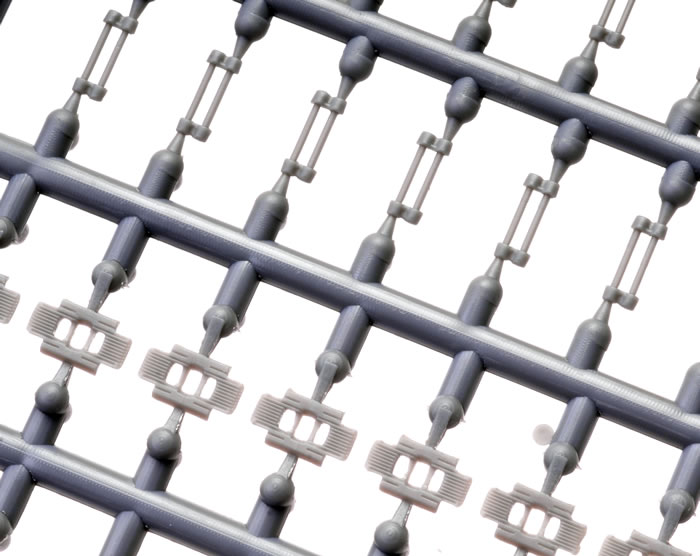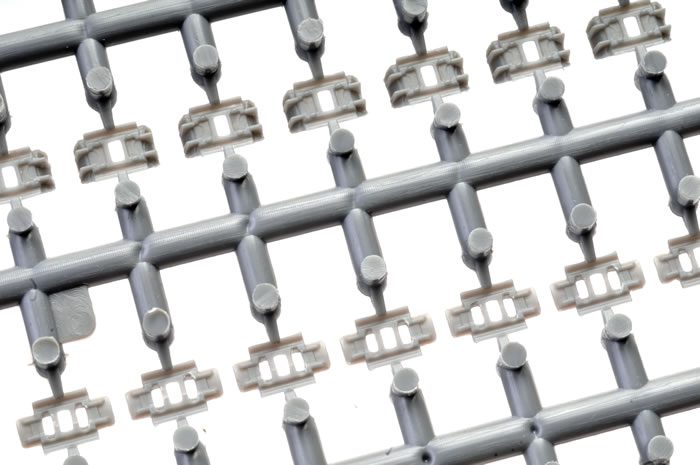 More hull construction follows and the fit is very good. Be careful to read the instructions carefully in these steps as Step 15 would have you put the instrument panel in backwards. Some fine PE parts are included, which will require care in bending due to their size. Step 19 is the exhaust and it has PE mounts and guards that require great care in assembly and alignment. Hull fittings and guards follow again with PE retainers, mounts etc. This finishes the hull assembly and with care will result in a stunningly detailed hull.
Construction now moves to the turret which has interior detailing and a detailed 2 Pdr and Vickers MG. Care is needed with the external mantlet cover and the fit to the gun as the instructions are a bit vague. The radio for the turret provided is the later war 19 set rather than the 9 or 11 sets normally carried.
The turret is pretty complete and has the basket but the floor has a wooden representation which is wrong. Hatches may be modelled in open or shut position. The collapsing antenna assembly is particularly well detailed but for the life of me I cannot find any mention of its construction in the instructions! The parts for it are on Sprues Ea. Eb and D.
Lastly a 9-part Commander figure is supplied in pre-war battledress with a low-slung tankers Holster bottom and the choice of Beret or Early war Tankers Helmet with earphones. Earphones are not supplied for the Beret option with an indistinct RTR badge.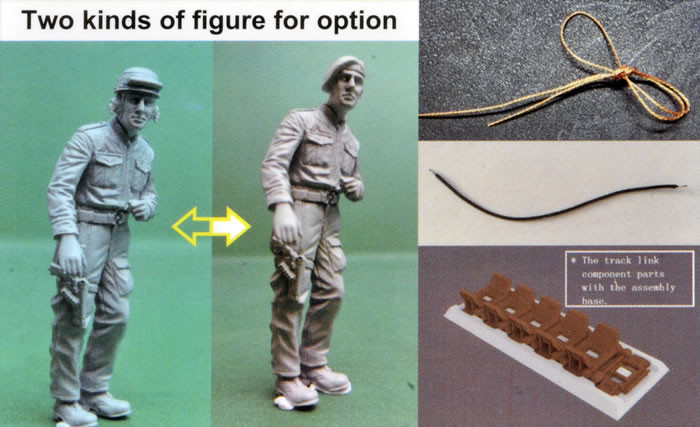 The kit has five decal options all for the A10 Mk 1 which fought in France:
9 Queens Royal Lancers HQ Sqn 2 Armd Bde 1 Armoured Div France 1940 in Dark Green No 4/ Khaki Green No 3 Scheme (G3/G4). T5921

HQ 1st Armd Div France 1940 named "Doc" in G3/G4 scheme. T 5915

HQ, 5 RTR HQ Sqn 3rd Armd Brigade 1st Armd Div France 1940 in G3/G4. T 9199

HQ 3rd Armd Bde, 1 Armd Div France 1940 named "IVY" in G3/G4. T8096

German Tank Crew Training Unit, Kummersdorf Germany 1940 in Panzer grey with White Balkenkruez.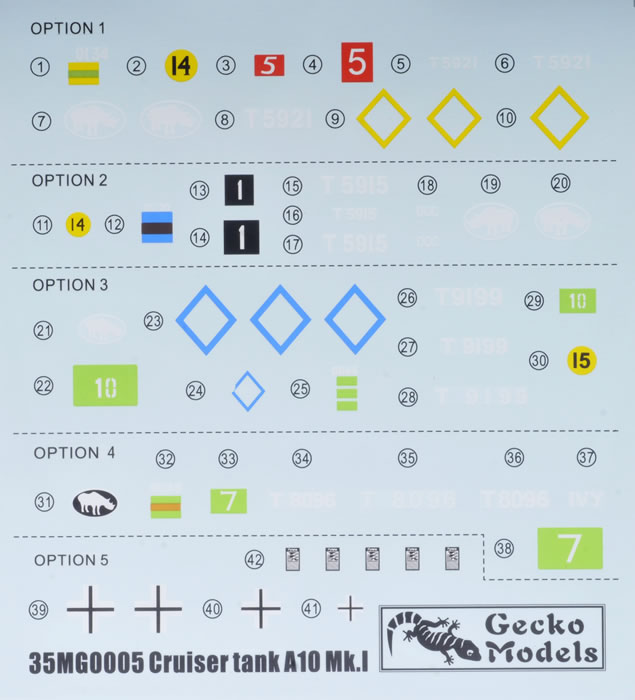 A nice touch is the inclusion, for the first time in any British Armour kit, of the placards for the British Fire Extinguishers prominently fitted to this vehicle. All schemes match the colour plates and photos of the actual vehicles.
---
Conclusion
This is an amazing detailed kit and it is a complex build in places so not for the beginner or the impatient (that rules me out!). It is hard not to do a comparison with the Bronco release particularly as there is a noticeable difference in size between the two. This kit scales almost perfectly to the plans in the Excellent Peter Brown title "British Cruiser Tanks A9 & A10" from Armour Photo History which is strongly recommended to the modeller of this subject. Until actual measurements from a surviving vehicle confirm which is correct I will reserve my judgement but am leaning towards this one being correct.
This kit is another very welcome release which fills an important hole in the British Tank family of WWII alongside the Bronco kit. The kit in either the Captured German markings or the BEF kit options will make colourful addition to any collection and I for one am pleased to see these subjects finally being given the gold class tooling and detail that allied subject modellers have long envied.
However, construction is overly complex in places and I could not recommend this kit for a beginner or inexperienced modellers particularly as one of the complex assemblies (antenna mount) is not even in the instructions!
Gecko have gone to amazing lengths to get this right but I am sure super detailers will find somethings to be added. The interior has been a bit simplified in completeness, accuracy and detail but will be near impossible to see in the finished product. It will require patience and time but the result will be a stunner. I am waiting the time and space to finish this one.
I would highly recommend anyone building these kits refer to these Tracklink Blogs by as they will save you a lot of grief.
Mark Ford – A10 CS Mk 1A http://www.track-link.com/forums/site_blogs/35873
F Matthews – A10 Mk 1 http://www.track-link.com/forums/site_blogs/35867
David Nickels - A10 Mk 1A http://www.track-link.com/forums/site_blogs/35879
Thanks to Gecko Models for the sample www.gecko-models.com
Text by Al Bowie
Images by Brett Green
Page Created 5 August, 2018
Page Last Updated 5 August, 2018