FIRING NOW
MMP Books
by Dick Taylor

Reviewed by Al Bowie
Summary
Title:

FIRING NOW
MMP Books Green Series No 4120
by Dick Taylor

ISBN:

978-83-63678-91-3

Media and Contents:

Soft Cover A4 portrait style with 135 pages including Colour plates and B&W and colour photos

Price:

Review Type:

First Read

Advantages:

First to cover this topic to such detail. Excellent reference for the modeller or collector of British and American AFVs or Anti-Tank Artillery of WW2

Disadvantages:

Recommendation:

Highly Recommended
FirstRead

Dick Taylor embarked on a monumental task with his four volume Warpaint series that extensively covered the colour and markings of British armoured vehicles. He continues this theme with a comprehensive title covering the Ammunition types of those British and American armoured vehicles in World War Two.
Again, the Author has used his intimate knowledge of the British Army and his research skills as a historian to deliver another detailed reference. To my knowledge this is the first time the subject has been tackled except as part of general titles covering many nations and I commend the author for tackling it in detail. He makes the comment in his introduction that this is the whole purpose of the gun or tank is to deliver the ammunition to the right place and the right time. The sheer scope of the subject limits what can be achieved and Dick is making available to the reader the closest thing to a complete single reference on the subject. I honestly would not have thought this was such an interesting subject but have to say this was a very interesting and enjoyable read.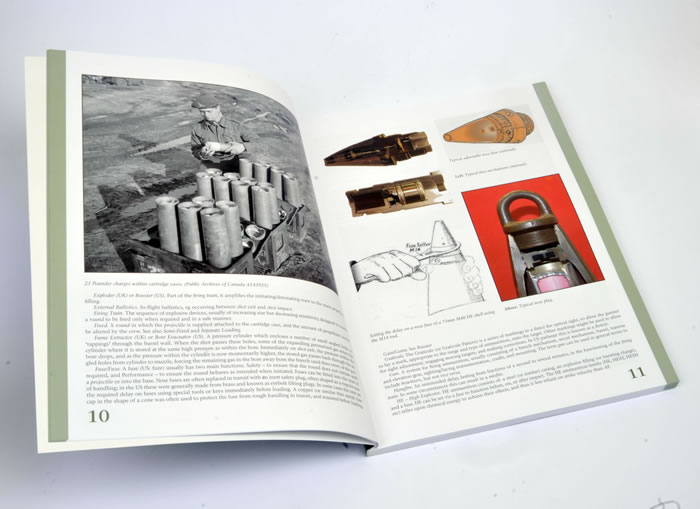 This volume mainly covers a variety of subjects and is broken down into Chapters on the subjects detailing:
• Part 1 – Ammunition

o Components, Function, Terminology and Abbreviations
o Terminology
o Accuracy, consistency and penetration
o Packaging, storing and transporting ammunition

• Part 2 – British ammunition natures

o Introduction
o The 1944 System
o .55 Boys AT Rifle
o 3 Pounder and 3.7" Close Support Howitzer
o 3" Close Support Howitzer
o 2 Pounder
o Hotchkiss 25mm
o 6 Pounder (& US 57mm)
o 17 Pounder
o 77 mm
o 95mm Close support howitzer
o 25 Pounder
o 32 Pounder
o 29 mm Blacker Bombard
o PIAT
o 290 Petard

• Part 3 – US Ammunition Natures

o Introduction
o 2.36" Rocket Launcher (Bazooka)
o 37 mm
o 75 mm & 75 mm (British)
o 3 Inch
o 76 mm
o 90 mm
o 105 mm
Like its predecessors, this volume is thorough and Lt. Col Taylor's research presents the reader with data well supported by photographs in both black and white and colour. Primary sources are the basis of most of the information and I like the fact that, unlike other authors, he does not categorically state something based on a single source or interpretation of official documents or photographs; but is measured in presenting the most credible outcome whilst remaining open minded as to interpretation. Again the photographic smorgasbord presented in this book has been well selected to illustrate the information presented by the author and is presenting a lot of rarely seen photos.
The chapters are packed with detail and illustrated with period photos, photos of preserved items as well as coloured diagrams, sketches, illustrations etc. Some of the information is presented in detail for the first time and is quite interesting.
This is the first title that I have read that covers solely the British and US AFV ammunition in such detail and the information has been missing from the public arena for a long time. This will be invaluable to modellers, collectors and re-enactors amongst us and I look forward to seeing this information used to add some colour to what can be drab modelling subjects.
The Author is to be commended for this and its preceding titles that have gone a long way to providing a single reference on a hugely complex subject. As with the other titles, these are well laid out and indexed allowing for easy access to information. For anyone with an interest in British Armour or Military vehicles these titles are essential and no serious modeller of British Military vehicles should be without them. I cannot recommend these titles highly enough. Again I would recommend this book for those with an interest in British military vehicles whether as a modeller, Historian, Re-enactor or collector. It is well written, superbly researched and presented in an easy to read manner.
Highly recommended to the collector, modeller, wargamer or historian.
Available online from MMP Books www.mmpbooks.com
---
---