Sherman Mk.IC Firefly Welded Hull
Reviewed by Al Bowie


Summary
| | |
| --- | --- |
| Stock Number and Description: | Dragon Kit No. 6568 - Sherman Mk.IC Firefly Welded Hull |
| Scale: | 1/35 |
| Contents and Media: | Approx 562 light grey coloured styrene parts (appro.x 242 of these are not used; 22 Clear Styrene pieces (10 not used); DS vinyl tracks, large PE fret; metal tow rope cable; markings for three vehicles |
| Price: | |
| Review Type: | In Box |
| Advantages: | Accurate and complete model with the option of the British all round cupola; transmission fits without surgery; bonus of PE set including tool tie downs etc |
| Disadvantages: | Only 1 limited marking option, No tulip (rocket parts) included |
| Recommendation: | Highly Recommended |

FirstLook
DML continue on their well-established Sherman Firefly family by adding the missing member – the Firefly IC (Welded Hull). As with their recent Firefly IC (Hybrid) they have shown a marked improvement over previous Sherman releases which were plagued with poor or confusing instructions and a level of fit not normally associated with such a prime manufacturer. This kit builds on the very good M4 Normandy kit by combining the unique Firefly Turret sprues from the Firefly IC Hybrid kit. These are some of DML's best work on the Sherman Family and this kit is amongst DML's best Shermans.
The Firefly was a great British idea to mate the excellent 17 pdr anti tank gun with the reliable US supplied Sherman and became an essential weapon in the tough battles against the cream of the German Panzer elite in Normandy. It was the first Western Allied tank to have the hitting power to combat the tough armour of the Tiger and Panthers encountered in numbers much greater than anticipated in Normandy.
Conversions were undertaken on M4 and M4A4 variants only as the M4A1, 2 and 3 were deemed unsuitable due to turret traverse gear and hull layout problems. The M4 was originally a welded hull design with a 56 degree glacis and protruding hoods for the driver and bow operator gunner, which were found to be a liability as the hoods were shell traps. Despite this a number of Firefly conversions were undertaken on welded hull M4s including those with Direct Vision hulls.
It is unknown how many of the welded hull Firefly IC conversions were undertaken but many photographs exist of these in service with the British, Canadian and Polish Forces in North West Europe and Italy.
Looking at the Normandy campaign photos, they can be seen in the independent Armoured Brigades, including the Canadian Brigades and 11 Armoured Division as well as the Polish 1st Armoured Division so there will be no shortage of inspiration and subjects to model.
Dragon's latest 1:35 scale Firefly kit represents a welded M4 hull with cast driver's hoods, and all pictures I have seen of actual IC welded Fireflies have the late "sharp" transmission, as does this kit. Almost all appear to have full applique kits as well. In fact, the transmission is quick identification feature in front-on shots as all of the VC Fireflies had 3 piece transmissions.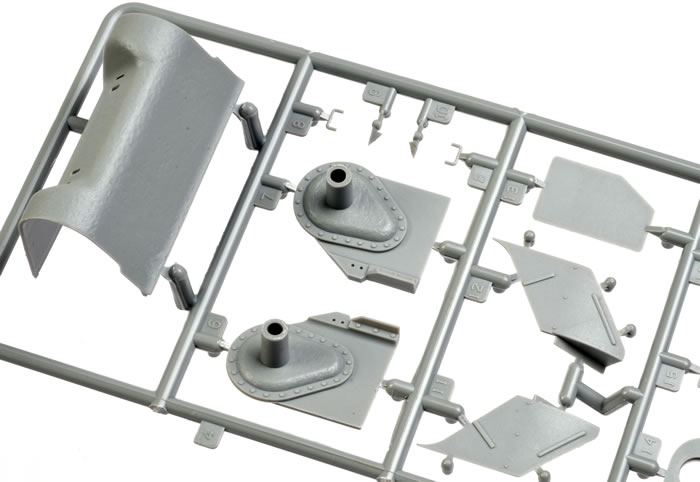 Most of the late 56 degree hull M4s were fitted with the mid-production low bustle turret, which no longer had the pistol port on the left rear side and had a thickened right cheek to compensate for the machined out interior and restore the armour thickness. This kit has the earlier casting with the pistol port and no thickened cheek. Very late in the war, the British introduced their all round vision cupola to the Sherman and this kit gives the modeller the option of it but I have only seen photos of this on Polish Fireflies (including welded ICs) in post-war Italy. The kit does however include an alternative split hatch cupola.
DML has done their homework with this kit and got it spot on for accuracy with an excellent multipart all round vision cupola and optional road wheels, sprocket types and a full appliqué kit. It is a pity that they did not put any effort into the markings, which will be discussed later. The kit comprises over 560 parts in the now familiar Grey styrene however about 250 of these are left to the growing Sherman outfitters kit! In fact this kit yields so many spares for converting Shermans that it is almost worth acquiring for those parts. A large PE fret is included which provides screens, guards, fenders, skirt strips and even tool tie down straps along with numerous small hull fittings.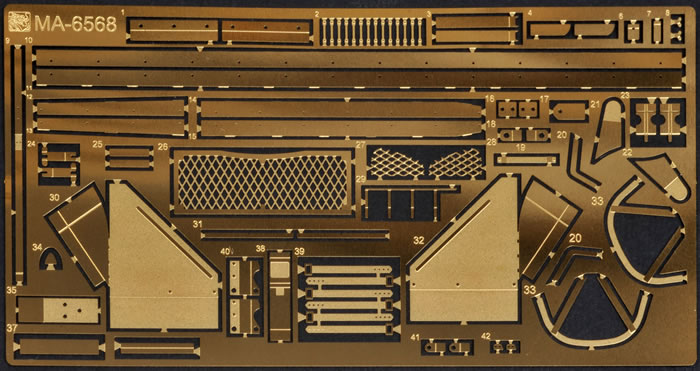 Tracks are supplied as DS vinyl runs of the T 48 rubber chevron type frequently seen the Firefly IC Welded in British service alongside the T51 plain rubber block.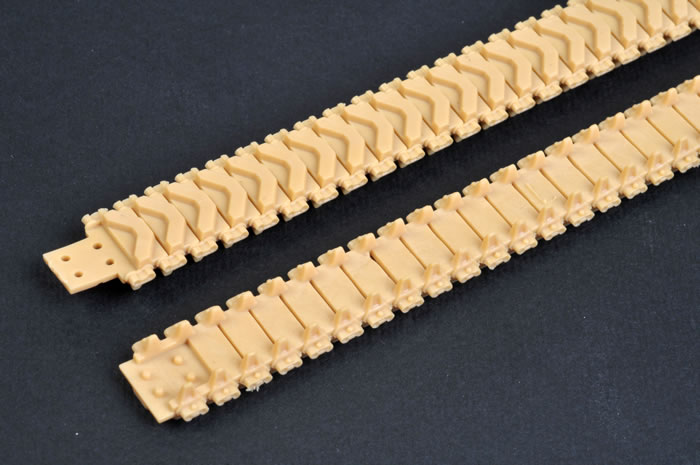 A small decal a single Polish IC of the 2 AR 1st Armoured Div in Normandy. This provides a single AoS, formation marking, air recognition star and T number. What I do not understand is that for many years DML erroneously included Colourful Polish marking for a IC named RYCERZ-1 in their VC kits but chose not to include it in a IC Kit. Sadly, as an Allied modeller, this appears typical of DML's approach to most Allied subjects. A 5 minute look through the excellent Hayward book on the Firefly revealed at least 5 IC Welded that enough of the markings could be deciphered to offer options including two colour plates! At the very least a generic set of numbers AoS, Formation and Unit markings could be added to let the modeller pick their own scheme – rant over.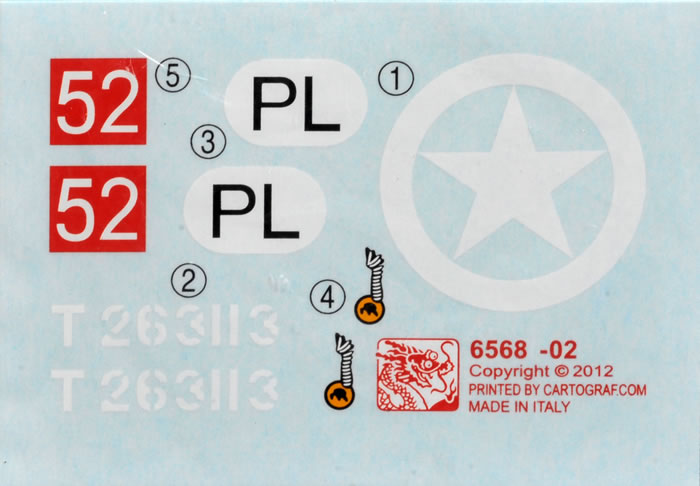 Dragon has given us a superb replica of an Early production Firefly IC Welded but it is not without omissions.
Construction is straightforward although and after previous disasters with the transmission fit I assembled this to see if it had improved. Still DML refuse to acknowledge that there is a noticeable strip of bolts vertically where the transmission is joined to the front of the vehicle. Even when they retool the parts such as the transmission sides they leave this off but include the bolts on the underside of the hull where you cannot see them. The fit around the rear lower hull plate will require some filler and the general fit is still not up the precision of Tasca but a big improvement over their earlier Shermans. I am pleased to say DML has got this one right and it fits well. Like the IC Composite the kit instructions are well done and it seems DML went back to the drawing board for this so we won't be seeing a lot of funnily constructed Shermans with the wrong fittings with any luck. The detail parts are crisply moulded and a set of periscope guards is included which are superbly moulded.
There are only a couple of options and not all of these are marked such as the turret stowage box on the radio bustle. The unique rear hull stowage box fitted to IC Fireflies is included. I notice the long Ammo type box frequently seen on the rear deck of ICs is also included on Sprue K but it is not mentioned in the instructions. The Kit indicates to use the Late upswept Bogies but also supplies the earlier horizontal type both types can be seen on these vehicles. You have the choice of three different Drive sprocket rings and two roadwheel types plus round or square Air Filters. The Turret is all new and a one piece barrel is provided in moulded plastic with a two piece muzzle brake slit vertically. The All round vision cupola is magnificent and comes with individual clear periscopes but do not use it for the marking option given as these were introduced in 1945 and not the Normandy time period of the marking option.
---
Conclusion
This is one of DML's best Sherman kits but still could benefit from a bit more effort in little things like the marking options and bolt strips for the transmission sides etc. This is a great addition to the model Sherman Family and fills another hole in the lineage. This can also be combined with excellent M4 DV kit from DML for an alternate version as I will be doing with this one as a heavily stowed and graffiti covered tank of the 23rd Hussars in Belgium.
I highly recommend this one for fans of Commonwealth Armour and only have one small trivial criticism – why not give some more marking options particularly when you already had a suitable set of markings for this vehicle?
Highly Recommended
Thanks to XXX for the review sample.
---
Review and Images Copyright © 2010 by Al Bowie
Page Created 26 Nov 11
Back to HyperScale Main Page
Back to Reviews Page
Dragon kits are distributed in the UK by The Hobby Company Limited www.hobbyco.net
---