Home > Reviews > Britain > cyber-hobby.com 1/35 scale Kit No. 39 (Dragon Models Limited 1/35 Scale '39-'45 Kit No. 6527 Sherman Mk. III DV Initial Production - Smart Kit
Sherman Mk. III DV Initial Production - Smart Kit
Reviewed by Cookie Sewell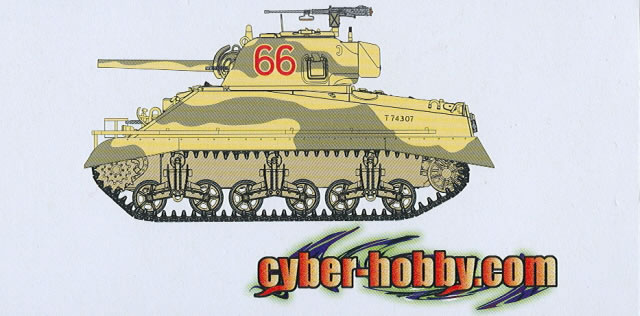 Summary
Stock Number and Description

cyber-hobby.com 1/35 scale Kit No. 39 (Dragon Models Limited 1/35 Scale '39-'45 Kit No. 6527 Sherman Mk. III DV Initial Production - Smart Kit

Scale:
1/35
Media and Contents:

398 parts (274 in grey styrene, 100 etched brass, 23 clear styrene, 1 length of twisted steel wire)

Price:
around USD$50.50
Review Type:
First Look
Advantages:

Newly molded hull for this variant; nicely done suspension with T41 tracks

Disadvantages:

Brass sand shields and "sunshield" racks require a lot of "origami" for assembly

Recommendation:
Recommended for all Commonwealth armour fans and "Shermaholics"

FirstLook

DML has now released a third early model Commonwealth Sherman in the form of a Initial Production Sherman III with a direct vision hull, M3 style suspension, three-piece transmission cover, and T41 reversible tracks. This follows on their Early Sherman III (6313) and Mid Production Sherman III (6231) kits, but as it has the direct vision hull should not engender some of the snarls about the driver's and co-driver's "pulpits" that the other kits did.

The new hull provides the same beautifully done weld beads and welding marks on the hull proper as other recent Sherman kits. This kit now also sports a more accurate set of engine access doors (the grilled ones on the engine deck) with 24 grille bars.

Once again there are minor or major tweaks to several of the kit sprues for this model as well as "gated" work to reduce the number of unusable (e.g. spare) parts. Most of the bits here are familiar to Sherman fans over the last three or four years, such as the low bustle turret with a choice of M34 mount without "ears", M34 mount with "ears", add-on armor protection for the coaxial machine gun with the M34 mount, or the M34A1 mount. From the box art the correct choice for this particular variant is the M34 with "ears"and supplemental armor. This kit does come with their new mold M2HB machine gun for the commander's cupola, so they are listening.

But this kit uses the new M3/M4 type suspension, so many of the "missing" parts are the standard VVSS suspension bits. It also comes with two transmission covers but the correct one here is the "three-piece" and not the "soft-nose" cast one. Note that in Step 5 there are a number of mounting holes inside the hull which need to be drilled out for mounting the tools and OVM on the rear of the tank. The bolt pattern, as with previous M4A2 hulls, is pre-painted on the stern plate for easy location and attachment of the chosen parts. These are etched brass but two different patterns are provided for in the directions.

This kit comes with full sand shields and fenders from etched brass, as well as the "sun shield" deception mounts cum equipment attachment racks. These are somewhat tricky and will probably take a combination of soldering and ACC cement to look right when installed. New design headlight guards (e.g. easier to fold and install) and fender components as well as the commander's "blade" sight are provided but not tie-downs or tool straps.

Unlike past Commonwealth kits, as noted this one does not provide the WE210 type "Double I" pattern tracks but the early production T41 "reversible" tracks which were quickly replaced. They are packed flat and not protected, but the ones in the review sample suffered no ill effects to the guide teeth.

Again, finishing directions and markings are included for but ONE tanks: COCKY from first the 41st RTR, 24th Armoured Brgiade at El Alamein and then a month later when it was part of C Squadron, the Royal Scots Greys, Honey Hill, December 1942. Either one is quite colorful and are backed by a nice set of Cartograf decals.

Overall, if you are a fanatic Shermanoholic this is a must kit. It also is a nice "one off" for the Commonwealth fans for a change.
---
Sprue Breakdown
A 95 M4A2/A3 hull details (A2/A3) (minus hull top)
B 63 Low bustle turret with M34 and M34A1 gun mounts
C 23 Clear styrene
D 22 56 degree direct vision welded hull
D 31x2 M3/M4 early suspension
E 2 British turret bustle bin
E 9 Early model three-piece transmission cover
J 12 M2HB with turret mounting
S 1 twisted steel wire
V 4x2 M3/M4 early style drive wheels
X 1 Lower hull pan - M4A2
Z 2 T41 style DS track runs
MA 100 etched brass

Thanks to Freddie Leung for the review sample.
Text and Images by Cookie Sewell
Page Created 14 June, 2009
Page Last Updated 14 June, 2009