Sherman Mk.III
Reviewed by Cookie Sewell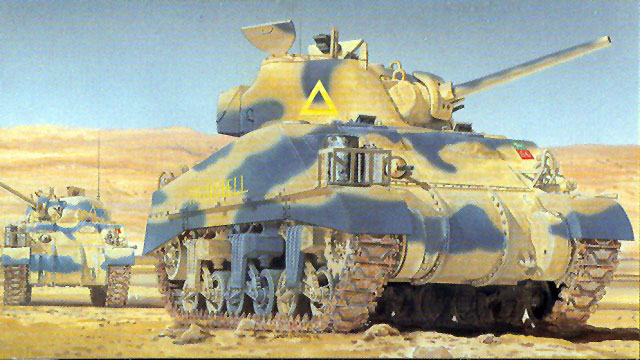 Summary
Stock Number and Description
Dragon Models Limited 1/35 Scale '39-'45 Kit Number 6313; Sherman Mk. III
Scale:
1/35
Media and Contents:
478 parts (389 parts in grey styrene, 64 etched brass, 22 clear styrene, 2 DS plastic track runs, 1 length of twisted steel wire)
Price:
USD$34.99 available online from Mission Models
Review Type:
First Look
Advantages:
Great follow-up to M4A2 Tarawa kit; changes of mold gates shows the other parts available for Shermans
Disadvantages:
Choice of tracks may not be well understood or popular; no commander's machine gun
Recommendation:
Recommended for all Commonwealth armour fans and "Shermaholics"


Dragon's 1/35 scale M4A2 is available online from Mission Models
FirstLook

The British were one of the major users of the M4 Sherman series tanks, and used a good number of them in many different versions. The most common were the Sherman I (M4), Sherman II (M4A1), Sherman III (M4A2) and Sherman V (M4A4) models, with over 5,000 Sherman III tanks of all types seeing service. While the diesel powered M4A2 version was not popular in the US, it was very popular with the Commonwealth and Soviet Union forces.

When DML announced its M4A2 series kits, the "experten" immediately began to carp that DML was simply going to take that kit and change the decals to make it a Sherman III. While that technically would not be wrong, there were a number of subtle differences more apropos for the Commonwealth tanks than the American or Soviet ones.

As is now become the norm that was not what happened: as Gomer Pyle used to say, "Soo-prise, soo-prise!" DML has made a number of tweaks or changes to the M4A2 kit to provide a more representative kit of the Sherman III series tanks.

While this model does come with many of the sprues from the M4A2 kit, they also changed a number of them. The hull is different – it is the cast hood version with a few different bits added and is not just the earlier welded hood variant found in the Tarawa kit. This hull comes with the blanking plates over the grouser stowage. as well as the cast hoods.

The turret is the same as the one in the Tarawa kit, but DML has cleverly released a mold gate and it not only comes with the M34A1 gun mount (in two styles) but also now provides the M34 mount – the "narrow mantelet" version with or without "ears" to protect the recoiling section of the barrel and the optional welded-on machine gun section. Only a styrene barrel is offered, but it is "slide molded" with a hollow bore. Optional US or UK antenna mounts are provided. Surprisingly there is no commander's machine gun even though many Commonwealth tanks sported either a .30 caliber or .50 caliber Browning. A stowage bin and fittings are provided for the bustle with this turret.

Two different sets of VVSS bogies are provided, either the ones with "flat" return roller mounts and also pillow blocks to raise the idlers or the later "upswept" versions. The kit comes with the two-pieced welded pressed cover wheels, but for the earlier Sherman III two odd sprues also provide the five-spoke welded wheels. These are older moldings so they have a seam that will have to be muted or removed, unlike the new generation ones with their edge attachments to the sprues.

The cast transmission cover is no longer provided, and in its place is a "slide molded" base for the three-piece transmission cover and a sprue of detail parts and a new set of "ears" to attach it to the lower hull. Again, like all DML kits it HAS sponson floors in it.

The hull is correct all the way around, with a correct lower hull with twin access plates to the two GMC diesel engines. The upper hull is beautifully done with scale weld bead that stands proud of the hull – no more "trenches!" The A2 engine deck comes with separate hatches but no interior. Filler caps may be shown in either open or closed positions, as can all of the periscopes and crew hatches.

The one point of contention with this kit may be its retention of the T54E1 steel chevron tracks instead of the British pattern cast track. Close examination of photos of Commonwealth Shermans shows that they could and did use nearly all US produced tracks – T51 irreversible rubber block, T48 rubber chevron, T49 three-bar steel cleat, and T54E1 steel chevron – as well as British steel chevron and WE210 "Double I" pattern rubber links. While most likely not inaccurate, the "boo birds" are likely to grouse.

The etched brass supplied covers mostly larger details this time, such as the complete sand shield and fender installation which was more common on Commonwealth tanks. Again, headlight guards and fender components as well as the commander's "blade" sight are provided but not tie-downs or tool straps. The ten bolt heads for the stern of the hull are provided as etched pieces as well. Note that to attach the tools holes must be opened up in the hull from the inside, and there is a small guide given in Step 7 in the directions as to which holes are used. Also three factory casting identifiers are included for use on the rear of the turret, but they are not keyed to any specific tank nor any variations in the turret design.

Markings are included for three tanks: THE OLD BELL, A Squadron, Royal Wiltshire Yeomanry, 1943; BARFORD ST MARYS of the same unit; and CORSTON, C Squadron, the same regiment. All are finished in a two-tone sand and brown scheme; whether or not the tracks are correct or not for these vehicles, I have no references that show details to that level of resolution.

Overall, this is a really good attempt to get two different kits from one full set of molds and should be greatly appreciated by the Commonwealth fans.

Highly Recommended.
---
Sprue Breakdown
A 96 hull details (A2/A3)
B 56 Low bustle turret with M34 and M34A1 gun mounts
C 22 Clear styrene
D 19 56 degree welded hull - cast covers
D 16x2 M4 suspension
E 12 Three piece transmission cover
F 2 DS plastic track runs
S 1 twisted steel wire
V 81x2 VVSS flat top/pillow block suspension with pressed/welded wheels
X 1 Lower hull pan - M4A2
MA 64 Etched brass

Thanks to Freddie Leung for the review sample.
Text and Images by Cookie Sewell
Page Created 04 November, 2006
Page Last Updated 04 November, 2006