Home > Reviews > Britain > Dragon Models Limited 1/35 Scale '39-'45 Sherman Mk. III Mid-Production Sicily (6231)
Sherman Mk.III Mid-Production Sicily
Reviewed by Cookie Sewell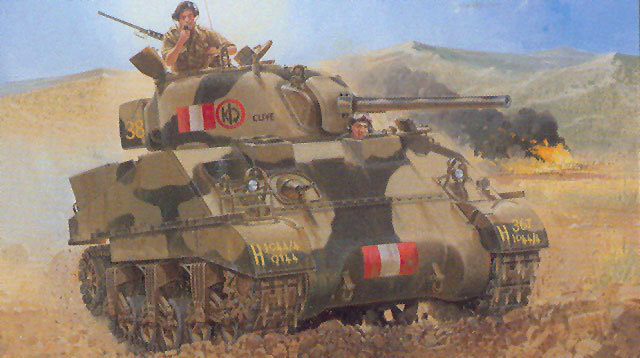 Summary
Stock Number and Description
Dragon Models Limited 1/35 Scale '39-'45 Kit Number 6231; Sherman Mk. III Mid Production Sicily
Scale:
1/35
Media and Contents:
479 parts (386 parts in grey stryene, 67 etched brass, 23 clear styrene, 2 DS plastic track runs, 1 length of twisted steel wire)
Price:
around USD$50.50 available online from Mission Models
Review Type:
First Look
Advantages:
More accurate hull for mid-production M4A2/Sherman III tank; very nicely done WE210 pattern tracks
Disadvantages:

may be later than period claimed; no commander's machine gun

Recommendation:
Recommended for all Commonwealth armour fans and "Shermaholics"


Dragon's 1/35 scale M4A2 is available online from Mission Models
FirstLook

Following on the heels of their Early Sherman III kit (no. 6313), DML has now released a new mid-production M4A2 Sherman III kit with a complete welded hull. There were some complaints with the previous kit as to whether or not DML was trying to "fudge" the kit as the armored hoods for the driver and co-driver were not "soft" enough or narrow enough to replicate the proper cast models correctly, but with this kit it states all over the box blurbs that it is a welded hull variant.

The kit does provide that, and as with most of the recent DML Shermans now has beautifully done weld beads and welding marks on the hull proper as well as many of the details. This kit now also sports a more accurate set of engine access doors (the grilled ones on the engine deck) with 24 grille bars in each one; I had not fully counted the ones in previous kits but someone had and dinged DML for not getting it right. (There is a limit to the resolution of the human eye when one gets older, and I too have had to yield to the Optivisor to see things better these days.)

There are minor or major tweaks to several of the kit sprues for this model from past efforts, so once again DML is continuing to make corrections to their kits as they evolve. While this is now becoming maddening to a number of modelers (buy a kit and two issues later you feel you are "stuck" with a bad kit, and then refuse to buy the new one out of spite) it shows that unlike at least two major manufacturers DML will listen and take criticism from valid points of view to heart. Just recall the old Irish maximum "be careful what you wish for."

Most of the bits here are familiar to Sherman fans over the last three or four years, such as the low bustle turret with a choice of M34 mount without "ears", M34 mount with "
ears", add-on armor protection for the coaxial machine gun with the M34 mount, or the M34A1 mount. From the box art the correct choice for this particular variant is the M34 with "ears"and supplemental armor. But once again, even though the box art shows an M2HB machine gun on the commander's cupola mounting none is included in the kit.

The directions are pretty much status quo and cover assembling the suspension with the use of the "spoke" road wheels provided (parts D-6) and "spoke" idlers (parts D-8) for the M4A2 suspension. This version uses the one-piece "blunt" transmission cover and no three-piece one is provided as an alternative. Note that in Step 6 there are a number of mounting holes inside the hull which need to be drilled out for mounting the tools and OVM on the rear of the tank. The bolt pattern, as with previous M4A2 hulls, is pre-painted on the stern plate for easy location and attachment of the chosen parts (either etched brass or countersunk via drilling holes.) _

As with the previous kit the etched brass supplied covers mostly larger details this time, such as a partial complete sand shield and fender installation which is apparently specific to the kit prototype. New design headlight guards (e.g. easier to fold and install) and fender components as well as the commander's "blade" sight are provided but not tie-downs or tool straps. The ten bolt heads for the stern of the hull are provided as etched pieces as well.

Most useful from a Commonwealth standpoint will be the one-piece DS plastic WE210 "Double I" pattern tracks, which appear to be very nicely done. They are packed flat and not protected, but the ones in the review sample suffered no ill effects to the guide teeth.

Finishing directions and markings are included for but ONE tanks: CLIVE from the 3rd County of London Yeomanry, British Army, Sicily 1943, and a targeted Cartograf decal sheet is included. This is really unfortunate, for many of the British units in Italy in 1944 appear to be equipped with this specific type of tank, and Steve Zaloga has done some work showing Polish units in Italy manning this model. Perhaps Woody Vondracek or other after market specialists will provide a wider range of markings for those vehicles.

The choice of this one vehicle is also somewhat limiting as all of the bits in the kit in the of etched brass are only for this tank or a few others, and ergo the rear sections of the sand shields are missing. CLIVE also has "catch-alls" welded to the sides of the rear decking which photos show were not universally applied to other Sherman III tanks. My final question is also one of timing: the kit claims Sicily 1943 but the all-welded version of the M4A2/Sherman III did not reach final approval until August 1943 and only entered production after that whereas the Sicilian campaign ran from 10 July to 17 August 1943, so how did a tank which did not even get into production until the fall of 1943 wind up serving in Sicily?

Overall, while this specific example may not have been the best choice the kit itself offers a broad range of options for Commonwealth modelers and should be popular with anyone who wishes to do up a Polish tank in Italy or similar tanks in Normandy.
---
Sprue Breakdown
A 96 hull details (A2/A3)
B 63 Low bustle turret with M34 and M34A1 gun mounts
C 23 Clear styrene
D 14 56 degree welded hull
D 16x2 M4 suspension
E 2 British turret bustle bin
F 2 DS plastic track runs
S 1 twisted steel wire
V 89x2 VVSS flat top/pillow block suspension with pressed/welded wheels
X 1 Lower hull pan - M4A2
MA 67 etched brass

Thanks to Freddie Leung for the review sample.
Text and Images by Cookie Sewell
Page Created 26 April, 2008
Page Last Updated 26 April, 2008